Samantha Womack puts on a steely face as she makes her EastEnders comeback.
Details about Samantha's alter-ego Ronnie's return to Albert Square, following her release from prison where she spent the past two years for abducting Kat and Michael Moon's baby son Tommy, have been revealed.
Ronnie, who is ready to put the past behind her and face the future, will not have an easy ride on her return, as she has to face those who she has wronged before, including her ex-husband Jack Branning (Scott Maslen).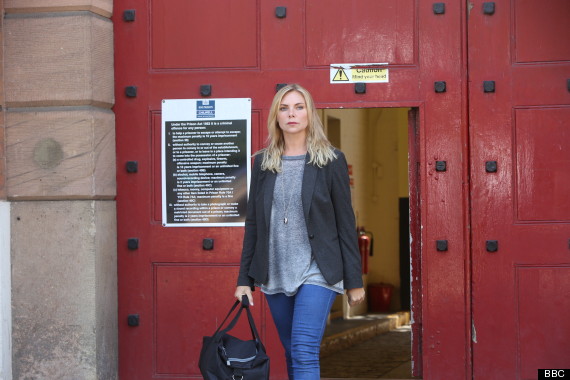 Ronnie emerges from prison
She also meets Kat (Jessie Wallace) as she makes her Walford comeback.
The actress previously teased that Ronnie Mitchell's return will cause chaos in Walford, saying: "I am thrilled to be returning to the role of Ronnie for the next six months. Ronnie is coming out of prison and her re-appearance in the Square is going to create havoc. I can't wait to be a Mitchell once again!"
As she reunites with her sister two years on, soap bosses promise they will once again "shake up Albert Square".
The BBC soap's executive producer Lorraine Newman said: "We're delighted to announce Samantha Womack's return to Albert Square. The Mitchell sisters are a fabulous pairing and it will be an absolute delight to have Ronnie and Roxy back together on screen.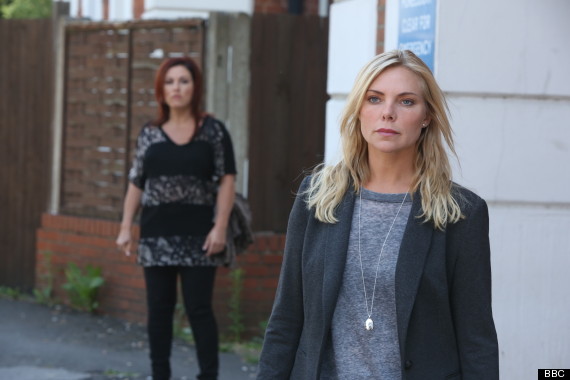 "However, Ronnie's departure wasn't without controversy for many residents in Walford and her return will be sure to ruffle quite a few feathers."
Samantha previously revealed her return when she tweeted a photo with screen sibling Roxy (Rita Simons).
Her arrival will be seen on screens in September.
EastEnders: Where Are They Now?
Played: Tanya Branning 2006-2010 What. A. Woman. Jo's character Tanya went to hell and back as Max's long-suffering wife, but the upsides were there, and Jo scooped loads of awards, and even more fans. Jo's back in the Square for the soap's 30th anniversary, but in 2014, she was busy starring in the lead role of the comedy 'Trying Again'. She's also popped up on the 'Loose Women' panel a number of times.

Played: Sean Slater (2006–09) Robert Kazinsky had a good few years out of the limelight after quitting the Square in 2009. However, in 2012 it was announced he would star in the sixth season of hit US show 'True Blood'. He also landed a key role in the Idris Elba film 'Pacific Rim', and is also part of the cast of upcoming film 'Warcraft' set to be released in 2016.

Played: Melanie Owen (1998–2002) Since leaving 'EastEnders' in 2002, shortly after the departure of her on-screen hubby Martin Kemp, Tamzin Outhwaite has gone on to star in a number of shows, including 'Red Cap', 'Hustle', 'Final Demand', 'Walk Away' and 'Frances Tuesday'. In 2012, she replaced Amanda Redman in 'New Tricks'.

Played: Sam Mitchell (1990–2000, 2009–10) Danniella Westbrook was reportedly written out of 'EastEnders' as Sam Mitchell when her cocaine addiction affected her commitment. She later released an autobiography about her troubles 'The Other Side of Nowhere', in 2006. Things haven't been easy for Daniella in recent years, and in 2014 she admitted to relapsing. In January 2015, Danniella began to get back on her feet.

Played: Terry Spraggan 2013-2014 Tel returned to performing stand-up gigs in 2014. We saw him at Bestival once, his act is... interesting.

Played: Zoe Slater (2000–05) "You ain't my mother!" Michelle Ryan managed to move from Walford to Hollywood in 2005. She then bagged the role in the US TV show 'Bionic Woman' but sadly, it didn't get beyond its pilot. In recent years, Michelle hasn't been up to much, though she did make a brief appearance in 'Death In Paradise' in 2014.

Played: Steve Owen 1998-2002 Martin's busy being a Sex God now. Remember the time he helped plan a wedding as part of a reality TV show? What a glorious day that was.

Played: Ricky Butcher (1988–2000, 2002–04, 2008–12) He's been snapped at Cannes Film Festival, photo-bombing Chris Brown and hanging out with Adele since leaving Walford. Yes, Ricky Butcher has gone up in the world. Sid Owen, who left the soap in 2012, has also taken part in 'Strictly Come Dancing' but was eliminated from the competition in Week 3. At the end of 2012 he announced he was retiring from acting.

Played: Tiffany Mitchell (1995–98) Soon after Tiff was killed off in 1998, Martine started a solo pop career and her debut single 'Perfect Moment' was an international success. Martine's also been a hit on the West End stage, scooping an Olivier Award for 'My Fair Lady' and she also impressed in the film world, with her role in 2013 she was declared bankrupt. Since then things have started looking up. She was awarded an honorary degree by Bolton University for her contribution to entertainment, and is pregnant with her first child. In August 2014, Martine revealed that she's expecting her first child.

Played: Dennis Rickman (2003–05) Nowadays, there's more chance that you'll find Nigel on stager and he's the proud owner of an Olivier Award, presented for his role in 'Shrek the Musical'. Sadly, things haven't always gone well and Nigel was part of the cast of the ill-fated 'X Factor' musical 'I Can't Sing'.

Played: Dirty Den (1985–89, 2003–05) Leslie was reunited with his daughter Sharon (Letitia Dean) in 2003, and he hung around until his character was killed off properly in two years later. In 2013 he divorced his wife of 31 years. The 65-year-old actor was involved in a sordid tabloid newspaper "scandal" in 2004, but it was his wife's "unreasonable behaviour" that was given in court as grounds for the divorce. Alongside Danniella Westbrook, he starred in 'Mob Handed'.

Played: Kathy Beale (1985–2000) Gillian went on to star in 'Footballers' Wives', 'The Bill' and 'Strictly Come Dancing'. In January 2013, we got to know her better when she appeared as a contestant in ;Celebrity Big Brother', and she later switched soaps, moving to 'Hollyoaks'.

Played: Ryan Molloy 2009-2011 Neil's not really been up to much, and we had to dig for a while before finding his Twitter account. He only has around 5k followers so if you're a fan you should probs give him a follow. He sometimes gives a good commentary of footbaill matches there so that will be good to see, won't it? Anyway, where were we... Oh yeah, he's not really doing much acting lately, soz.

Played: Angie Watts (1985–88) Best known for playing the emotionally battered, alcoholic landlady, Anita Dobson now voices a character the in kids TV show 'Annette And Rod' as well as appearing in 'Sadie J', another children's show, as Nan Bet. In early 2015, it was announced that Anita will take on the role of Queen Elizabeth I in a new BBC drama. She was Albert Square's leading lady from the show's inception in 1985 until 1988. She's also the longtime companion of Queen guitarist Brian May.

Played: Rainie Cross (2007-2011) After getting Phil Mitchell hooked on crack as character Rainie Cross, Tanya moved on to some quality drama. She played Richard Burton's wife, Sybil, in the 2012 made-for-television film 'Liz & Dick', alongside Lindsay Lohan and currently stars in 'Broadchurch'. Rainie later returned to the Square as part of the 'Who killed Lucy Beale?' storyline.

Played: Grant Mitchell (1990–99, 2005, 2006) Ross Kemp went from 'EastEnders' bad boy to chasing bad boys when he left the soap in 2006. Re-branding himself as an investigative journalist, Kemp has reported on gangs, Afghanistan, pirates, the Middle East and more. In 2012 he released a new novel, 'Moving Target'. He went on to experience what it's like to be caught up in the middle of Northern Ireland's most contentious and volatile Twelfth parade for the new series of his Sky1 show 'Extreme World'. Sadly, Ross has ruled out ever returning to Albert Square. Boo!

Played: Cindy Beale (1988–90, 1992–98) Michelle Collins really did a number on Ian Beale as scheming Cindy, eventually having him shot by a hitman. Since leaving the soap in 1998, Michelle swapped soaps and played barmaid Stella Price in 'Coronation Street'. Michelle later left 'Corrie', and briefly reprised her role as Cindy for a special Children In Need sketch in 2014.

Played: Peggy Mitchell (1994–2013) Since leaving 'EastEnders' behind, following a blaze at the Queen Vic in 2010, the soap's biggest matriarch has been taking some time out... sort of. She's fronted a TV campaign for online bingo site Jackpotjoy as the Queen of Bingo and appeared in the pantomime Dick Whittington over the Christmas/New Year period of 2010/2011. Babs has made a number of surprise returns to the show since leaving.

Played: Kevin Wicks (2006–08) Phil's character Kevin Wicks met a tragic end when he died in a car crash. In 2009, he starred in a handful of episodes of 'New Tricks'.

Played: Dawn Swan (2005–09) Kara Tointon bowed out of Albert Square in 2009 and went on to win the 2010 edition of' Strictly Come Dancing' with her partner-turned-boyfriend Artem Chigvintsev, though the couple have since split. She is currently starring in 'Mr Selfridge' alongside her sister Hannah.

Played: Little Mo (2000–06) After 6 years as the loveable and the long-suffering Little Mo, Kacey went on to play Auntie Lou in 'Carrie's War' in London's West End and in 2013, she stared in Ben Elton's the comedy series 'The Wright Way'. Kacey still pops up on TV every now and then, and she recently played wowed viewers with an emotional star turn in 'Call The Midwife'.

Played: Beppe di Marco 1998-2002 Oh Beppe, long gone but never forgotten. Beppe isn't actually dead so Michael could technically return to the soap. Alas, he's too busy making a living as a professional poker player. Seriously.

Played: Heather Trott 2006-2012 After being axed from the show (death by photoframe) Fergison went on to make guest appearances on several day-time and panel shows. In 2012 she entered the 'Celebrity Big Brother' house, but it wasn't long before she was booted out.

Played: Afia Masood 2009-2012 'EastEnders' was Meryl's first professional acting role... and her last. Not much has been heard from the young actress since her exit from the show three years ago. She now owns a vintage clothing shop in East London.

Played: Barry Evans 1994-2004 Shaun made a number of guest appearances on TV before securing the role of, umm, himself, in 'Extras' just a year after Janine pushed Bazza off the cliff. He's yet another former 'EastEnders' star who has trod the boards, starring in everything from pantomimes to sketches at the Royal Albert Hall.

Played: Alice Branning 2012-2013 Jasmyn swapped her TV role for a spot on the stage in 2013, and moved on to become part of the touring cast of 'One Man, Two Guv'nors'.

Played: Anthony Trueman 2000-2005, 2014 Nick joined the cast of the popular Radio soap 'The Archers' in 2012. After leaving 'EastEnders' in 2005, he briefly reappeared when his on-screen father Patrick had health issues in 2014.

Played: Amira Masood 2009-2012 Preeya returned her attentions to her budding singer career after leaving the soap, though she didn't exactly have a lot of success and her single 'Love Between Us' peaked at number 137 in the UK chart. As of May 2015, she'll star in a musical version of 'Bend It Like Beckham'.

Played: Archie Mitchell 2008-2009 Larry hasn't been short of work during his decades in showbusiness, and his run has continued long after his character's untimely death. He's not afraid to try something new either, and in 2011, he published a new autobiography, before presenting his own LBC radio show two years later.

Played: Chelsea Fox 2006-2010 Tiana starred in the British film 'Fast Girls' a year after making her 'EastEnders' exit, but she hasn't been in the spotlight much since.

Played: Chrissie Watts 2004-2005 Tracey's a woman of many talents and in the last decade, she's (deep breath) written for The Guardian, popped up in 'Doctor Who', 'Mistresses', 'New Tricks' and 'Friday Night' Dinner, penned radio plays and starred in National Theatre productions. Phew.

Played: Garry Hobbs 2000-2009 Ricky's turned to reality TV, giving diving a go on 'Splash!' and popping his chef's hat on for a stint on 'Celebrity Masterchef'.

Played: Jamie Mitchell 1998-2002 Ahh, we all fancied him didn't we? Now, you're more likely to find Jack on the other side of the camera, as he's now a film and TV director. In 2014, he was the associate director for the hit play version of 'The Full Monty'.

Played: Laura Beale 200-2004 Hannah's popped up in a few different places in recent years, tackling a number of stage roles, appearing on 'Celebrity Come Dine With Me' and winning the 2007 series of 'Just The Two Of Us'.

Played: Minty Peterson 2002-2010 Cliff now stars as the lovable Fred in 'Call The Midwife'.

Played: Natalie Evans 1994-2004 Remember 'The Bill'? Lucy rocked up at Sun Hill Station in 2007, and she's also tried her hand quiz shows, starring on 'Pointless Celebrities', 'Celebrity Ready, Steady, Cook' and 'Weakest Link'. On the celeb version, obvs.

Played: Robbie Jackson 1993-2003 TV roles have been few and far between for Dean, though he has won by fans by appearing on shows such as 'I'm A Celebrity... Get Me Out Of Here!' and 'Let's Dance For Comic Relief'.

Played: Vanessa Gold 2010-2011 Screen veteran Zoe hasn't had a shortage of parts and her recent credits include 'Waterloo Road'.

Played: Trevor Morgan 2000-2002 In 2005, Alex starred in the trilingual movie 'Joyeux Noel', which was nominated at the BAFTAs, Golden Globes and the Oscars. He's not limited himself to just highbrow projects though, and he once took part of 'Celebrity Coach Trip' with his former co-star Ricky Groves.

Played: Zainab Masood 2007-2013 Nadia nabbed a role in 'Still Open All Hours' and she also flexed her acting muscles with a role in 'Doctor Who'. In 2013, Nadia was given the Outstanding Achievement in Television Award at The Asian Awards. Go, Nadia!