That's all that needs be said for many of his adoring fans.
But for those who need a LITTLE bit more information, he's starring in the forthcoming DVD/Blu-Ray release of 'The Place Beyond The Pines' - as well as the slightly more elliptical 'Only God Forgives' in UK cinemas at the end of the week.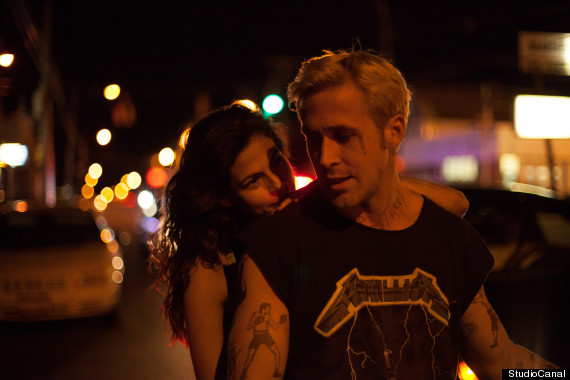 Ryan Gosling co-stars with Eva Mendes in 'The Place Beyond the Pines'
Gosling stars in 'Pines' with Bradley Cooper and his own off-screen squeeze Eva Mendes, in a tale of a motorcycle stunt rider (Gosling) who turns to robbing banks as a way to provide for his lover and newborn child. This brings him into collision with an ambitious rookie cop (Cooper) - all in an exotic, humid setting.
HuffPostUK has Gosling and his co-stars talking about their roles in this exclusive featurette - WATCH these glamorous characters in action above.
Meanwhile, with these two big projects on his slate, it's (always) a good time to survey Ryan Gosling's seamless steps to stardom - what do you think his best screen moment has been to date? A selection below...
'The Place Beyond The Pines' is available for digital download from 2 August, with Blu-Ray/DVD release to follow on 12 August.

Loading Slideshow
Ryan Gosling in 'The Believer' (2001)

Playing as Danny Balint, The Believer marks one of Gosling's first serious leading roles in his career. As a young Jewish student trying to understand the meaning of Judaism, Balint is constantly struggling with the idea of his beliefs and his heritage, going as far as developing anti-Semitic views.

Ryan Gosling, Rachel McAdams in 'The Notebook' (2004)

As Noah Calhoun, he falls in love with a wealthy girl named Allie Hamilton. Allie's parents disapprove of the young love and Noah's economic status and move her away from him. Years later after World War II, Allie is engaged to a successful businessman, but finds a way to reconnect with Noah, revealing that the two still have feelings for each other. Gosling's role as Noah established him as a heartthrob among young girls and fans.

Ryan Gosling in 'Half Nelson' (2006)

Gosling's role as Dan Dunne, a junior high school teacher with a drug habit, earned him his first and currently only Oscar nomination for Best Performance by an Actor in a Leading Role. A gifted teacher, able to capture the minds of his students in the classroom, Dunne's life outside school is anything but comfortable. One of his students finds him doing drugs after school and she quickly realises that the two live in similar situations and can help each other in making the best of life despite their circumstances.

Ryan Gosling, Michelle Williams in 'Blue Valentine' (2010)

As Dean Pereira, one half of a young married couple, Gosling's role shows a high school dropout with no ambition to move beyond his current job as a painter. With his wife, the two characters and their young marriage are constantly tested by their different personal and professional goals, even though they both come from similar family situations. Leaving their daughter for a weekend, Dean and Cindy leave town to see if they their marriage will truly survive.

Ryan Gosling in 'Drive' (2011)

Playing a similar role to his character Luke from The Place Beyond the Pines, Gosling portrays a man working as a garage mechanic, a Hollywood stuntman and a getaway driver. Looking to escape his mysterious past and life, the driver falls for his neighbour while a garage mechanic boss uses gang money to set up a race. Used as his team's main driver for the race, he is put into a situation where he meets the husband of the woman he just fell in love with.

Ryan Gosling, Eva Mendes in 'The Place Beyond the Pines' (2012)

Mysterious motorcycle racer, Luke (Ryan Gosling) desperately tries to connect with a former lover, Romina (Eva Mendes), who secretly gave birth to the stunt rider's son. In an attempt to provide for his new family, Luke quits the carnival life and commits a series of bank robberies aided by his superior riding ability. The stakes rise as Luke is put on a collision course with an ambitious police officer, Avery Cross (Bradley Cooper), looking to quickly move up the ranks in a police department riddled with corruption.