And the award for most imaginative vandalism on the New York subway goes to this defacing of two posters either side of a 'Wolverine' one: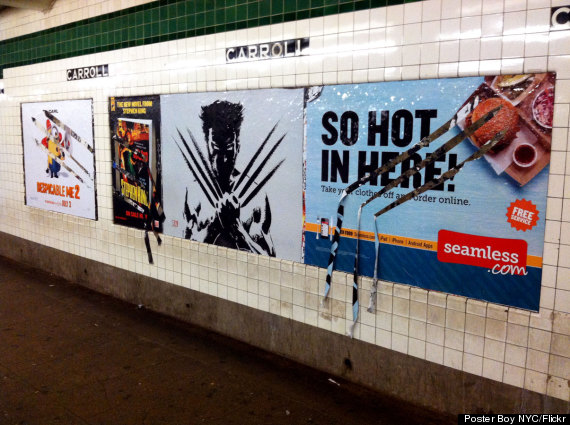 Nice one, Poster Boy NYC.
(Via 22 Words)
The Week In (Silly) Pictures
Royal gynaecologists - they're the new rock stars.

Boris Johnson. A man who grabs life by the...

...cock.

Barack Obama - still not quite used to being leader of the free world.

George Osborne unveils Plan B: 'tea and sympathy'. It doesn't go well.

"I bet Robert Galbraith doesn't have to put up with this," muttered Grumpy Cat.

With this ring, I thee... accompany on the 5k Colour Run in Manchester.

"And what do you do?" asked the bull.

There are war reenactments. And there are Star Wars reenactments.

Charlton Athletic goalkeeper Ben Hamer shows off his karaoke skills...

...while his teammates try that unusual hybrid sport, 'wheelbarrow football'.

Not so much leap frog as leaf frog.

The royal prince tells the paparazzi what he thinks of them.

Angela Merkel, getting the sort of treatment David Cameron can only dream of.

"Yeah?! You and whose Armie?!"

Michael Gove and Boris Johnson hit the town. Lock up your daughters!

Naturally, Alan Partridge wears sports casual for the premiere of 'Alpha Papa'.

A raccoon spots Alan Partridge wearing sports casual.

Paranoid about people listening in on you, Barack? Join the rest of America!

No, no, George - they're laughing at you.

"One is a grandfather! Yes, little old one!"

Think you and your partner have bad rows? Check out this pair!