'Sherlock' fans got a tiny taster last night of what's to come in Season 3, but what are we to make of it all?
The BBC ran a 30-second teaser trailer following the re-run of the last of Season 2, which saw Sherlock somehow fake his own death, but sadly forgetting to let his closest friends in on the secret. And what did we see?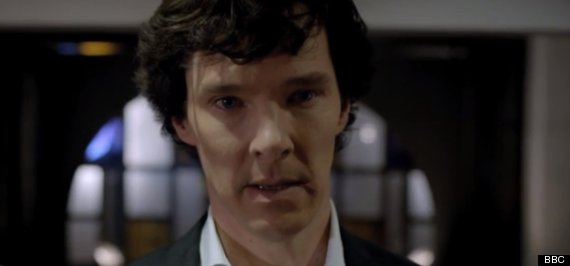 One shot of Benedict Cumberbatch is all we get in the Series 3 teaser trailer
The answer is, not much. The most shocking reveal of all was that John Watson (Martin Freeman) looks years older, sporting a bushy moustache. This was evidently designed to tell viewers that some time has gone by, and Sherlock's nearest and dearest have somehow gone about the business of trying to cope with life without him.
Mrs Hudson is washing up. Mycroft Holmes is, as usual, working in a leather chair. Lestrade is investigating in a darkened alleyway. Watson is drinking in a bar.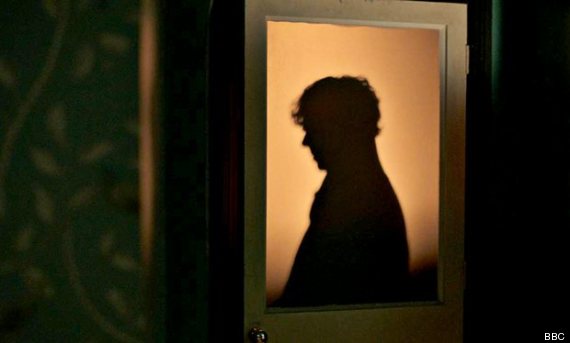 Is this really who we think it is?
As for the distinctive silhouette at the door, this may actually not be Sherlock Holmes at all. Paul Jones at the Radio Times makes the good point that this image comes straight from the pen of Sir Arthur Conan Doyle, who had Holmes construct a bust of himself put in the window of his Baker Street home, with the loyal Mrs Hudson moving it around regularly, to foil anybody who might think the singular detective is out and about.
There's no sign of Moriarty in the trailer - perhaps that was one death that WASN'T faked - nor any of the reported new villain on the block, being played by 'The Killing's Lars Mikkelsen. The trailer is, fittingly, all about the return of Holmes and the effect this will undoubtedly have on his nearest, dearest and Mycroft (whose Series 2 betrayal has not been forgiven in this house yet).
REVIEW: Series 2 Episode 3 - The Reichenbach Fall - Benedict Cumberbatch Saves The Best For Last

Series 3 is promised to viewers later in the year, by which time we just might have worked out Sherlock survived that fall. Any ideas yet?
Loading Slideshow
10. Lady Sybil death in Downton Abbey (2012)

It was goodbye to one of the hit drama's favourite characters when Lady Sybil died in childbirth. And a massive shock, too. The programme makers had successfully kept it under wraps.

9. Zammo from Grange Hill (1987)

Strange but true... Zammo, played by Lee McDonald, taking heroin in Grange Hill, shocking at the time and prompting a massive 'Just say no!' campaign, is in at number 9.

8. Morse reveals his first name (1997)

Morse (John Thaw) is forced to reveal his first name, after years of keeping it under wraps, to keep his lady friend happy.

7. Brookside lesbian kiss (1994)

It caused ripples and news headlines when it happened, between Beth and Margaret (Anna Friel and Nicola Stephenson) - the first pre-watershed lesbian kiss on British television.

6. Doctor Who in regeneration (2010)

David Tennant became Matt Smith in the most recent change - much less confusing than what's occurring for the 50th anniversary by the looks of things.

5. Who killed Danny Latimer? (2013)

A recent addition - one of the most successfully concealed whodunnit solutions in telly history. All adding to the myth of 'Broadchurch'.

4. Coronation Street tram crash (2010)

The moment when a devesating explosion rips through the Joinery bar and a tram derails right into Coronation Street causing massive damage and deaths.

3. Sherlock's jump to his death (2012)

And we're still trying to work out how he did it... and lived to tell the tale.

2. Dirty Den gives Angie her divorce papers (1986)

Who would have thought a couple splitting up could be so audience-grabbing? But it was a truly gripping moment when Den (Leslie Grantham) realised his wife (Anita Dobson) wasn't dying after all, and wanted out.

1. Mr Darcy and THAT white shirt (1995)

With a whopping 23% of the vote, it seems Colin Firth simply donning a white shirt as Jane Austen's taciturn heart-throb and going for a dip is still enough to set the audience all of a quiver.