Simon Cowell has upped and left Los Angeles, in the midst of the scandal over his married, pregnant lover and her furious husband, to take his annual sojourn in the St Tropez sun.
The X Factor supremo is expected to spend a month on a luxury cruiser in the Mediterranean, where is he is usually joined by a selection of his favourite ladies - ex-fiancee Mezhgan Hussainy, longtime confidante Jackie Sinclair and Sinitta.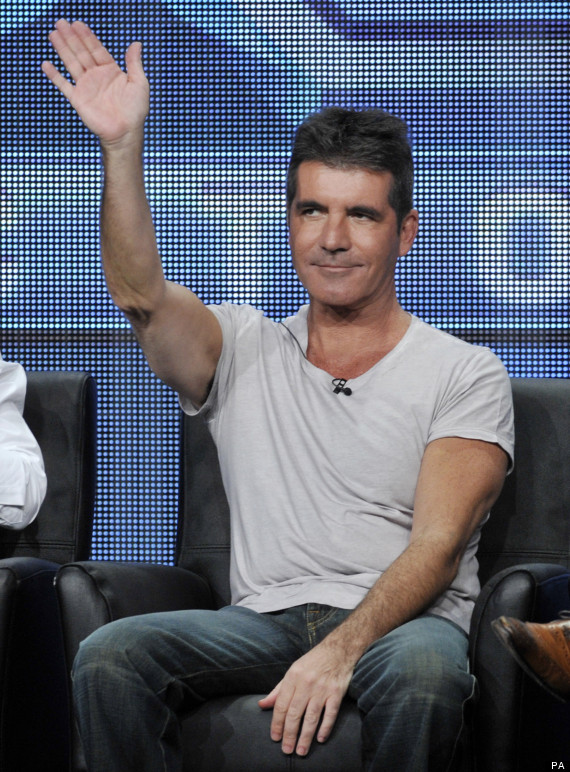 Simon Cowell seemed a tad bashful at the US X Factor launch last week in LA
The timing is particularly ironic, as the yacht expected to house Cowell and his coterie for the next month, the Slipstream, is the very same one on which he was pictured last year cuddling up to Lauren Silverman, the New York socialite now at the centre of the storm over her relationship with Cowell, her divorce announcement and custody battle for her seven-year-old son.
Meanwhile, there are conflicting reports over whether Cowell's 'harem' are "furious" with him over the news of his impending fatherhood, or "standing by him 100%" as he battles to keep his family image intact in the US over the news of his affair... or maybe both.
Elsewhere, Andrew Silverman's family have voiced their distress at his wife's "cruel, inhuman" treatment of him, while Lauren's own mother has broken her silence, telling the Sun that her daughter did not set out to "trap" Cowell, and blasted claims that she was some sort of gold-digger.
And news that Andrew Silverman has named Cowell as co-respondent in his divorce papers, citing adultery, could mean that the famously private Cowell could be forced to dig out personal details of his enormous fortune in a public courtroom, as the group go into battle over custody.
Oh, and Lauren Silverman "wants to get married to Cowell as soon as possible".
So, all in all, he could probably do with a holiday.
MORE ON THIS STORY:
Lauren Silverman: 9 Facts In 90 Seconds
1. Nobody seems to know whether she's called Lauren or Laura. Or both. So let's get this one cleared up once and for all. It's definitely LAUREN. We think.

2. She's 36. That's 17 years younger than Simon Cowell so yes, he is indeed *adopts nana voice* old enough to be her father, tsk tsk etc, etc.

3. She is still technically married to one of Simon's bezzies, property developer Andrew Silverman. But according to Us magazine, the estranged couple have been 'unhappy for some time and a divorce is in the works'. Phew.

4. She's been friends with Mr. Cowell for some time having holidayed with him in St Barts in August last year (along with with hubby Andrew). She also joined Sinitta and Si on holiday in 2011.

5. She's a socialite. You know, like Paris Hilton.

6. She's a dead ringer for Simon's ex fianceé, Mezhgan Hussainy - so much so that even we couldn't initially tell them apart when they all holidayed together last year. Can you? (Mezhgan's in the centre of this pic, Lauren's on the right)

7. Just like Simon, she loves a ciggie, although we're hoping now she's preggers she's kicked the filthy habit.

8. She pretty much knew all there was to know about Simon Cowell before allegedly rubbing belly buttons with him. We know this because she was at the launch party for his *coughs* unauthorised biography, 'Sweet Revenge: The Intimate Life of Simon Cowell' in April 2012.

9. She's not to be confused with Laura Silverman (right) who is the actress sister of US comedian Sarah Silverman (left).