A reunion could be on the cards for Nicole Scherzinger and Lewis Hamilton, as the former couple are said to be meeting up in a last ditch attempt to save their turbulent relationship.
The pair called time on their five-year romance last month, blaming work commitments, which often see them on opposite sides of the globe.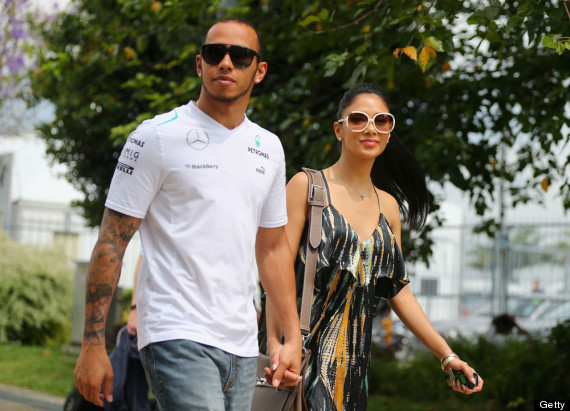 Lewis Hamilton and Nicole Scherzinger
However, The Sun reports that Nicole has been "distraught", finding the last month "virtually impossible", and is hoping she and Lewis can work out how to make their lifestyles compatible.
A source told the paper: "They are planning to meet and work out how on earth they can maintain a relationship with their lifestyles. They both know this is the final chance to make it work.
"Even though they spend so much time apart in different countries because of their work commitments, they were constantly on the phone and text messaging."
They added: "She always felt complete with him in her life. That's why she's found the last month virtually impossible. Some days she was so upset it was a real battle for her to even get out of bed and go to work at 'The X Factor' auditions.
"She's been distraught but is very good at hiding her real feelings in public. After all, this is the man she still hopes to marry one day."
News of a possible reunion comes just days after Nicole's former 'X Factor' contestant Jahmene Douglas claimed she was still in love with the Formula One ace.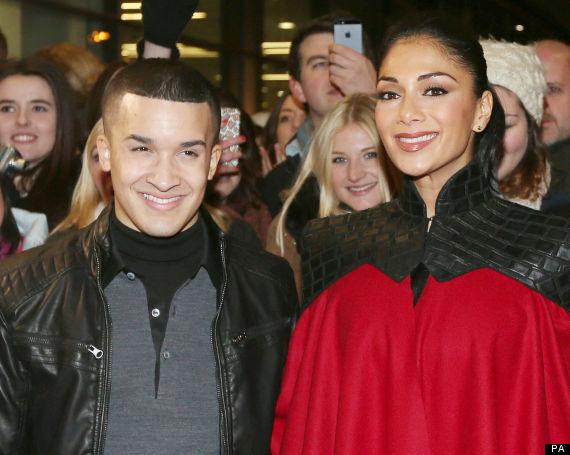 Jahmene Douglas with Nicole
He told The Mirror: "I know that she is in love with Lewis. And I've been with her as a friend while she was with him and when they broke up.
"I am trying to be there for her because it is a tough time. It isn't easy to switch off after spending five years in a relationship. I think it was just obvious that the distance thing might have taken its toll."
In the aftermath of their breakup, Lewis has made it clear he is not over Nicole, recently dedicating a Grand Prix win to his ex.
"It's not been the easiest few months, I was just saying that my family have been really supportive," he said.
"It feels a little bit odd without that someone here - but I would say now that these are one of those races you want to dedicate to that someone."
He'd also previously written on Twitter: "If you've found that special someone, don't EVER let them go no matter what!! Nothing in this world is more important."
Let's hope they really can work thing out this time.

Nicole Scherzinger's Best X Factor Moments
Not only could Nicole not find the right camera to look down when Dermot caught her off guard to introduce her next act one week, she then proceeded to introduce James Arthur's name instead of Rylan Clark's. Whoops! Bonkers-o-metre rating: 5/5

Nope, us neither. She lost us at full fat milk. Bonkers-o-metre rating: 5/5

There was only ever going to be one judge who actually got up on the desk following Rylan's Spice Girls medley in week six, and it sure as heck wasn't going to be Borelow. After dismounting the table, she exclaimed: "That was a Rylan spice explosion all up in this place because you didn't just spread love, you sprayed it all over that stage honey. Girl power." Bonkers-o-metre rating: 4/5

Nicole just loves to talk about balls, especially Jahmene's which she did live on air during the first live show. When Dermot questioned her, she cheekily replied, "it takes a lot of guts and balls to survive in this business and you obviously have big balls yourself, right?" Cheeky. Bonkers-o-metre rating: 3/5

And Nicole committed her love of balls to song - a duet with James Arthur entitled 'Vaginas And Big Hairy Balls'. You certainly wouldn't have got Cheryl or Dannii doing that. Bonkers-o-metre rating: 5/5

We now snap our fingers twice at every word we say. It can get surprisingly annoying after a while, so we've been told.... Bonkers-o-metre rating: 5/5

Nicole got a little carried away after Rylan's performance of Mousse T's 'Horny', and decided to sing her own version to GB. Bonkers-o-metre rating: 4/5

Nicole proved she can always be relied upon to put the effort in at a fancy dress party when she revisited her Pussycat Dolls past in Rylan' birthday bash dressed in a PVC basque and fishnets. Bonkers-o-metre rating: 3/5

Nicole Scherzinger - 'X Factor' judge by night, Asda worker by day *taps back pocket*. She was transformed into an shop worker in tribute to her contestant Jahmene Douglas, who used to work for the grocery giant before entering 'The X Factor'. At least she's got something to fall back on if Simon Cowell ever axes her again. Bonkers-o-metre rating: 3/5

Never let Nicole make you a dessert is the lesson we learnt from this. Bonkers-o-metre rating: 3/5

We all let out a little *tee hee* when Nicole didn't realise that spunky meant something entirely different over this side of the Atlantic as she described Lucy Spraggan's first live show performance as 'spunky, honest and witty'. Bonkers-o-metre rating: 3/5

We were totes surprised that Nicole didn't opt for a vajazzle when she visited Amy Childs' salon with Rylan Clark. Bonkers-o-metre rating: 1/5

*snaps fingers twice*, OBVZ Bonkers-o-metre rating: 3/5

Always calm in a crisis, Nicole's response to a wannabe kicking off big stylee at this year's auditions was "no, baby, no! Inappropriate!". Bonkers-o-metre rating: 2/5

Nicole was public enemy number one when she brought Rylan Clark through to the live shows. But if she hadn't we wouldn't have had this piece of TV gold in our lives. So thank you, Nic. Bonkers-o-metre rating: 1/5 - Rylan totally eclipsed her.