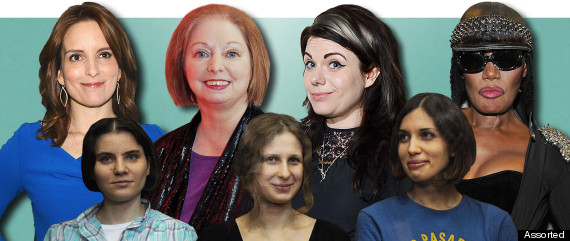 What makes a woman inspirational? Certainly not fame - more like a sturdy inner strength, overcoming adversity, making the world change and doing it all with a dollop of common sense.
We asked the HuffPost UK team to name one woman they each found inspirational (and yes, we gave the men a voice too!). You may not agree with all of our choices - but that's the beauty of feminism - we celebrate individualism as well as equality of the sexes.
Tell us who inspires you in the comments below, and what you think makes an inspirational woman on Twitter using the hashtag #ForWomen.
Huff Post UK's Inspirational Women
Editor-in-chief Carla Buzasi says: "Caitlin Moran rocks. It's that simple. As a female journalist, you can't help but be by inspired. Hadley Freeman falls into the same category, and the pretenders to the throne, the Vagenda girls. All totally awesome."

HuffPost UK Comedy Editor Andrea Mann picks the brilliant Tina Fey, adding: "She's proof that women are just as funny and smart - and can be just as powerful - as men."

Lifestyle editor Poorna Bell says: "I have gone from someone who partied almost every night to a prematurely old nanna, who likes to be in bed by 10pm with a good book. Because of this, my inspirational woman has to be Grace Jones. "Yes I could've picked someone more 'worthy' but the woman defies nature – she is 65 years old yet has a body better than I ever had in my 20s, and still manages to encapsulate that fierce, don't-mess-with-me Amazonian vibe. "Her stamina too is legendary. I'm not talking about her scary sexual prowess as seen in Boomerang – I'm talking about her ability to work hard, play hard, do photo shoots at midnight, and survive on a hedonistic diet of oysters and red wine."

MyDaily Editor Sarah McCorquodale says: "My mum gave me her biography series as a going away present to uni, and reading them as a someone from a small town made me realise how much you can accomplish if you don't let anything stop you on the way (which is really cheesy but true)."

"Hilary Clinton is the first name that comes to mind when I think of inspirational women," says Emily Verdouw, Blogs Intern. "It's nothing to do with her politics but her courage in the face of great scrutiny, whether that be her marriage, her looks, her policies or political competition. "Hilary embodies the courage that most women who have drive for success desire, the ability to be assertive and strong willed whilst remaining true to their strengths as a woman and not trying too hard to 'be a man."

Photo Editor Gareth Richman says: "Basically has carried Women's British Tennis for the last 10 years. Made the London 2012 Olympics Games and has recently come back off a career-threatening injury. "Elena was included in Fed Cup squad, won Nottingham Aegon Tournament and played Wimbledon in 2013. She has started her own academy EBAT (registered as a charity) inspiring young kids to grow the game and inspire future champions. An unsung hero in my book."

Assistant Entertainment Editor Sarah Dean says: "Leigh Bristow who I met recently on the Cash & Rocket tour is completely inspiring. She is the founder of South African charity Sumbandila and I was blown away by her. Her passion for education and her drive to make a difference really shone through in everything she said. Plus, she's got a great sense of humour. "It offers the brightest children who come from the poorest and most disadvantaged homes a fantastic education and has taught all the Ridgeway students the importance of philanthropy, good citizenship, entrepreneurship and leadership as service. Long term, her goal is growing leaders, activators and entrepreneurs that she believes will effect change in the country and in Africa."

Political director Mehdi Hasan says: "Calm, eloquent and just 26 years old, she has been the face of the Bahrain democracy movement in exile, working tirelessly in public and private to bring media attention to her cause, while her own father and sister languish behind bars on trumped-up charges."

News reporter Jessica Elgot says: "Hilary Mantel, for proving historical fiction can be better than The Other Boleyn Girl, for drastically making over the image of one of the most misunderstood characters in British history (Thomas Cromwell) and for one of the most intelligent pieces of commentary on the Royal Family I have ever read, and standing her ground when she was vilified for it, and her looks."

Brogan Driscoll, Lifestyle Editorial Assistant says: "Pussy Riot inspire me -- not just the three members who were put on trial last year (Nadezhda Tolokonnikova, Maria Alyokhina, Yekaterina Samutsevich) -- but all of them. They are so young, but so determined and full of courage."

Michael Rundle, Tech Editor nominates video games writer (and Terry Pratchett's daughter) Rihanna Pratchett (Tomb Raider, Mirror's Edge) "not only for being a great writer, but for managing to take an embarrassing video game anachronism in Lara Croft and transform her into a genuinely interesting, deep and believable character."
FOLLOW HUFFPOST UK LIFESTYLE ON TWITTER
|
LIKE OUR PAGE ON FACEBOOK