SEE ALSO:
A Jimmy Savile-themed fancy dress float has won a prize in an annual Scottish parade.
It featured a man dressed up as the disgraced former presenter, surrounded by others in schoolgirl uniforms, and took third place in the Best Vehicle category, despite being roundly branded "offensive and insensitive".
The Jim'll Fix It themed float was entered into the Lauder Common Riding event in the Scottish borders by members of the local Twenty 10 Club on July 31.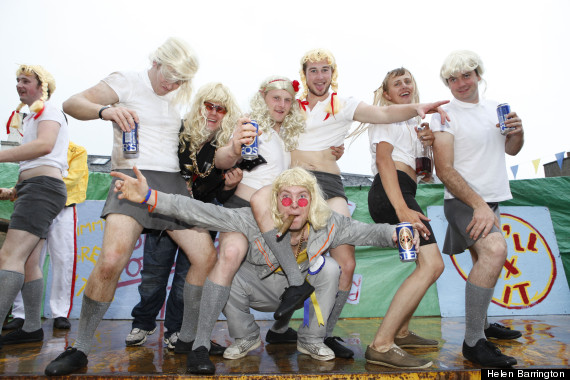 The Jimmy Savile-themed float took third place in the Best Vehicle category
Thought to be one of the UK's most prolific sexual predators, Savile has more than 200 criminal offences recorded against his name, including more than 30 rapes.
Gregory Kynoch from Edinburgh was in the crowd and said the stunt was "inappropriate" and "out of order" on the Facebook page of the Lauder Common Riding committee the following day.
He wrote: "One of your floats thought it would be 'funny' to do a cover of the theme tune from Jim with Fix it, and thought this would be seen as humour? Am sorry, in light of the events surrounding that programme and the revelations since it I feel that was a step WAY over the line.
"What I hoped would be a pleasant night and a good memory has now been tainted. I can see a lot of work went into the parade but fear that will be the outstanding memory for all who had the misfortune to witness it.
Loading Slideshow
Jimmy Savile in 1961 around the time he was working for Radio Luxembourg. He is at London Airport with Pan American stewardess Birgit Johansson with two gold discs; one is for American singer Elvis Presley for having sold one million copies of "It's Now or Never" in the UK, and the other is for Presley's manager, Colonel Tom Parker

Cilla Black and Jimmy Savile before a Variety Club Luncheon at the Savoy Hotel. Taken in 1964, the year Savile became the first presenter of Top of the Pops

Two women have come forward with allegations from the 1960s, one who was 14 and another who was a teenager when she claims Savile sexually abused her in Scarborough

Savile in 1969 with Physically Handicapped and Able-Bodied (PHAB) member Erika Mentz from Germany and other PHAB members at a dance at Devonshire House

1969 also saw Savile begin volunteering at the Stoke Mandeville Hospital for specialist spinal injuries. He would later be given a room there

Jimmy Savile presenting a cheque to children on behalf of the NSPCC in 1969

The 1970s saw Savile start volunteering at Leeds General Infirmary and...

... Broadmoor secure high-security psychiatric hospital. Allegations by former patients have been made against Savile although ex-workers have disputed the idea that he could have been left alone with anyone whilst working there

The 70s also saw the start of Jim'll Fix It. Allegations from this period include Caroline Moore, a 13-year-old patient at Stoke Mandeville hospital in 1971, who says Savile "rammed his tongue" down her throat and another allegation accuses Savile of molesting a brain-damaged teenage patient at Leeds General Infirmary in 1972

The 1980s saw the continuation of Top of the Pops and Jim'll Fix It as Savile became a much loved household name. Two allegations relating to this time include one from a then-15-year-old girl (not pictured) who made a complaint of abuse by Savile in Lancashire. Pictured is 12-year-old Rebecca Heap

Savile at the Stoke Mandeville hospital with injured children from Beirut in 1987

Savile was knighted in 1990 and continued his charity work throughout the decade

Savile was questioned in 2007 by police about allegations of sexual abuse but the Crown Prosecution service says there is not enough evidence to warrant a prosecution

A 2008 police report into abuse at the Haut de Garenne children's home in Jersey names Savile, although this is never made public

Savile re-united with his Jim'll Fix It chair in 2009. The previous year Sussex police received a complaint of sexual assault but went on to say the victim was "unwilling to co-operate in any investigation"

Jimmy Savile is found dead at the age of 84 in October 2011. He is buried in Scarborough

In December 2011 the BBC drop an investigation by Newsnight into the allegations of sexual abuse by Jimmy Savile. Three tribute programmes are aired instead

ITV airs a documentary, 'Exposure, the Other Side of Jimmy Savile', in which a number of women claim they were abused by Savile as youngsters, including Karin Ward (pictured)

Within days of the documentary, many more allegations surface. By the 9 October Peter Spindler of the Metropolitan Police tells the BBC: "It is quite clear from what women are telling us that Savile was a predatory sex offender"

11 October 2012 and George Entwistle, Director General of the BBC, asks journalists why the Newsnight programme was dropped as police from Tayside, Greater Manchester, Lancashire and North Yorkshire police say they are investigating allegations going back to 1959

12 October and police reveal they have 340 potential lines of inquiry

15 October sees a man come forward alleging that Savile abused him when he was a nine-year-old boyscout

Savile's family removed his headstone from his grave and broke it up in the wake of the furore

Jimmy Savile sexually abuses transgender man

A transgender man comes forward alleging that Jimmy Savile 'stuck his hand up his nightdress' while he was a 17-year-old teenage girl at Broadmoor in the 1970's. More here http://www.huffingtonpost.co.uk/2012/10/15/jimmy-savile-timeline-abuse-allegations_n_1966426.html?1350304573#slide=1641388
"Humour is funny. That was just out of order."
The former student of Edinburgh Napier University also said he would not attend the event again.
In support of his message, Margaret Ryles also wrote a comment on the social networking site about the use of Jimmy Savile for fancy dress.
She said: "I feel there was no respect for those who were abused by this very sick sick man...and I think it was in very bad taste, offensive and insensitive."
Concern was also expressed by local politician Christine Grahame MSP whose constituency includes Lauder.
She said: "While I wouldn't want to censor anyone, I think that this has been a serious misjudgment.
"These gala days are fun, family days and I think it was in poor taste to have done this. The people involved have shown bad judgment and I hope that they reflect upon the offence that their actions will have caused to many people."
In response to the comments the organisers said: "Lauder Common Riding Committee is responsible for running one of the oldest and largest equestrian events in Europe.
"Our main aim is to ensure this event is run safely and for the enjoyment of spectators and the many hundreds who take part in all our events. This we have done very successfully both this year and in the past.
"Our fancy dress parade is only one element of our week and is a long-standing tradition. We have never censored anyone who has entered the event. It is up to the individuals who enter and their conscience to decide how they wish to express themselves and approach the event.
"People spectate and take part of their own free will. This year we did not receive any complaints about any of the entrants.
"We are obviously dismayed and understand that people are upset by the coverage one of the entries has received; however, we would reiterate that the committee does not condone or condemn the individual's right to enter the parade in their own way."