Imagine a radio station that played obscure Scandinavian indie pop, hopeful wistful fuzz-punk and Andrew WK track after Andrew WK track after obscure instrumental Andrew WK piano improvisation.
It would clearly be the greatest radio station in the world. But do not despair: this radio station exists, courtesy of me (as of this afternoon), after music streaming site Rdio implemented a raft of new features designed to give customised 'stations' as much prominence as albums and artist pages.
Custom radio stations in music streaming services aren't new. They've always been a part of Rdio in some form, and Spotify has had them for more than a year. And while it's not available in the UK, Pandora radio has also built up a strong user base in the US on this very idea.
But Rdio says its new updates make stations more customisable, consistent and more deeply embedded in the service than ever. So what's new?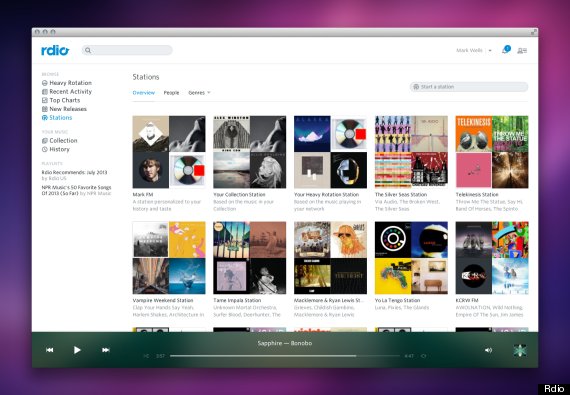 Rdio's new and improved stations can be generated around up to ten different 'types' of starting point. They include "You FM", a personalised station that uses taste profiling from The Echo Nest to build a playlist from your music collection, Facebook and Twitter profiles and Rdio votes. Stations built on individual songs, artists, sub-genres and other users can also be created, all drawing on Rdio's 20 million tracks. In a neat twist, all of the stations can also be subtly adjusted on a five-point scale from "Familiar" to "Adventurous", depending on how far from your usual back garden you want to drift.
The update - which will also be launched on Rdio's iOS and Android apps - features a redesigned radio player, with big album artwork and a frosted glass design reminiscent of iOS 7.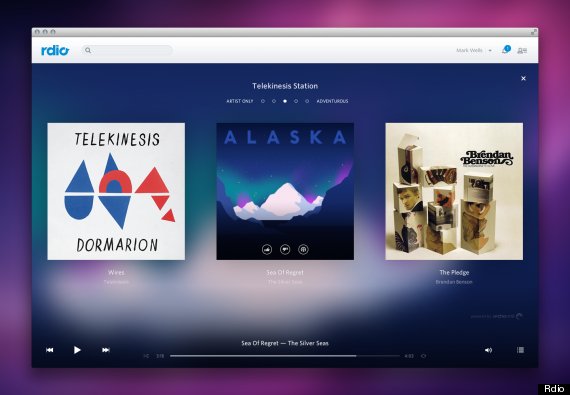 Rdio's move comes on the same day that Google's All Access streaming service launches in the UK. It also arrives weeks before Apple launches its Radio service built into iOS, and days after Spotify unveiled fresh updates to music discovery within its app.
The common theme? All of these services have millions of available tracks, but they all admit that finding something to listen to is still pretty difficult.
Chris Becherer, VP of product at Rdio, told HuffPost that the new features would help users cut through the clutter, admitting that just making 20 million tracks available at once can be "overwhelming".
"We want to pull in as much music discovery as we can," he told HuffPost. "We don't want people to feel like they have to go to 10 different things to find and consume music. We want to be that one-stop shop for everything."
"20 million [tracks] is an almost mind-boggling number, it's a little bit overwhelming. What we try to do is introduce some scarcity into the product… We're going to steer the entire product based on what types of users you want to follow."
"We want to keep you in a familiar garden, but keep introducing a few things here and there to keep that music discovery feel very fresh."
Loading Slideshow
Jawbone Mini Jambox

Jawbone's Mini Jambox takes the same basic styling as the larger model, and shrinks down the form-factor without compromising too much on the sound. It starts at £149, and for the price it's a great piece of kit. It weighs just 9 ounces, and offers 75 hours of standby battery (10 hours playtime) on a single charge.

Sonos Play:1

We're <a href="http://www.huffingtonpost.co.uk/2013/07/23/sonos-system-review-playbar_n_3639336.html">huge fans</a> of the Sonos system, which allows you to easily and wirelessly connect a range of speakers into a network around your home, and play a massive amount of content through a dedicated app. <a href="http://www.huffingtonpost.co.uk/2013/10/23/sonos-play-1-speaker-review_n_4148934.html" target="_blank">The Play:1s are among our favourite Sonos components yet</a> - small, neat, compact and with excellent sound quality. They're the gateway drug to the most complete audio solution in the world. (£<a href="http://www.sonos.com/shop/products/play1" target="_blank">169</a>)

Orbitsound T9

The Orbtisound T9 Soundbar works perfectly both with your TV and your iPhone or iPod, since it comes with great, full-room sound as well as a built-in charger. (£<a href="http://www.amazon.co.uk/Orbitsound-OST9B-T9-Soundbar-Black/dp/B008RXXLGM/ref=sr_1_1?s=electronics&ie=UTF8&qid=1369835876&sr=1-1&keywords=Orbitsound+T9" target="_blank">189</a>)

Philips Fidelio P9

<a href="http://www.amazon.co.uk/Philips-P9BLK-10-Bluetooth-Wireless/dp/B009HP5V7G/ref=sr_1_1?s=electronics&ie=UTF8&qid=1369836152&sr=1-1&keywords=Philips+Fidelio+P9" target="_blank">For £239 you're getting a legitimately excellent Bluetooth portable</a> speaker with grown-up styling, soft dome tweets, a high-performance amp and a USB port to charge your phone or music player if you need to get an extra boost.

PMC Twenty 23

These are some seriously expensive speakers (£2,100) but <a href="http://www.whathifi.com/review/pmc-twenty-23" target="_blank">according to What HiFi</a>, they're worth every penny, with rich, deep, booming sound able to deal with the highest-fidelity recordings and reproduce them with wonderful quality in a luxury at-home setting.

Bose SoundTouch

The new Soundtouch range by Bose combines the company's deservedly famous sound quality with a new, simple and easy way to connect your speakers wirelessly, around your home. With a dedicated app, a focus on 'presets' to make playing music as quick as turning on a light and a range of components at decent prices, it seems like an easy win. They're a bit outgunned in the content stakes right now - <a href="http://www.huffingtonpost.co.uk/2013/10/09/bose-soundtouch-hands-on-impressions_n_4071147.html" target="_blank">but for sound quality it's right up there.</a>

Monitor Audio Bronze BX2

<a href="http://www.whathifi.com/Review/Monitor-Audio-Bronze-BX2/" target="_blank">Simply put, these are five-star speakers</a> for less than £350. They're handsome, timeless and sound amazing.

Joey Roth Ceramic Speaker

<a href="http://joeyroth.com/ceramic-speakers/" target="_blank">These are among the most unique speakers you can buy</a>. They're not cheap, but they sound great - and you'll never need to buy another conversation starter for your living room again. All anyone will want to talk about is your HiFi.

Ultimate Ears UE Boom

The UE Boom is a Bluetooth, iOS and Android compatible wireless speaker that features great 360-degree sound. UE pitch it as the first "social" speaker since it can connect to two source devices at the same time. It's also stain and water resistant and has a 15-hour battery - and gorgeous styling.