A young KKK member poses in her custom-made wedding veil as her fiancé looks on.
Meanwhile an imperial wizard of a southern based KKK realm takes aim with a pellet gun at a cockroach, while his wife and goddaughter shield themselves from a possible ricochet.
These remarkable images are just some of the the fruits of a year-long project for photojournalist Anthony S. Karen.
Scroll down for more pictures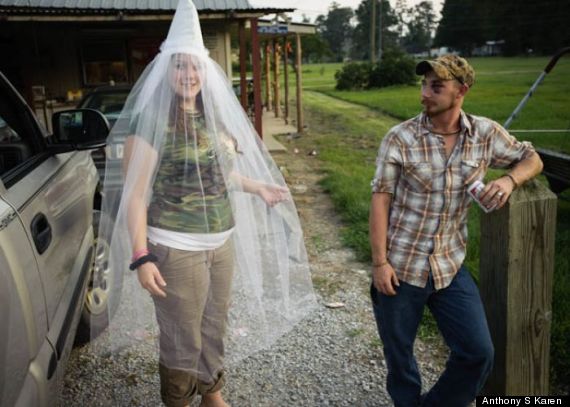 'Little Charlie' of the Louisiana-based Dixie Rangers of the Ku Klux Klan displays her custom-made wedding veil as her fiancé looks on
He is also affiliated with charities including Friends in Deed, Smile Train and the Humane Society.
Of his entry into one of the world's most private white separatist organisations, he told FotoEvidence: "I think a lot of the credibility I've earned also stems from my basic philosophy that you need to give some of yourself in order to receive anything back.
A day in the life of the KKK
"I spend time with people, I listen to what they have to say, and I treat each person as an individual. I don't have to believe what they believe, but whenever I'm in someone's space, I feel I'm obliged to observe without judgment.
"That's not to say I wouldn't intervene if I felt a situation called for it, but I choose to observe moment to moment and simply take in what I see and experience without presumption or pretext."
The former US Marine tells Slate the trust afforded to him by groups like the KKK is "a moment that's constantly validated, the wordless acceptance into someone's personal space with a camera."
SUBSCRIBE AND FOLLOW
Get top stories and blog posts emailed to me each day. Newsletters may offer personalized content or advertisements.
Learn more