Sound the new celeb couple klaxon! One Direction's Niall Horan is off the market after he was spotted sharing saliva with singer Ellie Goulding at this year's V Festival.
Despite their very best attempts to go unnoticed during Sunday night's Kings Of Leon set (sorry, but wearing sunglasses at night and holding on to a burly bouncer will ALWAYS draw attention), Niall and Ellie were spotted chatting and giggling together throughout.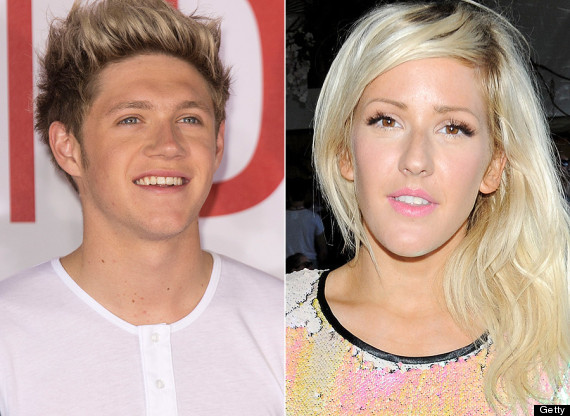 Niall Horan and Ellie Goulding
But the pair waited until the encore for a major PDA when they locked lips for a full-on snog.
Niall, 19, and Ellie, 26, then sneaked off back to the comfort slash safety of the backstage Mahiki Coconut Bar where they had a run through of their honeymoon by sipping cocktails out of pineapples. Probably.

Ellie - who split from her US actor boyfriend Jeremy Irvine last month - has plenty to celebrate at the moment. As well as bagging herself a member of One Direction she's also just scored her first UK No.1 single with 'Burn'.
And it seems being a member of the biggest band on the planet really does get you everything you want.
Speaking about his lack of love life recently, Niall said: "We go back on the road straight after a show and we're gone.
"I wish we did have time for girls and parties but we don't. [But] I'll say one thing: Ellie Goulding – wow. She's absolutely amazing looking."
Message receieved and understood.
V Festival 2013: Backstage Goss
Rita Ora joined the rest of the universe when she admitted backstage that she has a crush on Harry Styles, saying: "Everyone has a crush. I mean, me and the whole industry probably have a crush on Harry Styles. Everyone's acting like it's a shock but, I'm sorry, I think I'm just the only one admitting it. I like his hair. I just think he's funny and cute."

It looks like things are back ON between David Gandy and actress Samantha Barks. The male model claimed to be single last month but he looked anything but as he cosied up to the 22-year-old actress in the Virgin Media Louder Lounge.

All eyes were on the pairing of not-very-ugly Rugby star (and Kelly Brook's ex) Thom Evans and Pixie Lott's boyfriend, model Oliver Cheshire as they posed for pics in the Mahiki VIP backstage bar.

As well as performing on the main stage, Paloma Faith also put in a stunning intimate two-song set for the VIPs (and us!) backstage in the Virgin Media Louder Lounge.

Leigh Francis managed to go (almost) completely unnoticed after disguising himself with a fake beard, sunnies and hat. Well, would YOU have recognised him?

And the how-the-hell-did-you-get-in? award went to over-the-hill-boyband, 5ive.

Brit model Cara Delevingne - snapped here with Harry McFly - was spotted partying with One Direction's Niall Horan later in the day (just don't tell Harry Styles).

Rugby star Ben Foden managed to drag himself away from his mates (and the free bar) to meet up with his missus, Una Healy, following The Saturdays' performance at the festival. And he narrowly avoided a HUGE bust up after he lost his wedding ring before another punter in the VIP area found it and handed it back. Phew!

Tulisa - who managed to blag 10 hangers-on friends into the Virgin Media Louder Lounge - showed everyone who The Female Boss was (see what we did there) when she broke up a fight in the crowd during Beyonce's headline set.

The Saturdays were a member down after Frankie Sandford was told to rest up ahead of the birth of her first child. Before the girls' set, Frankie tweeted: "Really sad I won't be there for the next few gigs, as I've been advised not to perform by my doctor until after the baby arrives."