Sound the new celeb couple klaxon! One Direction's Niall Horan is off the market after he was spotted sharing saliva with singer Ellie Goulding at this year's V Festival.
Despite their very best attempts to go unnoticed during Sunday night's Kings Of Leon set (sorry, but wearing sunglasses at night and holding on to a burly bouncer will ALWAYS draw attention), Niall and Ellie were spotted chatting and giggling together throughout.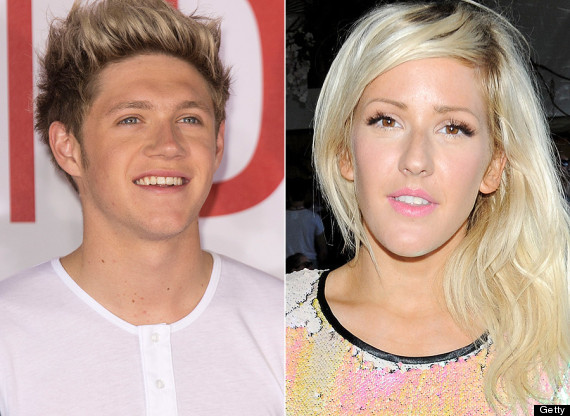 Niall Horan and Ellie Goulding
But the pair waited until the encore for a major PDA when they locked lips for a full-on snog.
Niall, 19, and Ellie, 26, then sneaked off back to the comfort slash safety of the backstage Mahiki Coconut Bar where they had a run through of their honeymoon by sipping cocktails out of pineapples. Probably.

Ellie - who split from her US actor boyfriend Jeremy Irvine last month - has plenty to celebrate at the moment. As well as bagging herself a member of One Direction she's also just scored her first UK No.1 single with 'Burn'.
And it seems being a member of the biggest band on the planet really does get you everything you want.
Speaking about his lack of love life recently, Niall said: "We go back on the road straight after a show and we're gone.
"I wish we did have time for girls and parties but we don't. [But] I'll say one thing: Ellie Goulding – wow. She's absolutely amazing looking."
Message receieved and understood.
Loading Slideshow
V Festival: Backstage Gossip

<strong>Rita Ora</strong> joined the rest of the universe when she admitted backstage that she has a crush on Harry Styles, saying: "Everyone has a crush. I mean, me and the whole industry probably have a crush on Harry Styles. Everyone's acting like it's a shock but, I'm sorry, I think I'm just the only one admitting it. I like his hair. I just think he's funny and cute."

V Festival: Backstage Gossip

It looks like things are back ON between <strong>David Gandy</strong> and actress <strong>Samantha Barks</strong>. The male model claimed to be single last month but he looked anything but as he cosied up to the 22-year-old actress in the Virgin Media Louder Lounge.

V Festival: Backstage Gossip

All eyes were on the pairing of not-very-ugly Rugby star (and Kelly Brook's ex) <strong>Thom Evans</strong> and Pixie Lott's boyfriend, model <strong>Oliver Cheshire</strong> as they posed for pics in the Mahiki VIP backstage bar.

V Festival: Backstage Gossip

As well as performing on the main stage, <strong>Paloma Faith</strong> also put in a stunning intimate two-song set for the VIPs (and us!) backstage in the Virgin Media Louder Lounge.

V Festival: Backstage Gossip

<strong>Leigh Francis</strong> managed to go (almost) completely unnoticed after disguising himself with a fake beard, sunnies and hat. Well, would YOU have recognised him?

V Festival: Backstage Gossip

And the how-the-hell-did-you-get-in? award went to over-the-hill-boyband, <strong>5ive</strong>.

V Festival: Backstage Gossip

Brit model <strong>Cara Delevingne</strong> - snapped here with <strong>Harry McFly</strong> - was spotted partying with One Direction's <strong>Niall Horan</strong> later in the day (just don't tell Harry Styles).

V Festival: Backstage Gossip

Rugby star <strong>Ben Foden</strong> managed to drag himself away from his mates (and the free bar) to meet up with his missus, <strong>Una Healy</strong>, following The Saturdays' performance at the festival. And he narrowly avoided a HUGE bust up after he lost his wedding ring before another punter in the VIP area found it and handed it back. Phew!

V Festival: Backstage Gossip

<strong>Tulisa </strong>- who managed to blag 10 <s>hangers-on</s> friends into the Virgin Media Louder Lounge - showed everyone who The Female Boss was (see what we did there) when she broke up a fight in the crowd during Beyonce's headline set.

V Festival: Backstage Gossip

<strong>The Saturdays</strong> were a member down after <strong>Frankie Sandford</strong> was told to rest up ahead of the birth of her first child. Before the girls' set, Frankie tweeted: "Really sad I won't be there for the next few gigs, as I've been advised not to perform by my doctor until after the baby arrives."

LIKE US ON FACEBOOK | FOLLOW US ON TWITTER
Loading Slideshow
One Direction entertaining their fans - all pictures: PA
Also on HuffPost: