Gentlemen, ladies, start your downloads. O2 and Vodafone have finally launched their 4G data service, bringing competition to the UK market for the first time.
O2's service will initially be switched on in London, Leeds and Bradford, reaching up to five million people from the launch, while Vodafone will roll its service out in parts of the capital.
Both networks plan to have network coverage in 13 cities by the end of the year - London, Birmingham, Bradford, Coventry, Edinburgh, Glasgow, Leeds, Leicester, Liverpool, Manchester, Newcastle, Nottingham and Sheffield - and both plan eventually to provide 4G coverage to 98% of the population.
But their launch was upstaged when Three Mobile announced that it will transition all customers to 4G for free in December - including those with unlimited data plans.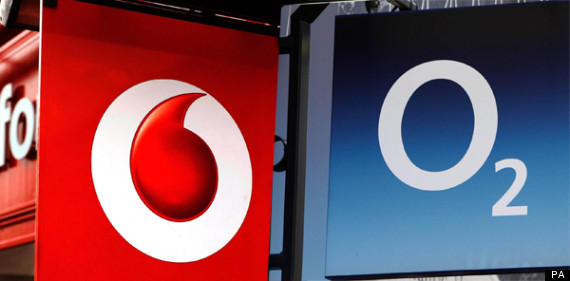 The launches follow on the heels of EE, which has offered "super-fast" 4G mobile data in the UK since October last year.
4G - fourth generation networks - can provide data to smartphone users on average six times faster than 3G connections, Vodafone said.
Vodafone spent £802 million when it bid for part of the mobile phone spectrum to provide 4G, while O2 spent £550m to buy a proportion of the lowest frequency spectrum.
Guy Laurence, chief executive of Vodafone UK, said 4G was a "step change" that would allow people to watch football matches or download thousands of songs from services such as Spotify on the go.
He said Vodafone had already signed up 20,000 customers to the new service.
"The opportunity to watch football... while you are waiting for something, you are stood at the bus stop, you are at the dentist in the waiting room, you can watch a game live now on 4G and people will flock to that," he told Sky News.

"So I think adoption will be far faster than 3G, which was 10 years ago, because people didn't really know how to use it. It is no good trying to sell technology to people, you have to sell something they want, and they want entertainment."
He added that 4G uses old television frequencies which would allow the signal to penetrate into houses far more effectively than 3G. New planning laws would also allow the firm to erect transmitters in areas it could not before, he said.
"By the end of 2015 we will have 98% coverage. To give you an idea,only 98.4% of dwellings have running water. So 98% is very high indeed."

Ronan Dunne, CEO of Telefónica UK (O2) said:
"Today marks the first step in our ambitious plan to bring 4G services to millions more people across the UK. The possibilities of 4G – be it for consumers or businesses – have not yet been realised. For many, 4G mobile services represent faster download speeds and acceptable video streaming on the train. We all need to start thinking bigger. "For consumers, the arrival of mass-market 4G marks the beginning of an exciting new era, bringing them closer to the things they are passionate about. For businesses, 4G represents the new infrastructure vital to powering the products and services they need to help turn our faltering recovery into a steady one. The mass-market arrival of 4G marks a new generation for the digital age and we're excited to be celebrating the occasion today with our customers."
Loading Slideshow
iPhone 5S

With the same ultra-clear Retina display as the iPhone 5, but now with an <a href="http://www.huffingtonpost.co.uk/2013/09/10/iphone-5s-uk-pictures-release-date_n_3898775.html?1378818683&utm_hp_ref=uk-tech" target="_blank">added fingerprint sensor</a>, a seriously impressive 64-bit A7 chip, an improved camera and a new gold design option, this is the best iPhone ever made. And with its consistent market-leading app selection, easy-to-use OS and delightful design, it's hard to argue against it being one of the very best gadgets ever made too.

Google LG Nexus 5

The new Nexus 5 is based on the internals of the LG G2 - which means you get the same Snapdragon 800 processor, as well as the full version of Google's new Android 4.4 KitKat OS, which integrates SMS messages into Hangouts, freshens up the design and adds new features under the hood. The camera is still a little lacking, while the design is functional rather than beautiful, but at £299 off contract it's still a steal.

Samsung Galaxy Note III

The Note III is huge. It's got a 5.7-inch screen, though with the same 1080P resolution as the Note II. It adds a new leather back panel, which gives it an 'office' feel in line with the productivity-plus-stylus theme of the device. It also adds a Snapdragon 8000 quad-core processor, some new software enhancements and a few new S-Pen functions into the mix. If you're looking for a giant note-taking phone, this is still your best bet.

iPhone 5C

The 5C was rumoured to be Apple's 'budget' iPhone. It isn't - and not only because it isn't that cheap. The "proudly plastic" 5C comes in five colours (see what they did there) <a href="http://www.huffingtonpost.co.uk/2013/09/10/iphone-5c-uk-pictures-release-date_n_3899557.html?utm_hp_ref=uk-tech" target="_blank">but has the same internals, screen and camera as the iPhone 5.</a> It's essentially the same beautiful, high-end phone you already know and love, in a more colourful (and potentially divisive) design. As such it's hard to see how Apple won't sell a billion of them.

Samsung Galaxy S4

Though the S4 i<a href="http://www.huffingtonpost.co.uk/2013/04/24/samsung-galaxy-s4-review-_n_3145186.html?utm_hp_ref=uk-tech" target="_blank">s in some ways an evolutionary upgrade over its wildly successful S3</a>, it's an extremely attractive, lightweight and high quality phone with a 5-inch HD screen, the fastest processor ever seen in a phone and <a href="http://gdgt.com/samsung/galaxy/s/4/" target="_blank">some interesting new features</a>, including a measure of 'eye tracking' controls and gestures that don't require you to touch the screen.

HTC One

The HTC One is probably the most beautiful smartphone on the market - and is also the most intelligently designed. With twin, front-facing speakers it's the best choice for watching movies, and its 4MP 'Ultra Pixel' camera punches above its meagre pixel-count suggests.

Sony Xperia Z1

Sony's new flagship smartphone is an evolutionary development of the also-excellent Z. It keeps the same screen, the waterproof design and the nicely-tweaked version of Android, while upping the processor performance, improving the camera and smoothing out the rough (or rather sharp) edges of the Z's blocky design.

Nokia Lumia 925

<a href="http://gdgt.com/nokia/lumia/920/" target="_blank">The Nokia Lumia 925</a> has the same great design and attention to detail we've come to expect from Nokia, but with some crucial upgrades from the 920 including a thinner, all-metal design and an improved camera.

LG G2

The LG G2 is an extremely high-end 5-inch, 1080p Android 4.2.2 smartphone whose major distinguishing feature is that it has three buttons on the back of the device, which are normally found on the sides. The G2 has its camera button and volume rocker on the rear, which for many people is enough to justify the purchase alone. It also has excellent battery life for this class of device.