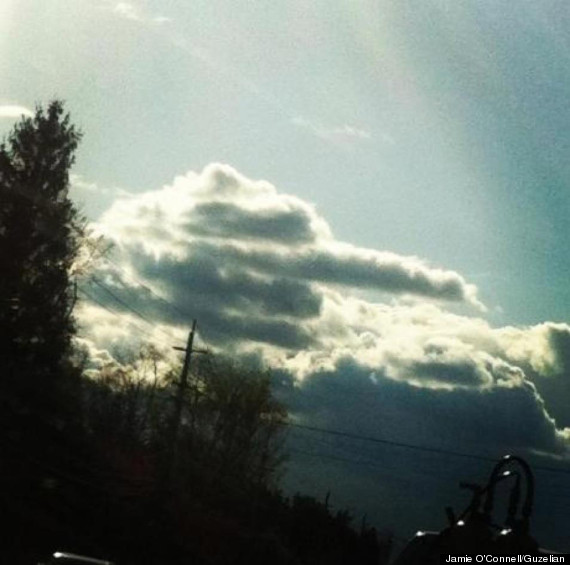 Perhaps it's God conveying some sort of angry message?
Is he - sorry, He - still upset that the Pope said He told him to resign?

(Hat-tip: Jamie O'Connell)
Also on HuffPost:
Loading Slideshow
"Watch out, that thing's deadly!" onlookers cried out to the crocodile.

David Cameron is amazed to learn that poor people drink this from taps.

On stage at V, Beyonce jumps for joy at learning that her Nando's order has arrived.

Wait a minute - is Usain Bolt showing his support for Russia?!

If only we'd seen Thatcher do this in her time.

Olly Murs suddenly remembers that he's left the iron on.

We can't be sure, but we THINK these One Direction fans might want to marry Harry Styles.

Mind you, other fans at the premiere were even more blatant.

We think we love you, Elliot the goat. No kidding.

Rosaria Dawson wows the crowds with her Tommy Cooper impression.

Yes, it's a Cadbury's publicity stunt. BUT IT'S MADE OF CHOCOLATE PEBBLES! AND IT'S TOTALLY AWESOME! (Sorry, we think we're a bit low on blood sugar.)

Literally the most exciting thing to happen in the Wales/Chester area this week: a dolphin in the River Dee.

Apparently this is normal attire when you play rugby in New Zealand. Who knew?!

Rita Ora pulls a hamstring. Well, it's tough work, performing.

Barack Obama: President, father, hands-on waiter.

Now, we know this is Simon Cowell trying to look his best. But it's still funny, right?

Although not as funny as the badly Photoshopped poster for The X Factor USA.

Carol McGiffin - strangely surprised at seeing a camera.

A giant cabbage, or really really tiny people? Unfortunately, the former.

Yes, it's weigh-in time at London Zoo!

No really, it is!

Jessie J whips the crowds up into... well, something.

Spot the ball! No, wait: spot the footballer!

Boris Johnson's hand signals left something to be desired.

Harry Styles, still as surprised as us by One Direction's success.

Think this is a bit embarrassing?

Try this.

Mind you, we do like the Labour Party's response.