'X Factor': 30 Of The Worst Auditions Ever (VIDEO)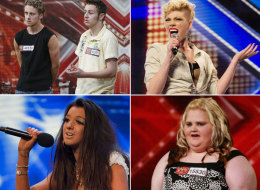 'The X Factor' is back *squeal*, and with the tenth series comes a new double auditions format which will see hopefuls try out for the judges in both the intimate room and the arena, which is just bound to throw up more TV gold.
So in honour of our favourite stage of the 'X Factor' competition kicking off, we've rounded up 30 of the worst auditions EVER in our video gallery below to get you in the mood. We challenge you to get through it without laughing...
X Factor: 30 Worst Auditions Ever
Ant and Seb (series 5)

Zoe Alexander (series 9)

Onka Judge (series 3)

Ablisa (series 7)

Emma Chawner (series 4)

Chloe Mafia (series 7)

Penelope (series 2)

'Evil' Rachel (series 4)

Shirlena Johnson (series 7)

Ariel Burdett (series 5)

Dawn (series 4)

Goldie Cheung (series 8)

Zoe Simpson (series 4)

Mad Donna (series 3)

Debbie Stevens (series 3)

Totoshko (series 4)

Robert Unwin (series 1)

Fouad Djaoublia (series 6)

Holly 'big mouth' Jervis (series 5)

Brenda Morris (series 7)

Guylene Rosange (series 5)

George Gerasimou (series 8)

Steve - and his bulge (series 6)

Ceri Rees (series 8)

Lorna 'Britney Spears' Bliss (series 9)

Michael 'Jackson' Lewis (series 7)

Patti Eleode (series 7)

Lorraine and mother-in-law Edna (series 3)

Emily (series 4)

Lion Sleeps Tonight girls (series 3)
MORE 'X FACTOR'