A five-year-old boy has piloted a plane – under the encouragement of his famously overachieving "Eagle Dad".
He Yide, nicknamed Duoduo, is reported to have made the 35 minute flight by ultralight aircraft across Beijing Wildlife Park on 31 August, according to China Daily.
"His first flight was very successful and he wasn't scared at all," father He Liesheng revealed on China's Twitter equivalent, Sina Weibo, ahead of the official journey which saw him in charge, though accompanied by an instructor.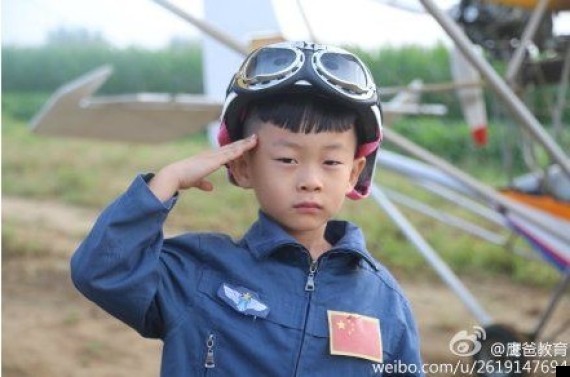 Duoduo salutes as he prepares to pilot an ultralight aircraft across Beijing's Wildlife Park
Liesheng was heavily criticised for the film, which saw him barking stern orders at his near-naked, sobbing son.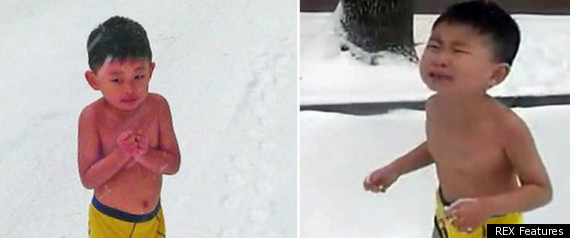 Clearly distressed, the little boy begs his father for a hug in footage of him being forced to perform footage in the snow
The footage saw him christened "Eagle Dad", a reference to the "Tiger Mum" term sparked by the benefits of tough parenting embraced in China.
Liesheng had earlier told news outlets his son had been born prematurely with water on the brain, but that since undergoing his training regime, "now he has no problems."
The party, equipped with just a bottle of water and a chocolate bar, had to be rescued after they were thwarted by altitude sickness and gale force winds.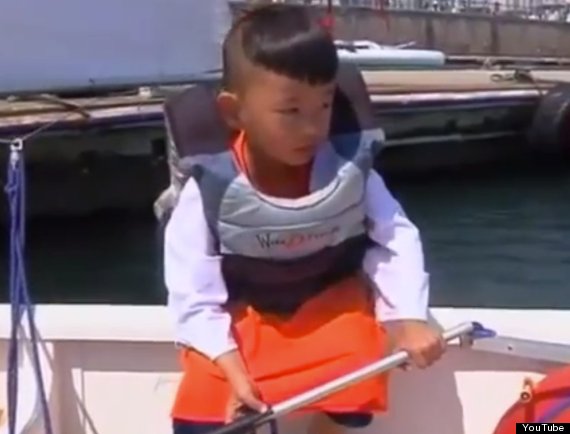 Duoduo was also trained to sail
SUBSCRIBE TO & FOLLOW UK DAILY BRIEF