Nicole Appleton has surprisingly been announced as Louis Walsh's advisor on this series of 'The X Factor'.
The former All Saints singer is joining Louis in France for the judge's houses round of the auditions, according to The Sun.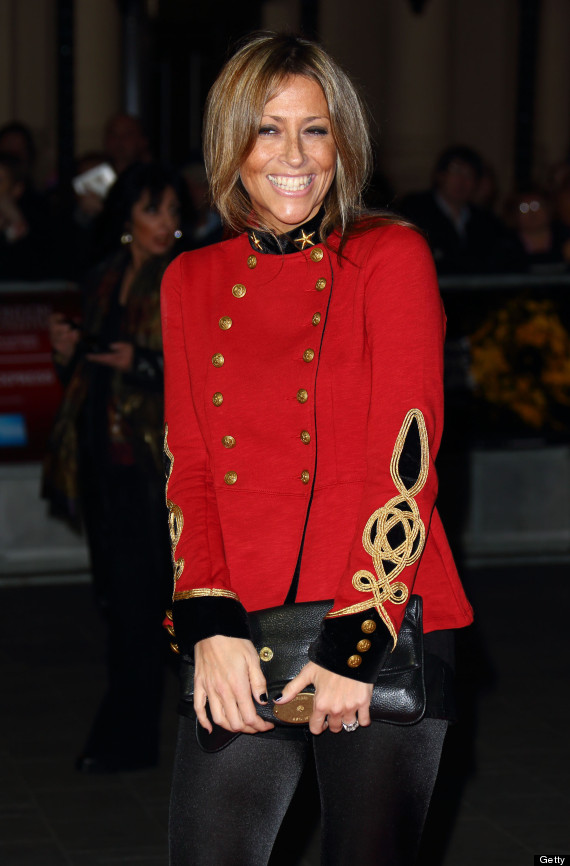 Nicole Appleton
Nicole recently split from her rock star husband Liam Gallagher amid allegations he has fathered a child with another woman, which could be the reason 'X Factor' bosses have snapped her up for the show.
Nicole, 38, will help former Westlife manager Louis pick the best of the Under 25 boys to go through to the live finals of the ITV talent show.
Last year Louis was helped by Sharon Osbourne, but this year she has returned to the judging panel and is mentoring the Over 25 category.
It has been revealed that Sharon's return to the judging panel helped boost viewing figures for the show by 500,000.
Top 20 'X Factor' Moments
2010: Friends Abbey and Lisa, AKA *coughs* Ablisa, came to blows onstage but not before murdering Shayne Ward's 'That My Goal' and asking Natalie Imbruglia who she was. Who needs enemies etc, etc

2012: Hysterical crying, collapsing to the floor, wailing... Rylan Clark's reaction to the news Nicole Scherzinger was taking him through to the live shows was TV gold.

2010: You don't have to be a professional lip-reader to work out what that naughty little scamp Harry Styles whispered into Matt Cardle's ear after he won the final in 2010. Tut tut.

Nicole Scherzinger: All of her.

2010: Cheryl Cole declared that Cher Lloyd was 'reet up her street' when she auditioned in 2010 - and after 37million views on YouTube, it seems she's not the only one.

2008: Alexandra Burke is crowned the winner of the 2008 series after a show-stopping performance of 'Listen' with her hero, Beyonce. Spine-tingling stuff that had us (and Alexandra) welling up.

2012: Tulisa was left speechless when Gary brought up her 'fag ash breath' during one of the live shows. We bet that doesn't happen very often.

2011: Lady Gaga runs on stage to embrace Marmite act Kitty Brucknell. Totes emosh.

2010: Cheryl and Dannii refuse to clap and aim their very best death stares in Jay Kay from Jamiroquai's direction after he slated them in the press ahead of his performance on the show. Two words: don't mess.

2012: Gary Barlow goes all diva on our asses as he storms off the live show in disgust at Rylan Clark going through to the next round over his act, Carolynne Poole. Remember her? Exactly.

2010: Justin Bieber tries his luck with Cheryl Cole. Fails.

2012: Pink-a-like Zoe Alexander throws the mother of all tantrums following her audition. We're still quaking behind our sofa. Brrrrrr.

2009: Calvin Harris enjoyed Jedward's rendition of the Queen classic 'Under Pressure' so much that he invaded the stage. With a pineapple on his head, natch.

2011: Alexandra Burke introduces the phrase 'ok.com' to the nation. Nation cringes.

2010: Whitney Houston put in a memorable performance back in 2010 - for all the wrong reasons. She started to sing 'Million Dollar Bill' in the wrong place, struggled through the performance and then suffered a major wardrobe malfunction when her bra strap came undone. Not her finest hour.

2012: Geri Halliwell vs Gary Barlow, AKA Barking vs Boring.

2011: Before Nicole Scherzinger brought new levels of camp to the show, there was Kelly 'who knew you were doing uptempo, owww' Rowland. J'adore.

2009: Lady Gaga sings 'Bad Romance' drressed as mad bat woman in a bath. As you do.

2011: Robbie 'does a Sinitta' as he helps his Take That mate Gary Barlow at judges houses. Not sure she'd have worn those socks though, Rob.

2010: Cher Lloyd loses it during the Judges' Houses stage of the competition, blaming a throat infection, not that Cheryl Cole seemed to mind - she still put her through to the live shows.
MORE 'X FACTOR'
Liam Gallagher Through The Years
381296 02: Family portrait of the Gallagher family in the mid 1970's from left to right Noel, Paul, Liam and Mum Peggy Gallagher. Noel and Liam Gallagher are both in the British rock band Oasis. (Photo by Dan Callister/Liaison)

CARACAS, VENEZUELA: Liam Gallagher, singer for British rock band Oasis, greets the public during the Caracas Pop Festival 21 January 2001. Liam Gallagher, cantante de la banda de rock britanica Oasis, saluda al publico durante uno de los ultimos temas del concierto de clausura del Caracas Pop Festival, en Venezuela el 21 de enero de 2001. Oasis compartio este ultimo espectaculo con el grupo estadounidense Colective Soul, ante un publico de unas 25.000 personas. (FILM) AFP PHOTO/Andrew ALVAREZ. (Photo credit should read ANDREW ALVAREZ/AFP/Getty Images)

SOMERSET, ENGLAND - JUNE 25: Liam Gallagher (L) and Noel Gallagher of Oasis perform on the Pyramid Stage during the 2004 Glastonbury Festival, on June 25, 2004 at Worthy Farm, Pilton, Somerset, England. The music festival spans over 3 days and runs until June 27. (Photo by Matt Cardy/Getty Images)

LONDON - FEBRUARY 17: Singer, Liam Gallagher arrives at The Shockwaves NME Awards 2005 at Hammersmith Palais on February 17, 2005 in London. The annual music awards sees winners decided by an NME readers' poll. (Photo by MJ Kim/Getty Images)

LONDON - OCTOBER 10: (L-R) Liam Gallagher poses with Yoko Ono in the awards room after she collected The Q Special Award for the work of her late husband John Lennon, at The Q Awards, the annual magazine?s music awards, at Grosvenor House on October 10, 2005 in London, England. (Photo by Jo Hale/Getty Images)

LONDON - OCTOBER 10: Liam Gallagher of Oasis demonstrates a rude gesture at the Q Awards, the annual magazine's music awards, at Grosvenor House on October 10, 2005 in London, England. (Photo by Jo Hale/Getty Images)

DUBLIN, IRELAND - DECEMBER 21: Liam Gallagher of Oasis performs live at The Point Theatre on December 21, 2005 in Dublin, Ireland. (Photo by ShowBizIreland/Getty Images)

(FILES) (From L) Members of the British rock band 'Oasis' Gem, Noel Gallagher, Andy Bell and Liam Gallagher hold a photocall in Hong Kong on February 25, 2006. The future of British rock group Oasis was plunged into doubt on August 28, 2009 after lead guitarist Noel Gallagher dramatically announced he was quitting because he can no longer work with his brother Liam. AFP PHOTO/MIKE CLARKE (Photo credit should read MIKE CLARKE/AFP/Getty Images)

LONDON - JULY 03: Former member of the Stone Roses turned artist, John Squire, and Liam Gallagher pose for a photograph at the New Work Exhibition at Smithfield Gallery on July 3, 2207 in London, England. (Photo by Chris Jackson/Getty Images)

LONDON - FEBRUARY 14: (UK TABLOID NEWSPAPERS OUT) Liam Gallagher of Oasis performs on stage at The BRIT Awards 2007 in association with MasterCard at Earls Court 1 on February 14, 2007 in London, England. (Photo by Getty Images/Getty Images)

LONDON - JULY 03: Singer Liam Gallagher poses for a photograph with two policemen at John Squire's New Work Exhibition at Smithfield Gallery on July 3, 2207 in London, England. (Photo by Chris Jackson/Getty Images)

MILAN, ITALY - NOVEMBER 09: Liam Gallagher of Oasis attends 'Che Tempo Che Fa' Italian TV Show on November 9, 2008 in Milan, Italy. (Photo by Vittorio Zunino Celotto/Getty Images)

MILAN, ITALY - NOVEMBER 09: Noel Gallagher and Liam Gallagher 'Che Tempo Che Fa' Italian TV Show on November 9, 2008 in Milan, Italy. (Photo by Vittorio Zunino Celotto/Getty Images)

LAS VEGAS - NOVEMBER 22: (L-R) Liam Gallagher of Oasis, Ricky Hatton of England, Noel Gallagher of Oasis and boxer Matthew Hatton celebrate Ricky Hatton's 11th round TKO victory against Paulie Malignaggi after their light-welterweight fight at the MGM Grand Garden Arena November 22, 2008 in Las Vegas, Nevada. (Photo by John Gichigi/Getty Images)

LAS VEGAS - NOVEMBER 22: Liam Gallagher of Oasis brings out a belt for boxer Ricky Hatton of England before taking on Paulie Malignaggi during their light-welterweight fight at the MGM Grand Garden Arena November 22, 2008 in Las Vegas, Nevada. (Photo by Ethan Miller/Getty Images)

Oasis singer Liam Gallagher gestures to theTottenham fans after his team, Manchester City score a goal during the English Premier League football match between Tottenham Hotspur and Manchester City at White Hart Lane, north London, England, on May 16, 2009. AFP PHOTO/Glyn Kirk. FOR EDITORIAL USE ONLY Additional licence required for any commercial/promotional use or use on TV or internet (except identical online version of newspaper) of Premier League/Football League photos. Tel DataCo +44 207 2981656. Do not alter/modify photo (Photo credit should read GLYN KIRK/AFP/Getty Images)

LONDON, ENGLAND - FEBRUARY 16: Liam Gallagher accepts Oasis' award for 'Best Album of 30 Years' on stage at The Brit Awards 2010 at Earls Court on February 16, 2010 in London, England. (Photo by Gareth Cattermole/Getty Images)

CANNES, FRANCE - MAY 14: Liam Gallagher and Nicole Appleton attends 'The Longest Cocktail Party' Photocall at the Terrazza Martini during the 63rd Annual Cannes Film Festival on May 14, 2010 in Cannes, France. (Photo by Andreas Rentz/Getty Images)

LONDON - MAY 22: Singer Liam Gallagher and son Gene Appleton Gallagher seen on the set of wife Nicole Appleton??s new music video May 22, 2003 in Primrose Hill, London. (Photo by Aura/Getty Images)

LONDON, UNITED KINGDOM - JULY 29: Nicole Appleton and Liam Gallagher Attend The Pretty Green Pop-Up Shop Launch on July 29, 2010 in London, England. (Photo by Neil Mockford/Getty Images)

GLASGOW, SCOTLAND - JANUARY 07: Liam Gallagher former Oasis front man leaves after opening the clothing store Pretty Green on January 7, 2011 in Glasgow, Scotland. Liam Gallaghers clothing brand draws inspiration from the art, and music scene of the 1960s. (Photo by Jeff J Mitchell/Getty Images)

MILAN, ITALY - MARCH 16: Liam Gallagher of Beady Eye performs at Alcatraz on March 16, 2011 in Milan, Italy. (Photo by Vittorio Zunino Celotto/Getty Images)

MADRID, SPAIN - MARCH 18: Liam Gallagher of Beady Eye performs in concert at the Riviera Club on March 18, 2011 in Madrid, Spain. (Photo by Robert Marquardt/Getty Images)

LONDON, UNITED KINGDOM - MAY 19: Liam Gallagher holds The FA Cup which was won by Manchester City, at the Launch Of Pretty Green's new store in Covent Garden at pretty green, Covent Garden on May 19, 2011 in London, England. (Photo by Neil Mockford/Getty Images)

LONDON, UNITED KINGDOM - MAY 19: Nicole Appleton and Liam Gallagher attends the Launch Of Pretty Green's new store in Covent Garden at pretty green, Covent Garden on May 19, 2011 in London, England. (Photo by Neil Mockford/Getty Images)

Beady Eye band's British singer Liam Gallagher performs on stage during a concert at the Eurockeennes music festival in Belfort, eastern France on July 3, 2011. The music festival takes place in Belfort from July 1 to July 3, 2011. AFP PHOTO / SEBASTIEN BOZON (Photo credit should read SEBASTIEN BOZON/AFP/Getty Images)

Singer Liam Gallagher of British rock band Beady Eye performs during a concert at the Lowlands festival 2011 in Biddinghuizen, the Netherlands, on August 21, 2011. The festival ends on 21 August. AFP PHOTO/ANP MARTEN VAN DIJL netherlands out - belgium out (Photo credit should read Marten van Dijl/AFP/Getty Images)

NEW YORK, NY - OCTOBER 20: Musician and singer-songwriter Liam Gallagher and model Eugenia Silva attend the WGSN Global Fashion Awards at Gotham Hall on October 20, 2011 in New York City. (Photo by Mark Von Holden/Getty Images for WGSN Global Fashion Awards)

NEW YORK, NY - OCTOBER 20: Designer Anna Sui and musician Liam Gallagher attend WGSN Global Fashion Awards at Gotham Hall on October 20, 2011 in New York City. (Photo by Mark Von Holden/Getty Images for WGSN Global Fashion Awards)

Beady Eye's Liam Gallagher performs during the closing ceremony of the 2012 London Olympic Games at the Olympic stadium in London on August 12, 2012. Rio de Janeiro will host the 2016 Olympic Games. AFP PHOTO/LEON NEAL (Photo credit should read LEON NEAL/AFP/GettyImages)

Oasis frontman Liam Gallagher performing on stage at London's Finsbury Park.

Liam Gallagher performs during the Olympic Games Closing Ceremony at the Olympic Stadium, London.

Liam Gallagher with Lifetime Achievement Award Winner Bradley Wiggins at the 2012 GQ Men Of The Year Awards at the Royal Opera House, Bow Street, London

Liam Gallagher with Lifetime Achievement Award Winner Bradley Wiggins at the 2012 GQ Men Of The Year Awards at the Royal Opera House, Bow Street, London

Liam Gallagher at the 2012 GQ Men Of The Year Awards at the Royal Opera House, Bow Street, London

Liam Gallagher performs during the Olympic Games Closing Ceremony at the Olympic Stadium, London.

British musician Liam Gallagher watches Paul Weller perform on stage at The 100 Club, 100 Oxford Street, as part of the Converse Represent gigs in central London, Wednesday, Aug 1, 2012. (AP Photo/Joel Ryan)

Liam Gallagher, singer of british rock band Beady Eye, performs live on stage during their concert in the Volkshaus in Zurich, Switzerland, on Tuesday, Oct 11, 2011. Gallagher formerly was frontman of the world famous band Oasis until they split up in 2009. (AP Photo/Keystone/Steffen Schmidt) GERMANY OUT - AUSTRIA OUT - - NO SALES - EDITORIAL USE ONLY FOR 60 DAYS - NO ARCHIVES

Liam Gallagher, singer of british rock band Beady Eye, performs live on stage during their concert in the Volkshaus in Zurich, Switzerland, on Tuesday, Oct 11, 2011. Gallagher formerly was frontman of the world famous band Oasis until they split up in 2009. (AP Photo/Keystone/Steffen Schmidt) GERMANY OUT - AUSTRIA OUT - - NO SALES - EDITORIAL USE ONLY FOR 60 DAYS - NO ARCHIVES

E367335. 04/09/00. Universal City, CA. Lead singer of rock group OASIS Liam Gallagher plays to a sell out crowd at the Universal Amphitheatre. Picture by DAN CALLISTER Online USA Inc