We hope Alexandra Burke invested in some talcum powder before taking to the stage at G-A-Y over the weekend, otherwise we can only imagine the trouble she had getting out of her outfit.
The former 'X Factor' winner went hell for rubber as she performed a set at the London nightclub, busting out some moves on stage.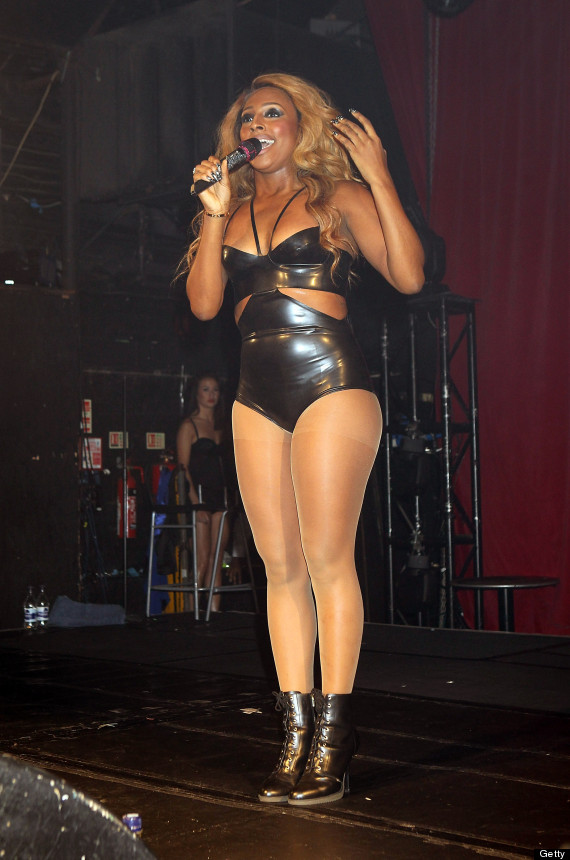 Alexandra Burke performs at G-A-Y
The skin-tight outfit flaunted the singer's curves, and flashed plenty of flesh thanks to its revealing cut-out panels.
She finished off her look with some skin-coloured tights and a pair of black heeled boots, as she sang new tracks from her EP, 'New Rules'.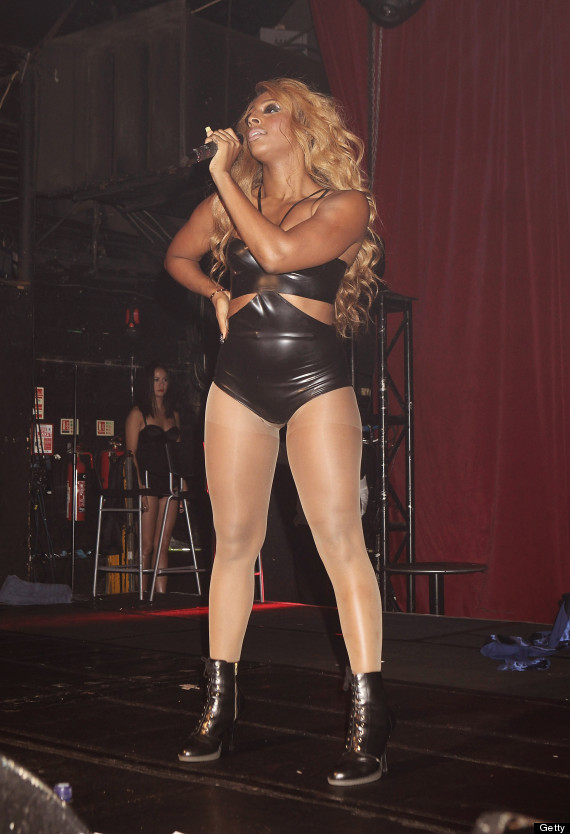 Alex went hell for rubber in her skin-tight outfit
One of the new songs, 'Day Dreams', talks explicitly about her failed relationship with footballer Jermain Defoe.
He allegedly cheated on Alexandra twice during their short romance last year, and her lyrics in the track include: "What were you thinking at the time when you decided to sleep with her? / It didn't stop there, this I know, 'cos the papers f***ing told me so.
"I had moments and I cried and I'm not ashamed to say so / drank every day, lost my best friend but I replaced you with merlot."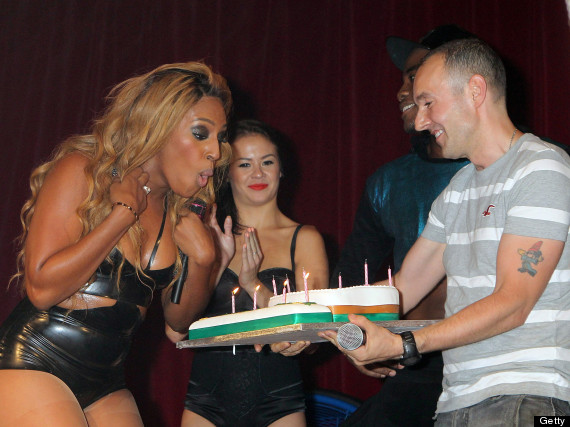 Alex was also presented with a cake to celebrate her recent 25th birthday
Top 20 'X Factor' Moments
2010: Friends Abbey and Lisa, AKA *coughs* Ablisa, came to blows onstage but not before murdering Shayne Ward's 'That My Goal' and asking Natalie Imbruglia who she was. Who needs enemies etc, etc

2012: Hysterical crying, collapsing to the floor, wailing... Rylan Clark's reaction to the news Nicole Scherzinger was taking him through to the live shows was TV gold.

2010: You don't have to be a professional lip-reader to work out what that naughty little scamp Harry Styles whispered into Matt Cardle's ear after he won the final in 2010. Tut tut.

Nicole Scherzinger: All of her.

2010: Cheryl Cole declared that Cher Lloyd was 'reet up her street' when she auditioned in 2010 - and after 37million views on YouTube, it seems she's not the only one.

2008: Alexandra Burke is crowned the winner of the 2008 series after a show-stopping performance of 'Listen' with her hero, Beyonce. Spine-tingling stuff that had us (and Alexandra) welling up.

2012: Tulisa was left speechless when Gary brought up her 'fag ash breath' during one of the live shows. We bet that doesn't happen very often.

2011: Lady Gaga runs on stage to embrace Marmite act Kitty Brucknell. Totes emosh.

2010: Cheryl and Dannii refuse to clap and aim their very best death stares in Jay Kay from Jamiroquai's direction after he slated them in the press ahead of his performance on the show. Two words: don't mess.

2012: Gary Barlow goes all diva on our asses as he storms off the live show in disgust at Rylan Clark going through to the next round over his act, Carolynne Poole. Remember her? Exactly.

2010: Justin Bieber tries his luck with Cheryl Cole. Fails.

2012: Pink-a-like Zoe Alexander throws the mother of all tantrums following her audition. We're still quaking behind our sofa. Brrrrrr.

2009: Calvin Harris enjoyed Jedward's rendition of the Queen classic 'Under Pressure' so much that he invaded the stage. With a pineapple on his head, natch.

2011: Alexandra Burke introduces the phrase 'ok.com' to the nation. Nation cringes.

2010: Whitney Houston put in a memorable performance back in 2010 - for all the wrong reasons. She started to sing 'Million Dollar Bill' in the wrong place, struggled through the performance and then suffered a major wardrobe malfunction when her bra strap came undone. Not her finest hour.

2012: Geri Halliwell vs Gary Barlow, AKA Barking vs Boring.

2011: Before Nicole Scherzinger brought new levels of camp to the show, there was Kelly 'who knew you were doing uptempo, owww' Rowland. J'adore.

2009: Lady Gaga sings 'Bad Romance' drressed as mad bat woman in a bath. As you do.

2011: Robbie 'does a Sinitta' as he helps his Take That mate Gary Barlow at judges houses. Not sure she'd have worn those socks though, Rob.

2010: Cher Lloyd loses it during the Judges' Houses stage of the competition, blaming a throat infection, not that Cheryl Cole seemed to mind - she still put her through to the live shows.