Michelin chef Oliver Dunne didn't take too kindly to a review in the Irish Independent by well known food critic Lucinda O'Sullivan.
After she posted a critical review of his Dublin restaurant Cleaver East that included gripes about the tasting menu and a card transaction at the end, Dunne posted a photoshopped picture of himself and a colleague holding up her 'severed' head on Twitter.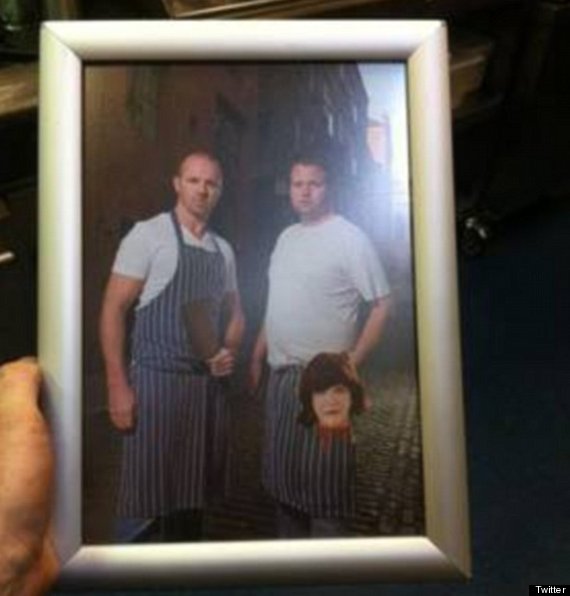 The original image featured Dunne holding a cleaver and a colleague holding a pig's head. The pig's head was replaced with O'Sullivan's, reported The Daily Mail.
The image was hastily removed from Twitter after users said it was 'tasteless' and Dunne has told the Irish Independent that he is sorry for posting the image.


MORE ON HUFFPOST UK:

Which British Restaurant Has Knocked The Fat Duck Off The Top Spot?
What was it that caused Dunne so much offence? In the article, O'Sullivan says: "Dunne and Carville are talented chefs but Paul O'Connor, my dining companion, and I felt perhaps the concept hadn't been fully thought through."
She goes on praise the majority of dishes but after there was a problem with the restaurant's card machine, she said: "Rattled, nay cleavered, is how I felt on departure."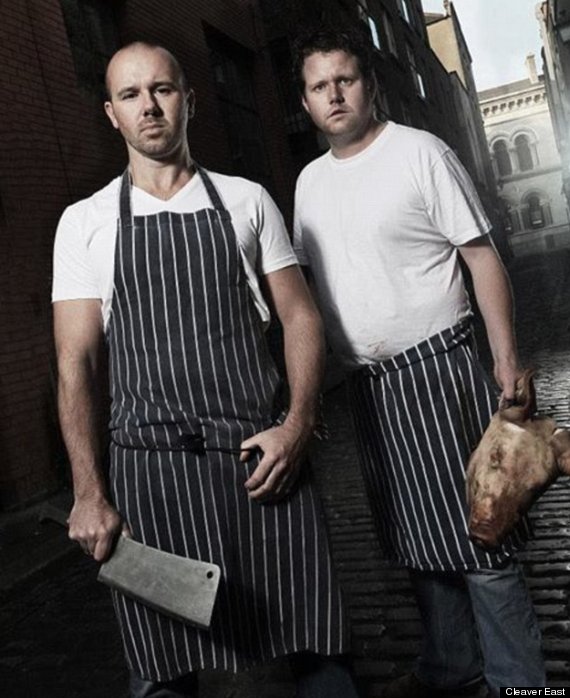 The original promotional image
In a lengthy blog on Cleaver East's own site, Dunne responded to O'Sullivan's article, adding: "As a direct result of this review I felt compelled to write a responding review on Lucinda's verbal diarrhea that she has been writing about Irish restaurants for years and directly having a negative impact on businesses and staff to boost her own ego."
Still, a deleted Twitter image is better than the debacle in 2011 involving a review written by AA Gill - chef Charlie McCubbin at the River Cafe in Brecon allegedly attacked a member of staff after the food was branded 'disgusting'.
Loading Slideshow
Is he the top dog? Current Mustard Belt holder Joey Chestnut has won three consecutive Nathan's Famous Fourth of July International Hot Dog Eating Contests -- and he's considered the favorite this year. Chestnut, pictured here after downing a record-setting 68 dogs last summer, says he wants to break the record this year.

Rivalry

The rivalry between Chestnut (left) and Takeru Kobayashi (right) has pushed competitive eating to new heights. After winning six consecutive Nathan's titles, Kobayashi lost to Chestnut in 2007, 2008 and 2009 -- when this photo was taken. Kobayashi reportedly won't compete in this year's competition because of disagreements with Major League Eating policy.

The 2008 Nathan's contest between Kobayashi and Chestnut was a battle for the ages. After tying with 59 dogs each in the 10-minute contest, Chestnut took the Mustard Belt in a five-dog eat-off.

Though Chestnut has defeated Kobayashi in three straight hot dog eating competitions, Kobayashi certainly isn't washed up. The six-time Mustard Belt winner defeated Chestnut in a pizza-eating competition in Los Angeles in May 2009.

Kobayashi one-upped Chestnut in a 2008 Major League Eating contest in Singapore, downing more than 10 pounds of the local food satay.

Pat Bertoletti

Chestnut and Kobayashi aren't the only eaters who have a chance to win. Competitive eater Pat Bertoletti, pictured competing in a corned beef and rye sandwich competition last March, could pull off a victory in Coney Island, according to Major League Eating President Rich Shea.

Bob

Tim "Eater X" Janus (left) and Bob "Notorious B.O.B." Shoudt (center) -- pictured at a seafood eating event last year -- are also contenders for this year's Mustard Belt. "Eater X" says he wants to enter the contest mentally prepared, while "Notorious B.O.B." has been training by eating 70 hot dogs in a single sitting.

Tim "Eater X" Janus and Sonya "The Black Widow" Thomas -- pictured in a 2007 Maine burrito eating competition -- are fan favorites.

"Crazy Legs" Conti has made a name for himself as a cannoli eating legend after downing 20.5 of the Italian treats in six minutes -- now he's looking for hot dog bun glory. On July 2, he and two other eaters will take on three Ringling Bros. elephants in a hot dog bun eating competition.

Takeru Kobayashi devoured the record for most wings in 30 minutes at the Philadelphia Wing Bowl in February, 2012, with 337 wings.