SEE ALSO: 'Castrate The Gang Rapists' Demands India's Pink Gulabi Gang
The combination of religious deities with the results of violence make for a powerful message in this Indian domestic violence campaign.
Featuring the Hindu goddesses Lakshmi, Durga and Saraswati, the shots show the women in typical serene yet powerful poses.
But each goddess bears the scars of physical violence -a graze, black eye, a fat lip and cuts.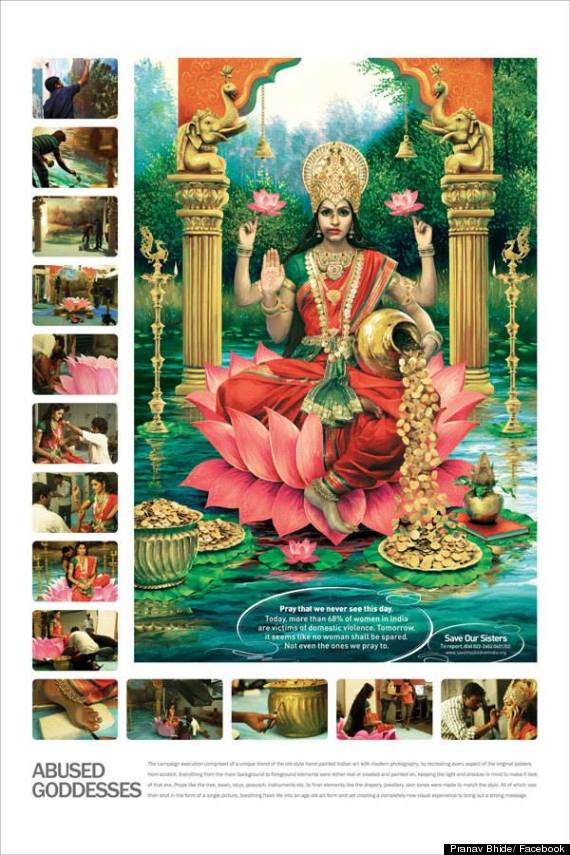 Lakshmi, Goddess of wealth
The accompanying text reads: "Pray that we never see this day. Today, more than 68 per cent of women in India are victims of domestic violence. Tomorrow, it seems like no woman shall be spared. Not even the ones we pray to."
A number is provided to report abuse to the Save Our Sisters charity - an initiative that works to prevent the trafficking of young girls and women for the purposes of sexual exploitation.
The Abused Goddesses series won a 'Lotus' award for Indian ad agency Taproot in March.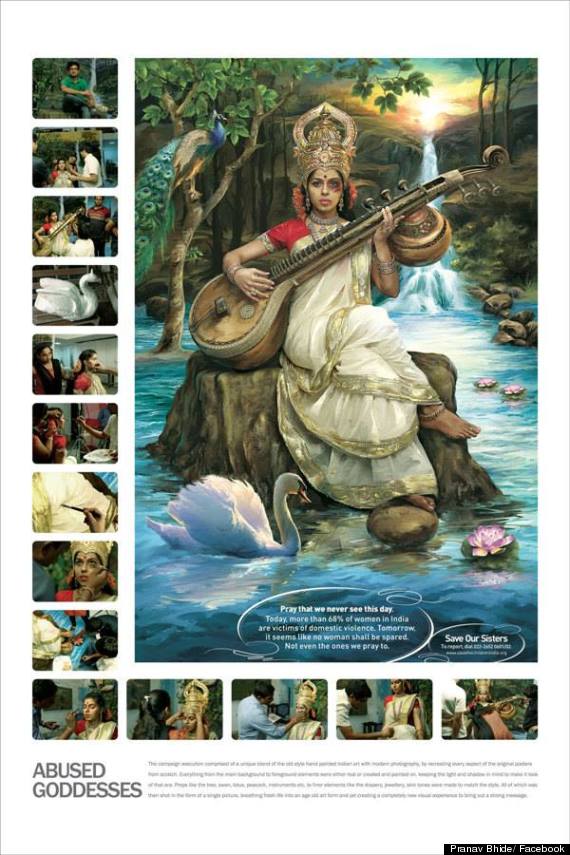 Saraswati, Goddess of knowledge and arts
As Buzzfeed points out, the campaign captures India's most startling contradiction: that of revering women in religion and mythology, while the nation remains incredibly unsafe for its women citizens.
Last year, 244,270 crimes against women were reported in India, the BBC said - though the number of unreported incidents is thought to be much higher.
And reports of a "rape culture" have been rife since the fatal gang rape of a 23-year-old student on a bus in Delhi in December last year.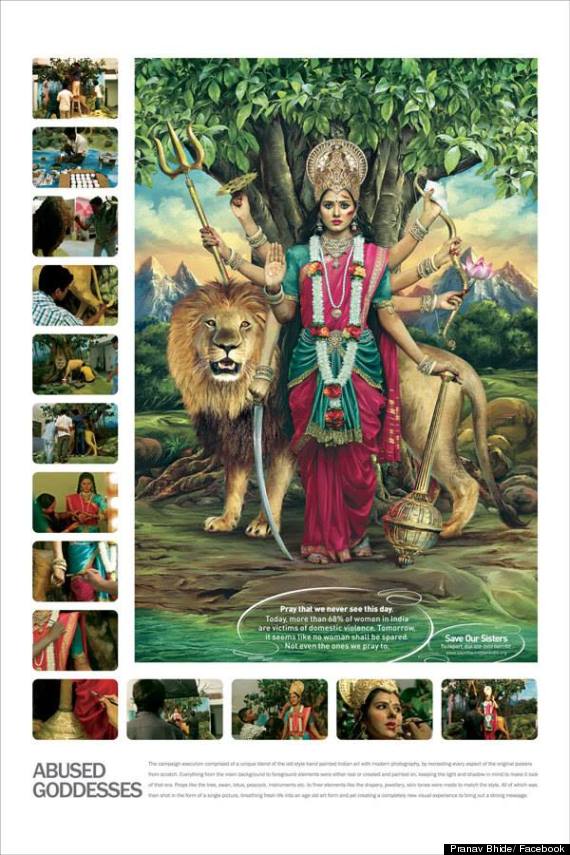 Durga, Goddess of victory of good over evil
It led to human rights groups urging the government to reform sexual assault laws.
New Delhi has emerged as the 'rape capital' of India, with 25% of cases across the whole of India occurring in the capital, according to an Al Jazeera report.
A woman is raped in Delhi every 14 hours, according to figures quoted by the BBC.
Notable Anti-Domestic Violence Campaigns
Women's Aid won an award for their domestic violence awareness campaign, which saw celebrities including Anna Friel, Fern Britton, Jemma Kidd and Honor Blackman made-over to appear as if they had been beaten.

In September the Home Office began piloting a Domestic Violence Disclosure Scheme, known as Clare's Law. It was so named to honour Clare Wood, who was strangled and set on fire by her ex-boyfriend. It proposes to give women "the right to know" if a partner has a history of domestic violence. The scheme came into being after campaigning to protect women from Michael Brown, the father of the murder victim.

Self-taught make-up artist Lauren Luke appeared before her YouTube subscribers in July looking battered and bruised. While the bruises were fake, the video, made in collaboration with UK charity Refuge sent a clear message to women across the globe: "65 per cent of women who suffer domestic violence keep it hidden. Don't cover it up." http://www.youtube.com/watch?feature=player_embedded&v=d-XHPHRlWZk

Atonement actress Keira Knightley starred in a 2009 Women's Aid ad which saw her punched and kicked to the ground. Shot by Atonement director Joe Wright, the clip was deemed "too violent" and was censored before it was shown on TV.

An 'unofficial' campaign was carried out against singer Chris Brown, who found his latest album, Fortune, slapped with stickers reading: "WARNING: Do not buy this album! This man beats women!"

Here's Barbie as you've never seen her before - as a model of domestic abuse. A student artist has painted black eyes, bruises and blood onto the perfect faces of the iconic dolls. The art project, It's A Matter Of Trust, has the tagline 'We shouldn't be taught that life is perfect.' Read more here.

On the surface this newlywed couple look blissfully happy, but sadly reality tells a different story - one of domestic violence and abuse. Behind the smiles, beautiful flowers and white wedding gown, the groom is twisting his new wife's arm, which is battered and bruised from previous violent episodes. The powerful image forms part of a hard-hitting Norwegian domestic violence awareness campaign. Read more here.