Do you actually know anyone who likes toe-sucking? No, we thought not. Yet over the years, most women have experienced at least one over-enthusiastic lover heading down south during sex to pop one in his mouth as if they were gummy bears.
Now, it turns out, we weren't being unreasonable about telling them to please, put down our foot and hand us a towel, a study published in the neuroscientific journal Cortex has revealed feet are the least erogenous of all the 41 body parts examined.
In a feature published by The Observer, "the research, a joint project between two British universities and one in South Africa, is billed as the first "systematic survey of the magnitude of erotic sensations from various body parts"."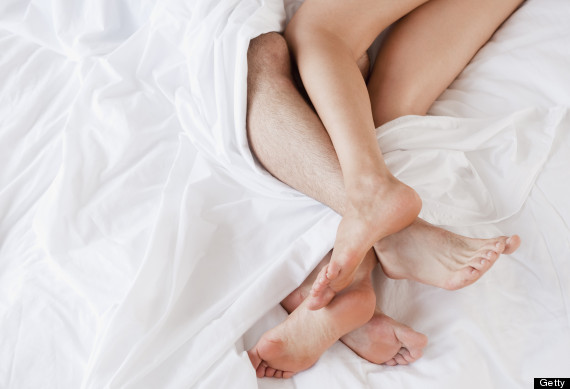 This challenges the notion that the feet - or certain areas of the foot - are closely linked to the genitals. In the study, 800 people, mainly from Britain and sub-Saharan Africa, took part and 75% gave the feet the lowest rating followed by the kneecaps (no surprise with the latter, however).
MORE HUFFPOST UK FOOT FUN:

Rise of the 'Mankle' Trend Leads To Surge In Smelly Feet
What the study also revealed was that whereas people commonly assume men only have one erogenous zone and women have many, actually the two sexes share a lot more than you'd think. For men, the forearm was the least titillating, but surprisingly, their inner thigh scored reasonably well.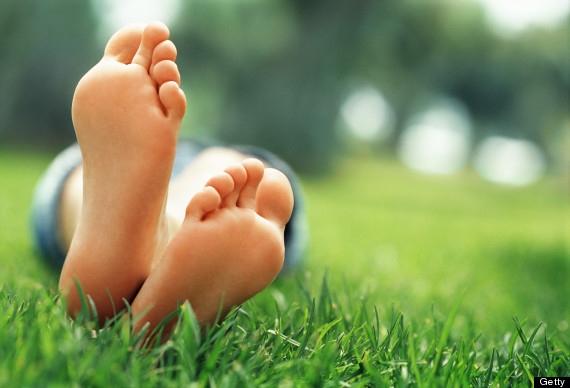 It also showed that two sets of people from different races, have the same erogenous preferences, which Professor Oliver Turnbull of Bangor University's School of Psychology, who led the study and worked alongside scientists from the University of the Witwatersrand in Johannesburg, said that it indicated that sexual stimulation was hardwired, not influenced by cultural preferences.
The Observer reported him as saying: "The Cosmopolitan magazines of this world have been running half-baked surveys on this for years and years. But we wanted to look at the question of why the side of the neck is interesting if nibbled but not the forehead or head, when both have the same sensory receptors."
Phew. We'd much rather nibble on a neck than a foot.
Loading Slideshow
Keeps Your Blood Flowing

According to Dr. Jennifer Berman, co-founder of the Female Sexual Medicine Center at UCLA, orgasms increase your circulation, keeping the blood flowing to your genital area. This in turn keeps your tissue healthy!

It's A Form Of Cardio

Although it can't be considered an alternative to daily exercise, having an orgasm is a cardiovascular activity. "Your heart rate increases, blood pressure increases [and your] respiratory rate increases," says Berman. And because it's akin to running in many physiological respects, your body also releases endorphins. Sounds like a pretty fun way to work your heart out.

Lifts Your Mood

Feeling down in the dumps? An orgasm might be just what you need to pick yourself up. In addition to endorphins, dopamine and oxytocin are also released during orgasm. All three of these hormones have what Berman terms "mood-enhancing effects." In fact, dopamine is the same hormone that's released when individuals use drugs such as cocaine -- or eat something really delicious.

Helps You Sleep

A little pleasure may go a long way towards a good night's rest. A recent survey of 1,800 women found that over 30 percent of them used sexual release as a natural sedative.

Keeps Your Brain Healthy

Having an orgasm not only works out your heart, but also your head. Barry Komisaruk, Ph.D. <a href="http://www.cosmopolitan.com/sex-love/tips-moves/orgasm-news" target="_hplink">told <em>Cosmopolitan</em></a> that orgasms actually nourish the brain with oxygen. "Functional MRI images show that women's brains utilize much more oxygen during orgasm than usual," Komisaruk says.

It's A Natural Painkiller

One thing that Victorian practitioners may have been onto is that orgasms can work to soothe certain aches and pains -- namely migraines and menstrual cramps. (So now you know what to do next time you have a headache if you don't feel like popping an Excedrin.) According to Berman, the contractions that make up an orgasm can actually work to evacuate blood clots during your period, providing some temporary relief.

It Relieves Stress

Most of our lives are so hectic that it's hard to even imagine being relaxed. However, it turns out that <em>sexual</em> release can double as <em>stress</em> relief. Not only do the hormones help with this task, Berman says that being sexual also gives our minds a break: "When we're stressed out and overextending ourselves, [we're] not being in the moment. Being sexual requires us to focus on one thing only."

Gives You A Healthy Glow

There actually might be something to the idea that we "glow" after sex. The hormone DHEA (dehydroepiandrosterone), which shows <a href="http://www.ivillage.com/secret-health-benefits-sex/4-a-283856" target="_hplink">increased levels during sexual excitement</a>, can actually make your skin healthier.

Aids Your Emotional Health

Last but not least, when you know what it takes to make yourself orgasm, you may increase your emotional confidence and intelligence. "When you understand how your body works and ... [that it] is capable of pleasure on its own, regardless of your partner status, you make much better decisions in relationships," says Logan Levkoff, Ph.D., a sexologist and certified sexuality educator. "You don't look to someone else to legitimize that you're a sexual being."