A feral pig burst into a Western Australian campsite this weekend where it chugged 18 cans of beer, challenged a cow to a fight and then collapsed under a tree.
The animal caused havoc amongst campers at the De Grey River in the Pilbara region on Sunday, ABC News reported.
"It was the middle of the night and it was these people camping opposite us and they heard this crunching of the can and they got their torch out and shone it on the pig and there he was scrunching away at their cans," one camper recounted.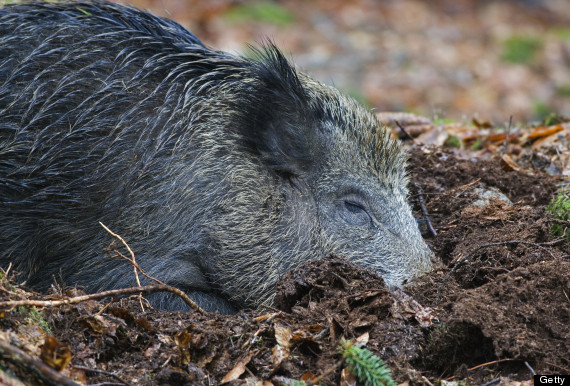 The feral pig was spotted collapsed under a tree after its rampage (file picture)
The rampaging pig was then spotted tearing a bag of rubbish to pieces before it tried to take on a nearby cow.
However the bovine did not take kindly to the challenge of the swine and responded by chasing it around a vehicle, the Guardian reported.
The inebriated pig was later spotted collapsed under a tree, presumably sleeping off a hangover.
In the aftermath of the incident, campers are being reminded to securely store any food and drink while staying in the area.
"Numbers of feral pigs fluctuate depending on seasonal conditions and availability of feed," he added.
Weird News: Strange, But True
SUBSCRIBE TO & FOLLOW UK DAILY BRIEF