WARNING: Contains graphic language.
A teenage waitress who claims a customer left her a racist insult in the 'tip' line of a receipt, has been suspended with pay while the matter is investigated.
Toni Christina Jenkins had been serving a couple at a Red Lobster restaurant in Tennessee on Saturday afternoon when she discovered the slur.
The 19-year-old nursing student posted the receipt on Facebook which shows the words "None, nigger" written in the space meant for gratuity.
Scroll down to see the receipt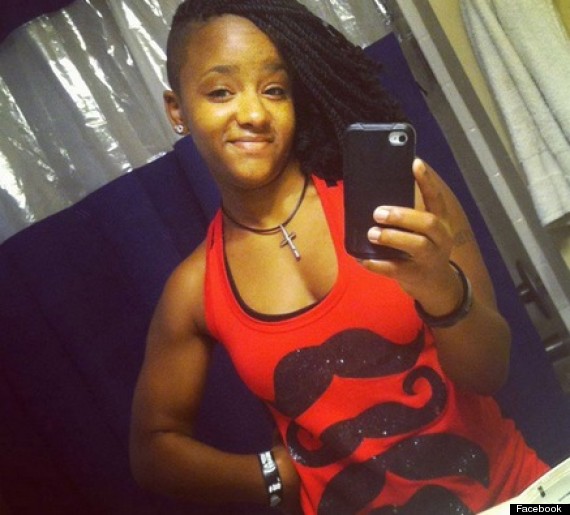 Toni Christina Jenkins is waitressing at the Red Lobster restaurant as she trains to be a nurse
The image went viral and on Tuesday it emerged the part-time waitress is off work while the company looks into the incident.
Spokesman Mike Bernstein told the New York Daily News Jenkins is currently suspended with pay, adding this was "standard practice" and that so far the suspension has not overlapped with any of the days she was scheduled to work.
A statement from Red Lobster said: "This kind of language is completely disgusting and has no place in our restaurant or anywhere else, and we are committed to getting to the bottom of what happened as quickly as possible."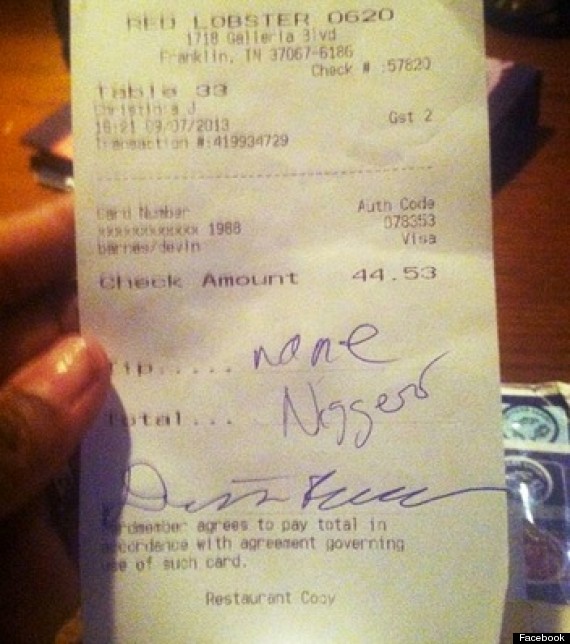 Jenkins claims this racist slur was left for her by two of her customers on Saturday afternoon
Since the receipt went viral Jenkins revealed she had been inundated with support – as well as suspicions she added the insult herself.
Jenkins has now removed the receipt from her Facebook page, though her father Toney Bernard Jenkins has posted it to his own, with the explanation: "Bringing awareness to the simple fact. That we still have much ignorance to overcome. So much more love to give and so much hope to inspire change."
He also revealed the family has now hired a publicist to field calls from the media.
The publicist on Tuesday confirmed to HuffPo UK that Jenkins has been suspended and not fired, as Radar Online had earlier reported.
Outrageous Receipts (EXPLICIT LANGUAGE)
A Papa John's customer snapped a photo of her receipt, which contained an offensive racial slur in place of the customer's name.

One woman was surprised to find that along with her veggie bowl, she received a discount for having the 'best butt' and being the 'best looking' person in the fast food joint.

A customer got quite a surprise when he picked up his freshly-laundered shirts. The anonymous consumer, dubbed 'Asshole, Alex' apparently had the cleaning bill comped.

Two Burger King employees were fired after a customer noticed that his receipt read 'F*ck You' where it would normally say 'Thank You'.

After the Boston Bruins won the Stanley Cup, they partied... hard. The team apparently rang up a $156,000 bar tab at a nightclub in the Foxwoods Casino, according to the Boston Globe.

A California steak house settled a lawsuit with a customer that claimed his credit receipts contained several racial slurs where his name should have been.

A Maryland woman got a little something extra along with her refund when she discovered that an associate deemed her an 'ugly itch' from 'ghettohood, USA'.

Chick-Fil-A garnered national attention after a customer snapped a photo of two receipts that had labeled Asian-American customers as 'Ching' and 'Chong'.

A couple claimed their Walmart receipt contained the face of the Son of God.

An ATM customer found this surprising receipt still in the machine. The receipt, which shows a whopping balance of nearly $100 million, supposedly belonged to hedge fund manager David Tepper.

A server at a Chichos Pizza restaurant labeled his customers as 'high as shit kids'. Fortunately, the customers had a sense of humor and posted the receipt to Reddit to much fanfare.