Huawei's Ascend P6 is the latest flagship smartphone from the surging Chinese smartphone, placing its emphasis on an ultra-thin design and customised Android OS.
Key Features
4.7-inch 1,280x720 display
1.5Ghz quad-core processor
Android 4.2.2 operating system (with 'Emotion UI')
Just 6.1 mm thickThat
1.7GB RAM
8-megapixel rear camera
The Pitch
"With its sleek metallic body and weighing just 120g, Huawei Ascend P6 is slim and light enough to slip into the tiniest of pockets or clutch bags when you're out and about with friends and incorporates a range of coveted features including 'MagicTouch' for enhanced screen responsiveness even when wearing gloves."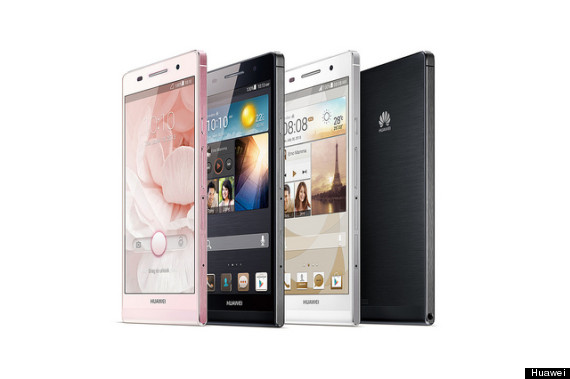 Verdict
In these dark and jaded times of 'maturing' smartphone design and 'refined' operating systems, it's rare to unbox a new device and be genuinely shocked by what's inside. Not 'surprised', or 'refreshed' - shocked. For all its flaws (and it has several), the best thing you can say about Huawei's Ascend P6 is that you won't forget the first time you held it.
Because this is an astonishingly thin phone. It's a worryingly thin phone. It's upsettingly, distressingly, ridiculously thin. Just 0.61mm - not that far off an iPhone 5 or its other competitors, but thinner than all of them. At this level of design, hundredths-of-a-centimeter count. It's incredible to hold.
It's also pretty uncanny. Because the other thing about the P6 is that it does look a lot like the iPhone 5. From the metal sides to design of the frontispiece, it recalls Apple's flagship device. That's not to say there aren't differences. The P6 has a nicely rounded bottom edge softened top corners and its textured plastic back is nice in the hand. It has its own distinctive style. But it does wear its influences on its sleeve.
The hardware is functional, as well as beautiful. The screen is clear and sharp, and the pixels feel 'close' to the top of the glass. The only bum note is the included headphone port plug-thing, which doubles as the SD card and SIM slot opener. It looks fine, but it's destined to be lost almost immediately.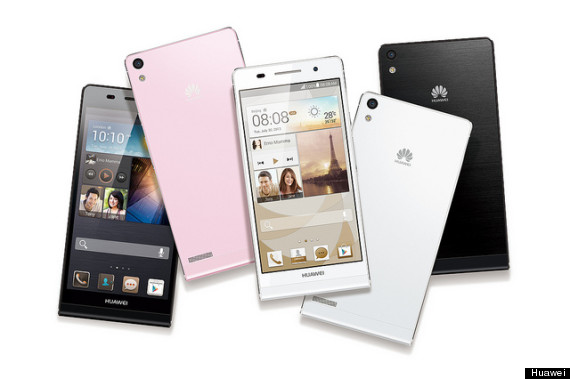 In software terms, it's a bit more of a mixed bag. Huawei's Emotion UI is a fairly thick and extensive Android skin, and though it comes with several themes (gold, black, pink) it's still vaguely unsettling and unbalanced, whichever one you pick. Its square, 'modern' icons are inconsistent and arguably a little ugly, and there's no app tray -- leaving you with just a series of customisable homescreens for all your apps and widgets. If you're an Android purist you'll hate it, though if you're just looking for a modern smartphone UI you might never know the difference. We fell in the former camp, but that's no reason to dismiss the device outright - just know what you're getting into.
When it comes to performance, the P6 leaves us impressed on most counts, but not entirely won over.
The camera, though only eight megapixels, is decent enough, and the phone performs well across the board even if the Emotion UI seems to slow things down a little at times. The battery life, however, is a clear downside. It's a 2000 mAh cell, which is strong on paper, but it didn't last us anywhere near a full day. We suppose compromises had to be made somewhere to get the phone to be this thin - but it's a shame.
At around £300 off-contract, the P6 is clearly a decent and cost-effective choice for a mid-to-high end smartphone user as long as you can cope with the non-standard UI and low battery performance. It's so amazing to hold at very least you'll be getting a device that will impress your friends and family. But if you're buying it on a two-year contract, you might want to consider if something a little more future-proof is more deserving of your money.

Loading Slideshow
iPhone 5S

With the same ultra-clear Retina display as the iPhone 5, but now with an <a href="http://www.huffingtonpost.co.uk/2013/09/10/iphone-5s-uk-pictures-release-date_n_3898775.html?1378818683&utm_hp_ref=uk-tech" target="_blank">added fingerprint sensor</a>, a seriously impressive 64-bit A7 chip, an improved camera and a new gold design option, this is the best iPhone ever made. And with its consistent market-leading app selection, easy-to-use OS and delightful design, it's hard to argue against it being one of the very best gadgets ever made too.

Google LG Nexus 5

The new Nexus 5 is based on the internals of the LG G2 - which means you get the same Snapdragon 800 processor, as well as the full version of Google's new Android 4.4 KitKat OS, which integrates SMS messages into Hangouts, freshens up the design and adds new features under the hood. The camera is still a little lacking, while the design is functional rather than beautiful, but at £299 off contract it's still a steal.

Samsung Galaxy Note III

The Note III is huge. It's got a 5.7-inch screen, though with the same 1080P resolution as the Note II. It adds a new leather back panel, which gives it an 'office' feel in line with the productivity-plus-stylus theme of the device. It also adds a Snapdragon 8000 quad-core processor, some new software enhancements and a few new S-Pen functions into the mix. If you're looking for a giant note-taking phone, this is still your best bet.

iPhone 5C

The 5C was rumoured to be Apple's 'budget' iPhone. It isn't - and not only because it isn't that cheap. The "proudly plastic" 5C comes in five colours (see what they did there) <a href="http://www.huffingtonpost.co.uk/2013/09/10/iphone-5c-uk-pictures-release-date_n_3899557.html?utm_hp_ref=uk-tech" target="_blank">but has the same internals, screen and camera as the iPhone 5.</a> It's essentially the same beautiful, high-end phone you already know and love, in a more colourful (and potentially divisive) design. As such it's hard to see how Apple won't sell a billion of them.

Samsung Galaxy S4

Though the S4 i<a href="http://www.huffingtonpost.co.uk/2013/04/24/samsung-galaxy-s4-review-_n_3145186.html?utm_hp_ref=uk-tech" target="_blank">s in some ways an evolutionary upgrade over its wildly successful S3</a>, it's an extremely attractive, lightweight and high quality phone with a 5-inch HD screen, the fastest processor ever seen in a phone and <a href="http://gdgt.com/samsung/galaxy/s/4/" target="_blank">some interesting new features</a>, including a measure of 'eye tracking' controls and gestures that don't require you to touch the screen.

HTC One

The HTC One is probably the most beautiful smartphone on the market - and is also the most intelligently designed. With twin, front-facing speakers it's the best choice for watching movies, and its 4MP 'Ultra Pixel' camera punches above its meagre pixel-count suggests.

Sony Xperia Z1

Sony's new flagship smartphone is an evolutionary development of the also-excellent Z. It keeps the same screen, the waterproof design and the nicely-tweaked version of Android, while upping the processor performance, improving the camera and smoothing out the rough (or rather sharp) edges of the Z's blocky design.

Nokia Lumia 925

<a href="http://gdgt.com/nokia/lumia/920/" target="_blank">The Nokia Lumia 925</a> has the same great design and attention to detail we've come to expect from Nokia, but with some crucial upgrades from the 920 including a thinner, all-metal design and an improved camera.

LG G2

The LG G2 is an extremely high-end 5-inch, 1080p Android 4.2.2 smartphone whose major distinguishing feature is that it has three buttons on the back of the device, which are normally found on the sides. The G2 has its camera button and volume rocker on the rear, which for many people is enough to justify the purchase alone. It also has excellent battery life for this class of device.