Amazing-looking exoskeletons are one of those inventions which turn up fairly regularly around these parts.
In recent months we've have a Harvard-made suit that can make you three times as strong, and a Nasa-designed version aimed at making astronauts healthier in space.
Now the Europeans are getting involved, reports the BBC, with this early concept design for an exo-skeleton designed for use in industry.
The 'Robo-Mate' is designed to be "a user-friendly intelligent cooperative light weight wearable human-robotic exoskeleton for manual handling work".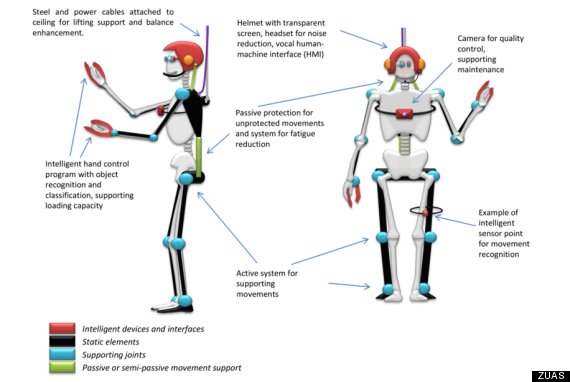 Its designers at the Zurich University of Applied Sciences explain
"Direct physical interaction using haptic technologies will be combined with perception enhancement using cognitive science programming paradigms to drive the exoskeleton, thus not requiring any programming skills from its users.

Robo-Mate shall increase both efficiency and safety of manual production processes in industrial environments. This shall increase the productivity of companies and lower the currently high costs induced by musculoskeletal disorders."
In other words, the suit is a new way to reduce work-place injuries - though they admit they would have to convince people it won't just lead to different, more terrifying injuries of its own.
Now the EU has committed £3.8 million to the project in order to iron out some early issues.
Experts are scpetical, but say the essential idea is practical in essence.
"At the minute the motors or hydraulic systems required tend to be rather large and clumsy," Prof Darwin Caldwell, from King's College London, told the BBC.
"What we have to do is find ways to miniaturise those. What we also have to remember is that an exoskeleton is essentially a robot in physical contact with a human."
The project is in its first month of a three-year plan, so don't expect results immediately. But it's an intriguing glimpse to where we could be in 20 to 30 years time.
Creepiest Android/Robot Videos
Meet Jules, the newest and most realistic humanoid robot yet from David Hanson and the team at Hanson Robotics.

A robot that looks just like its creator (www.newscientist.com).

Engineers at Kagawa University in Japan are developing a talking robotic version of the human mouth: To enable the robot's speaking abilities, engineers at Japan's Kagawa University used an air pump, artificial vocal chords, a resonance tube, a nasal cavity, and a microphone attached to a sound analyzer as substitutes for human vocal organs.

ACTROID-F in AIST Open Lab 2010.

Robot modeled after Albert Einstein. Einstein mimics the facial expressions he detects in others. Smile at him, and he'll smile back.

Cybernetic human dance demo in DCEXPO, 2010.

Humanoid face created by Hanson Robotics (www.hansonrobotics.com). Robotics scientists at Hanson previously created animatronic puppets for Disney studios.

Animatronic baby mechanism for anonymous TV series. Built by Chris Clarke for CNFX Workshop.

Taiwanese Kissing Robots (NTUST Robot) were exhibited in AutoRob2009 in Gwangju, Korea. They were developed by Prof. Chyi-Yeu Lin's research team in National Taiwan University of Science and Technology.

Robot girl with silicone skin.