The most dangerous sport for women isn't base-jumping (throwing yourself off things), tombstoning (diving off cliffs) or even extreme ironing (that one is self-explanatory).
Hell, it isn't even bog-snorkelling. The most dangerous sport (well, for American women anyway) is *drumroll*: cheerleading.
A bit of an anti-climax, isn't it?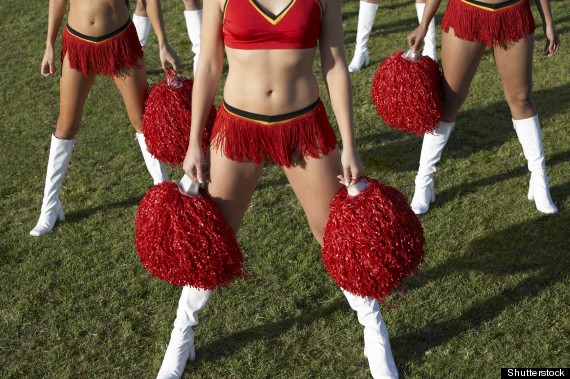 A new report has revealed that 66% of "catastrophic" sports-related injuries among women in the US are due to cheerleading. The distinction is made however between competitive cheer, which is doing stunts and formations as opposed to cheering from the sidelines of a football field.


MORE ON HUFFPOST UK:

Surprising Health Benefits Of Meditation
Jezebel.com reported: "Statistics published in the Journal of Pediatrics reveal that cheerleading is "by far" the sport that causes the greatest amount of serious injuries for females in the US.
"Since 1980, ER visits for wounded cheerleaders have more than quintupled, going from about 5,000 to over 26,000 in 2007. According to the data, the majority of the injuries happen to those who serve as the bases (the ones who prop up and catch teammates) rather than the fliers (the ones who get flung in the air)."
We may associate cheerleading with the US but the cheerleading scene proportionally, is just as big in the UK, says British Cheerleading Association's (BCA) Derek Kent. So what does it mean for those thinking about taking up cheerleading or already performing as cheerleaders?
The development director said to HuffPost UK Lifestyle: "I'm not saying they are right in their figures, but I don't know if I believe them. In Britain, there are over 60,000 cheerleaders, and the BCA is one of three major event providers. We do follow safety guidelines set by International Cheer Union and it has just been declared a sport by Sport Accord which is also the umbrella organisation for the Olympics.
"We do safety training for all the coaches and they aren't allowed to teach until they have had it." However, Derek admits, the regulation is being done by individual bodies because there are no legal guidelines at present. "We are working on it," he says.
The Telegraph went into more details about the types of injuries: "There were a total of 110 head and spine injuries resulting in "permanent brain injury, paralysis or death" over the last three decades. Other injuries included heart problems and heat stroke... The study analysed a group of girls with head injuries and found that some may have failed to report symptoms of concussion."
What are the benefits of cheerleading though and why would anyone take it up? "Cheerleading is inclusive," Derek says, "and competitive cheer can involve any weight, both sexes. One of the staggering things is that in the US more than 50% of cheerleaders are males, and in the UK 20% are males."
Also on HuffPost:
Loading Slideshow
Construction

The number of women working in construction has risen considerably over the last two decades but namely because of their roles within HR and admin and accounting. The number of females working with their hands still stands at a measly 2%. Yet there is no evidence to suggest that women are less capable of skilled manual roles than men. Barbara Jones, who won a <a href="http://www.womeninconstructionawards.co.uk/taxonomy/term/3" target="_blank">Lifetime Achievement Award at the Women In Construction Awards in 2011</a>, has run several construction companies, including her current venture, a straw bale building firm. In a video interview for the British Library project: <a href="http://www.bl.uk/learning/histcitizen/sisterhood/view.html#id=143437&id2=143644" target="_blank">An Oral History Of The Women's Liberation Movement</a>, she talks about the difficulties she has faced but points out that with their ability to work as a team, women can bring something new to the table.

Football

After generating a 53,000-strong crowd for a match between Dick Kerr's Ladies and St Helen's Ladies, in 1920, <a href="http://www.thefa.com/GetIntoFootball/Players/PlayersPages/WomensAndGirls/History_of_womens_football" target="_blank">the FA pulled the rug from under the feet of women's football, by banning them from playing on Football League grounds the following year</a>. Apparently, the game was "quite unsuitable" for ladies (read: feeling threatened?). The shocking ban remained for half a century, right up until 1971. Eventually, recognising the error of their ways, the FA took control of women's football in May 1993, 20 years ago this year. To celebrate the landmark, the Association has teamed up with The Women's Sport and Fitness Foundation to launch the <a href="http://www.thefa.com/News/2013/jul/kick-off-your-career" target="_blank">'Kick Off Your Career' campaign</a> – to encourage women and girls to turn their passion for football into a career. Although female football players are unlikely to see the excessive financial rewards of their male counterparts anytime soon, the sport has now gone semi-professional - and there are plenty of roles available in the industry but off the pitch.

Engineering

For a snapshot of the sexism that still exists in the <a href="http://www.huffingtonpost.co.uk/news/women-in-engineering" target="_blank">female engineering</a> world, look no further than the <a href="http://www.huffingtonpost.co.uk/2013/08/06/female-engineers-linkedin-sexism-row_n_3712555.html" target="_blank">recent sexism row that erupted between engineering firm Toptal and job networking site LinkedIn</a>. The Women's Engineering Society is upping the ante on its campaign to recruit more females into engineering roles. This month they <a href="https://www.gov.uk/government/news/government-and-industry-join-forces-to-help-get-more-women-and-girls-in-stem" target="_blank">spoke to Women and Equalities minister Jo Swinson</a> and 2014 will see their inaugural <a href="http://www.wes.org.uk/" target="_blank">National Women In Engineering Day</a>.

Technology

It's the fastest growing industry in the world but the representation of women in Technology is still shamefully poor. Awards ceremonies are an important way of shining a spotlight on women's achievements in male-dominated careers. <a href="http://www.everywoman.com/techawards" target="_blank">The Everywoman in Technolgy Awards</a>, launched in 2011, showcases talented and inspirational female role models in tech. <a href="http://www.huffingtonpost.com/belinda-parmar/" target="_blank">Belinda Parmar</a>, Huffington Post blogger and the founder and CEO of <a href="http://ladygeek.com/" target="_blank">Lady Geek</a>, a campaigning agency aimed at making technology more accessible to women, recently met with Jo Swinson to discuss ways in which girls and women can be enticed into the industry.

Science

When we think of L'Oreal we're probably more likely to think about lipstick than laboratories. In fact, many of us have cringed at that condescending line "and now for the science bit" - the prelude to some jargon-filled speech about the micro-particles and atoms in their 'miracle anti-ageing cream'. But whatever you think about the beauty industry, the cosemtics giant certainly knows a thing or two about science - and now the brand has teamed up with <a href="https://en.unesco.org/" target="_blank">UNESCO</a> to launch <a href="http://www.womeninscience.co.uk/" target="_blank">Women In Science</a>, a programme that recognises the contributions and achievements of exceptional females across the globe, by awarding promising scientists with Fellowships to help further their research.

Finance

Most big financial firms will have to set a target for the number of women on their board of directors from 2014 as part of a binding European Union Directive. This follows a <a href="http://www.huffingtonpost.co.uk/2013/04/10/women-in-boardrooms-firms_n_3049806.html" target="_blank">report released in April [2013], from Cranfield University</a> that revealed women held just 17% of the board positions among the companies listed on the FTSE 100. The <a href="http://www.huffingtonpost.co.uk/tag/parliamentary-commission-on-banking-standards" target="_blank">Commission on Banking Standards</a> also raised concerns about the gender imbalance on trading floors, in June [2013]. They said: "More women on the trading floor would be beneficial for banks," it was reported in <a href="http://www.telegraph.co.uk/women/womens-business/10129368/Banking-Commission-Trading-floors-need-more-women.html" target="_blank">The Telegraph</a>. The main UK-based banks should publish the gender breakdown of their trading operations and, where there is a significant imbalance, what they are going to do to address the issue within six months of the publication of this report and thereafter in their annual reports."

Transport

There are 300,000 truck drivers in the UK but just 1,600 (0.5%) are women. But with the continued efforts of campaign groups and industry incentives, this could soon be set to change. The <a href="http://www.everywoman.com/tlawards/about" target="_blank">FTA everywoman in Transport & Logistics Awards</a> helps to create role models for the industry with the ultimate goal of inspiring women to join the sector, providing a pipeline of talent and future industry leaders. On the morning of the 2013 Awards ceremony, everywoman held a <a href="http://www.everywoman.com/sites/all/files/ckfinder/motor_transport_17.6.13_roundtable_article.pdf" target="_blank">roundtable debate with senior leaders on practical initiatives to attract and retain female talent</a>. The <a href="http://www.fta.co.uk/" target="_blank">Freight Transport Association (FTA)</a> have also collaborated on an industry wide programme - The <a href="http://info.everywoman.com/accelerate1?hsCtaTracking=ac935e6a-cc77-410a-936b-b11551ca3e91|00436261-187b-46d8-9039-fd086b0523cc" target="_blank">FTA Accelerate Programme</a> which supports all operators in their desire to welcome a wider talent pool in the industry and support women into senior positions.