Why is the C4 documentary Fabulous Fashionistas (which celebrated a collection of older women who defy the stereotype of what they should look, act and dress like) so important?
We could go on about how the show by award-winning director Sue Bourne makes a generation of largely invisible women, visible. Because as we're all aware, so much of our society and media consumption is geared around youth and beauty.
But for us who aren't yet past 60, the documentary provides a beacon of hope that awaits us in old age. You can kowtow to what's expected of older people - stay away from adventurous clothes, buy sensible shoes - or you can be as much of an individual as you were in your 20s and 30s. We know what camp we're in.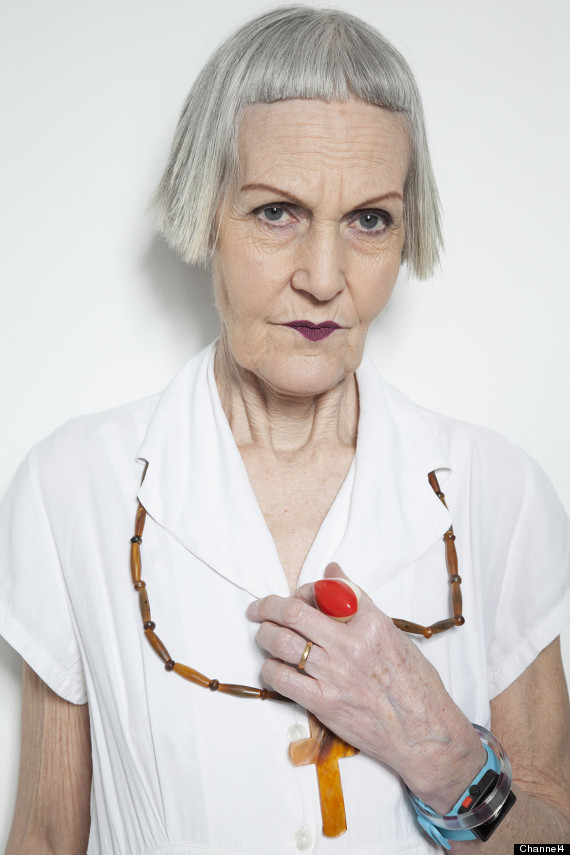 75-year-old Jean Woods: likes running and works at Gap
HuffPost UK entertainment editor Caroline Frost described the show as being "inspiration for all ages". Hear hear.
It certainly marks a turning point in how older women are being seen, because they have been vocal about how they want to be represented.
Read the review of Fabulous Fashionistas on HuffPost UK Ents here
When mail-order brand Kaleidoscope published a list of top glamorous grandmas or 'glam-mas', HuffPost UK blogger Jan Shure said the term was quite "patronising". Speaking out about the stereotypes of older women, she said: "If grandmothers looked less gym-fit and sassy 40, 50 or 100 years ago, it was because fashion demanded less of them and everyone else."
Gillian is 87 has worked full time since the 1940s when she started as a ballet dancer. A former dancer, Gillian still puts herself through a rigorous daily exercise regime and moves like a woman half her age. "You just mustn't allow the ageing process in", she says. She most famously choreographed Cats and Phantom of the Opera and due to her job, Gillian spends most of her life in leggings, but loves the opportunity to bring out her wardrobe – including mini-skirts.

The youngest of the bunch at 73, Sue is American but has lived in Britain for 30 years. Sue was the hugely successful 'Queen of Low Fat Cooking', with a career writing cookery books and appearing on TV. Fifteen years ago, she gave it all up to become an 'outsider' artist. Now, Sue makes art, curates shows and even wears her art on her back – 'released from the tyranny of fashion' by her very individual and colourful style.

Jean, 75, feels her style is more street than smart. Remarkably, after her husband passed away, she got a job at Gap and became their oldest employee at 70. Now, she works in a boutique in Bath and loves it. Despite having a new knee, Jean also runs three times a week and says: "I'm leading a different life – it's more adventurous."

You may have seen Daphne in The Guardian's Saturday magazine - at 85 Daphne is Britain's oldest model but was only re-discovered when she was 70 years old. Recently widowed, she was invited to do a fashion shoot was soon signed up by a leading model agency. Since, she has travelled the world and become the iconic face of older models. Daphne says: "I'm now 85 and I think [about] when I get old… but so far I haven't got old".

At 75, Bridget is the ultimate pin-up for looking fabulous for not much money. Her clothes and accessories come from charity shops and she survives on just £100 a week. Her most expensive recent purchase was a pair of Doc Marten boots for £4. Bridget says: "Style, as one gets older, is more noticeable. How I look is to do with my identity and the fun of it. It's nothing to do with looking younger."

Lady Trumpington, 91, is the oldest woman in the House of Lords and has a wicked sense of humour. She became an internet sensation when she was caught on camera giving another peer the V sign for saying she was getting on in years. "The moment you start letting yourself go is the moment when you are old", she says. Lady Trumpington's guilty pleasure of browsing through clothing catalogues has almost turned into an addiction, with new clothes being delivered almost every other day. She has been going to the same hairdresser for thirty years and her worry is that he might retire before she does.
She then went on to say that actually, there is no such thing as a typical older woman. Talking about former French Vogue editor Carine Roitfeld, she says: "Although not included in the survey, Ms Roitfeld is also a grandmother, and with her panda eyes and bondage outfits straight off the catwalk, it would be hard to find a woman who contrasts more strongly with the grandmother stereotype."
Older model and HuffPost blogger Alex B has championed the use of older models but has cautioned that it shouldn't be a tokenistic gesture. "Having older models in fashion and beauty spreads is important, to show that beauty is not to be found only amongst the very young, to give women the confidence to embrace their age without feeling compelled to set themselves the impossible goal of eternal youth."
It would be fantastic if older models and personalities featured in the media as a matter of course, and we sense that the tide is shifting that way. Women are
more likely to buy from clothing retailers if the models look like them
and we're more likely to have a healthier attitude to growing older and accepting it, if we can see older women embracing (and celebrating) their age.