A wrecking ball which has hung in a university for 18 years has been taken down following a spate of imitations by frolicking students swinging naked from the monument à la Miley Cyrus.
The cavorting pranksters have been posting images and six-second Vines to social media documenting their chilly adventures on the giant ball, causing Grand Valley State University (GVSU), Michigan, to take drastic action. Authorities at the US institution cited safety concerns as the reason for removing the sculpture, which used to dangle carefree outside the science facility.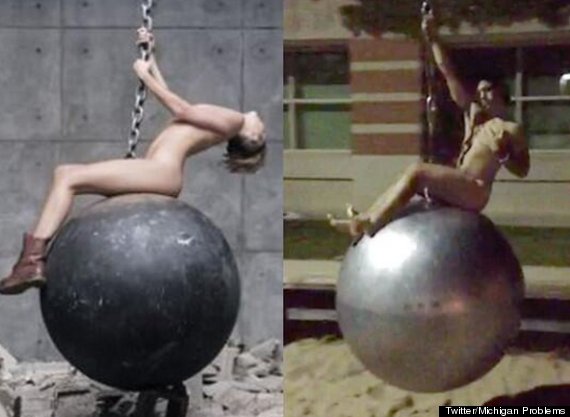 Miley's wrecking ball (left) and its lesser-famous cousin, the GVSU ball
Students took inspiration from Miley's latest bizarre offering; the video to her 'Wrecking Ball' single consisted of the former teeny bopper swinging in the nude from er, a wrecking ball. When not riding her giant ball and smashing through walls, Miley can be found cavorting rather provocatively with a hammer. As you do.
Naturally, as befits any infamous inanimate object, a Twitter account under the name GVSU Wrecking Ball has been set up in the ball's honour.
On Tuesday, devastated students held a memorial service to commemorate the loss of the iconic and much-loved giant ball.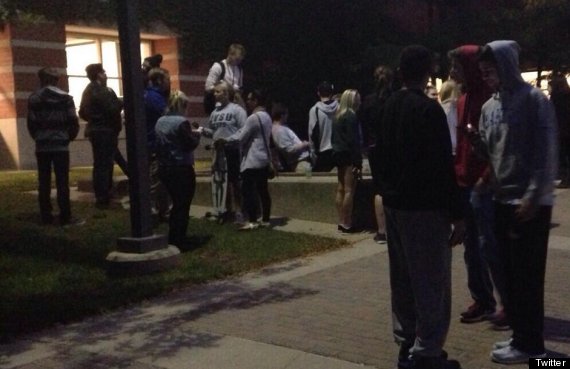 The wrecking ball was created in the 1970s by American sculptor Dale Eldred, and has a spike attached to draw patterns in a sandpit below. Tim Thimmesch, head of facilities at GVSU said:
"We are reassessing the safety and structural integrity of the current installation and site. Hopefully the pendulum can be reinstalled at that location or we can find another suitable location on campus so people can enjoy it as a piece of art and stay safe."
SUBSCRIBE AND FOLLOW
Get top stories and blog posts emailed to me each day. Newsletters may offer personalized content or advertisements.
Learn more