Sir Alex Ferguson has lauded Wayne Rooney's recent Manchester United displays in a bid to defuse tension between the duo.
Rooney was determined to leave United in the summer, primarily due to his fractured relationship with Ferguson, which had soured in recent years.
Chelsea had two bids rejected for the 27-year-old, who is now revelling in his preferred role as No.10 - a position Ferguson scarcely started him in.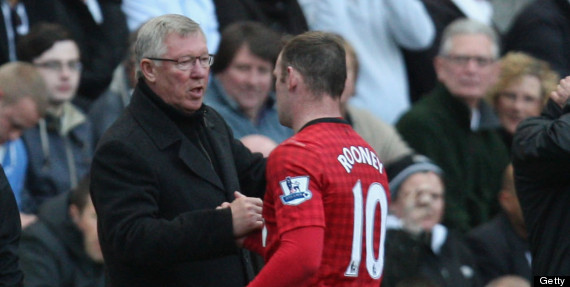 Ferguson has moved to make peace with Rooney

Rooney scored twice on Tuesday night in United's 4-2 Champions League win over Bayer Leverkusen, with his second his 200th for the club.
"Wayne's performance was fantastic, I was pleased to see that," Ferguson told MUTV.
"He's got his energy back, the determination, his purpose to attack players, (it was) was all very encouraging to me. Being a director I'm delighted to see that, he's back to what we always remember.
Loading Slideshow
After Newcastle bid for Rooney in August 2004, Sir Alex Ferguson confirmed before a Champions League qualifier United had also joined the bidding.

Rooney, who had requested to leave Everton, joined United on transfer deadline day at the age of 18, fresh from scoring four goals in as many games for England at Euro 2004.

His agent, Paul Stretford (left), was demonised by Everton fans.

Rooney and Ferguson celebrate their Player and Manager of the Month awards for February 2005 ahead of playing Fulham in March.

Ever the father-figure, Ferguson congratulates Rooney on a shift at Anfield in September 2005.

Rooney's performance away at Benfica in September 2006 proved to be a significant moment in the then 20-year-old's Manchester United career.

Ferguson hugs Rooney after he scored the winner at Goodison Park in April 2007. The 4-2 win effectively clinched United's first title in four years.

Rooney is withdrawn in the 2008 Champions League final. With Cristiano Ronaldo United's undisputed talisman, Rooney was often sacrificed and played on the wing.

Ronaldo's 2009 departure saw Rooney regain the talismanic mantle, however. He scored 34 goals in the 2009-10 campaign and his injury away at Bayern Munich in March was critical as United lost out on the Premier League title by a point. Here, Ferguson congratulates the striker on a two-goal display in the 4-0 Champions League win against AC Milan.

Rooney is presented with the Sir Matt Busby Player of the Year award ahead of the August 2010 win against West Ham. Despite scoring a penalty, his body language is telling...

In the week reports of his adultery hit the headlines, Ferguson withdrew Rooney from the matchday squad at former club Everton, concerned about the reception he would receive. Two years earlier, Rooney was substituted at Goodison after becoming too wound up by the home fans.

Rooney is substituted at Bolton in September 2010 as his form in the six months since the injury in Munich continues to nosedive.

Rooney is on the bench for the October 2010 game against West Brom amid speculation he has handed in a transfer request.

Days later he is injured in training after a reckless Paul Scholes tackle...

And Ferguson finally confirms the striker wants to leave United.

Only Rooney does a U-turn and inks a new five-year contract. His weekly wage is reportedly between £250,000 and £300,000.

Rooney goes some way to repairing his relationship with United by scoring the penalty which secures the club's 19th title at Blackburn in April 2011

On Ferguson's 70th birthday in 2011, Rooney is omitted from the squad for United's New Year's Eve loss to Blackburn after going out drinking with Darron Gibson and Jonny Evans. He is fined by the manager.

The duo enjoy a lighter moment on a private jet en route to the Ballon d'Or awards in Zurich, January 2012

Ferguson and Rooney wait to address the press in Amsterdam, February 2012. A picture paints a thousand words...

Robin van Persie's arrival puts Rooney in the shade again, and he is sacrificed at Aston Villa as United go in search of a winner, November 2012.

The beginning of the end: Rooney is dropped for United's biggest game of the season in their Champions League return leg against Real Madrid.

Rooney is brought on but misses a presentable chance as United bow out of Europe.

Rooney is withdrawn after 71 minutes following a poor display at West Ham, and Ferguson lauds Shinji Kagawa's progress, suggesting he may have to rotate the Japanese along with Rooney.

Rooney is substituted a week later on the night United regain their title against Aston Villa. He reportedly doesn't acknowledge Ferguson.

Manchester United v Chelsea - Premier League

Wayne Rooney chases Howard Webb claiming he was fouled prior to Chelsea scoring the winning goal in United's 1-0 May loss at Old Trafford. It could be the last time he plays in the red shirt.

Rooney drives into United's Carrington training base amid reports he has handed in a second transfer request in three seasons.

Rooney is dropped for Ferguson's final match at Old Trafford and the Scot confirms the player, who has won five titles, two League Cups, a European Cup and a Club World Cup, wants to leave.

Rooney departed United's pre-season tour last week and has almost certainly played his final game for the club.

"We will have a fantastic chance (of success) because in (Robin) van Persie and Rooney you have forwards who can win you games."
In May, Ferguson said Rooney had requested to leave United for the second time in under three years, a claim privately denied by the striker.
Ferguson's role as a director at United appeared to convince the England international his future was away from United, with David Moyes' clumsy quotes in pre-season about Rooney's role leaving him "angry and confused". Rooney is back to his best with United again

United's resistance to sell Rooney to a rival and supporters' fickle affection for the player has restored Rooney's confidence, and he has scored three goals and assisted three more so far this season.
However Rooney did refuse to clarify his future in an interview with ITV after the game.