'X Factor' judge Sharon Osbourne has taken some time away from her judging duties to visit the latest addition to her family across the pond.
Mrs.O was pictured giving her super-cute granddaughter Pearl lots of kisses as she attended an event with her with daughter-in-law, Lisa Stelly.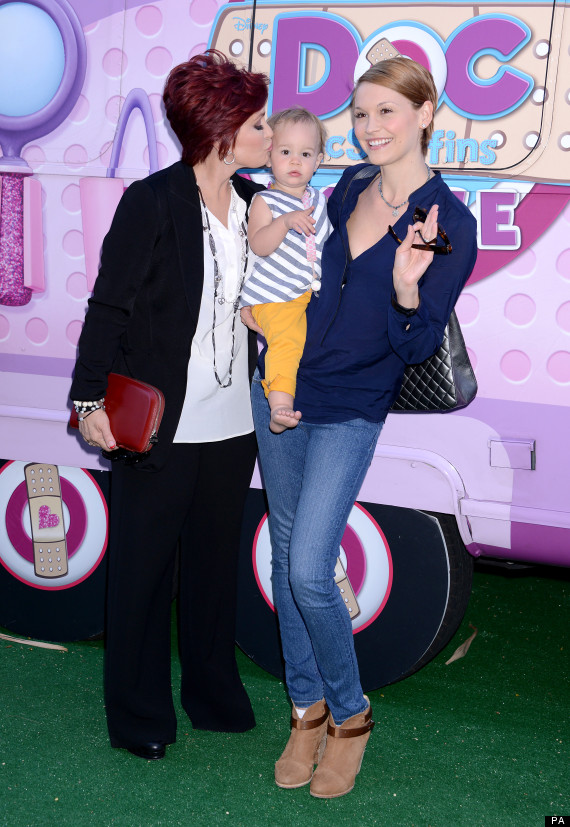 Sharon Osbourne, baby Pearl and Lisa Stelly
Grandma Sharon and her son Jack's wife Lisa were all smiles as they hugged and kissed 16-month-old Pearl at the Disney Junior's 'Doc McStuffins' event in Los Angeles.
Last year, in an interview with Parade, Sharon said of becoming a grandmother: "There is nothing like it. She's just amazing. It's brought us all closer together. It's like a celebration in your home. I am going to be a grandmother from hell because I would do everything you are not meant to do. I'm going to spoil her rotten."
MORE 'X FACTOR'
X Factor: 7 Reasons Why We're Glad Sharon's Back
1. When Sharon loses it, she REALLY loses it (we challenge you to watch this without laughing. A lot.)

2. She never lets anything get in between her and a good giggle. Not even a door.

3. She's a drama queen. You know, like when she quit 'The X Factor' live on air because two of her acts were in the bottom two. DRAMA!

4. She tells it like it is. Just ask the very first 'X Factor' winner Steve Brookstein, who Sharon described as 'full of crap' and 'an average singer'. And that was when she was being nice!

5. She likes a tipple. Or ten. And doesn't mind appearing a little *hick* sloshed on *hick* 'The Xtra Factor'

6. She's got one of those faces that simply CANNOT hide what she really thinks. Well, why use words when your eyes can say everything (see 1m 14s)?

7. She's not afraid of a very public celeb spat. Poor Dannii.