Yet despite being signed into law more than three years ago, the legislation, a major part of which is due to be finally implemented this week, threatens to derail not only the US government but provides an ominous portent for the US debt ceiling debate, with severe implications for Britain, the eurozone and beyond.
Unlike the single-payer systems of Europe and Canada, the ACA offers a mechanism for those without insurance to pool together for lower health insurance premiums through state-run exchanges, scheduled to open on Tuesday. This follows several provision that have already been implemented, most notably a ban on insurance companies hiking up premiums based on pre-existing medical conditions.
Even before it became law, Obamacare had been the target of vehement hostility, representing for some an unwelcome federal intrusion into medicine, for others a step towards a European socialised system, and to a vocal few confirmation that the President was indeed the anti-Christ. Still, the law was passed and was subsequently upheld during a Supreme Court challenge, followed by the 2012 election in which the GOP candidate, Mitt Romney, ran on a platform of repeal, effectively turning the vote into a referendum on Obamacare. It was a campaign that Romney and the Republicans lost, despite myriad shortcomings of the Obama administration over the previous four years.
Even after being signed, upheld and then ratified by the electorate, the law remains almost pathologically unpopular with members of the GOP, so much so that the Republican-led House Of Representatives has fielded more than 40 (mostly symbolic) challenges to the ACA since 2012. As Alex Waddan, a US specialist in Leicester University's department of politics, points out, all major social welfare policy change is controversial, "but comprehensive health care reform is especially so," he tells the HuffPost UK. That's not to dismiss Obamacare as just another difficult piece of legislation, amounting to "the biggest health care shift since at least the mid-1960s and the introduction of Medicare and Medicaid."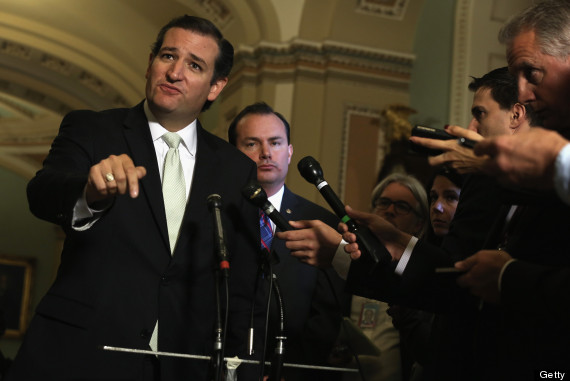 Senator Ted Cruz has led a seemingly unwinnable fight to repeal Obamacare
Both the Clinton and Bush (43) administrations failed to pass welfare reforms, while the last comprehensive social policy that was successfully introduced was the 1996 Personal Responsibility and Work Opportunity Act, a Republican-backed welfare reform bill signed by Clinton despite opposition from the left.
Yet what is distinct about the current fight is its longevity. As Waddan makes clear: "What is unusual about Obamacare is three years after it became law and a year after the Supreme Court upheld most of its provisions, the battle to repeal it still rages."
On Tuesday, Tea Party-backed Senator Ted Cruz, aided by a pair of "comfortable tennis shoes", spent the best part of 21 hours speaking in favour of defunding the law. It proved a bizarre oratory with little practical purpose beyond raising the Texas senator's profile and solidifying his position as head of the extreme faction which make up about 18% of the elected GOP.
With the Democrats holding a majority in the Senate and Obama wielding the power of veto, Republican ambitions of passing a measure that tied government funding to a one-year delay of Obamacare had no chance of success, leading to this week's likely shutdown and the temporary closure of some federal agencies and welfare provisions. A similar shutdown in 1995 led to a decrease in Q4 growth in the US, which, if it happens again, could have a knock-on effect for growth in the UK. More worrying, however, the fight over Obamacare could be a prelude to a more critical battle ahead - the increase of the US debt ceiling.
Last week, US Treasury Secretary Jack Lew implored Congress for a speedy resolution on an agreement to raise the $16.7 trillion statutory limit on government borrowing, which is likely to expire on the 17 October. The Republicans have already agreed to raise the limit, but only if it's tied to a raft of conservative causes, concessions the President has flatly refused to countenance. Should the parties reach a similar impasse as they have over tying Obamacare to the budget, the effects would have far graver repercussions for the US and beyond, leaving British officials looking on with nervousness.
The Bank of England is already holding off printing more money as Ben Bernanke is expected to start winding down the Federal Reserve quantitative easing programme. However, the US being unable to service its debts could force the Federal Reserve to inject another dose of credit in order to keep things steady, which would likely force the Bank of England's hand as they rush to keep the shaky economic recovery on track in Britain.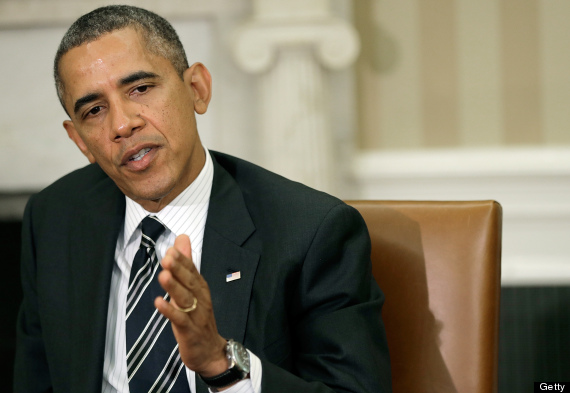 Obama: 'I will not negotiate on anything when it comes to the full faith and credit of the USA'
Their efforts to steady the British economy could see interest rates increase, investors take fright and the FTSE 1000 tumble. Businesses would inevitably suffer should US debt ceiling paralysis take hold due to its trading relationship with the UK, receiving 16% of British exports. "The US is the UK's individually biggest export market so it matters hugely what happens there," Martin Beck, UK economist at Capital Economics, tells the HuffPost UK. Beck anticipates that the economic shock would not be as severe as the full brunt of the Eurozone crisis in 2012, partly because the share of UK exports going to the EU is 45%, many times more than go to America.
Yet the European economy would be in line for a similar shock should the US default. Jonathan Loynes, chief European economist at Capital Economics, tells HuffPost: "If the US recovery comes to a grinding halt and there's serious market volatility then that'll have quite serious knock on effects on Europe." However, Loynes adds a caveat. Congress could just be engaged in another bout of political brinksmanship. Even if it is an act, Loynes warns that the political instability could show how weak America's finances are.
"It is worrying that these sorts of episodes seem to be occurring at such a regular basis and it's indicative that the US fiscal position is not in such a good shape and at some point they'll have to implement more fiscal tightening," he said.
Yet for Waddan, the current wrangling over Obamacare could in fact help negotiations over raising the debt ceiling. "If the House Republicans need a chance to let off steam and that happens over the continuing resolution bill to keep government open then perhaps the debt ceiling negotiations might be easier." he said.
"The administration has insisted that it will not negotiate over the debt ceiling, but the House republicans might simply see that as giving them more leverage. On the other hand, the potential consequences of default - and no-one really knows what the consequences would be - should make everyone think twice before going down that route."
Conservatives Pointing Fingers
17/10/2013 05:30 BST
Obama Signs Budget Bill
From the White House:
On Thursday, October 17, 2013, the President signed into law:

H.R. 2775, the "Continuing Appropriations Act, 2014," which provides fiscal year 2014 appropriations for projects and activities of the Federal Government through Wednesday, January 15, 2014. The effective time for the continuing resolution begins on October 1, 2013. H.R. 2775 also extends the Nation's debt limit through February 7, 2014.
Read more here.
17/10/2013 04:58 BST
White House Receives Budget Legislation
The White House has received the legislation to re-open the government, raise the debt limit.

— Brendan Buck (@Brendan_Buck) October 17, 2013
17/10/2013 03:59 BST
Federal Employees Back To Work Thursday
Director of the Office of Management and Budget Sylvia Mathews Burwell released the following statement Wednesday evening:
"Now that the bill has passed the United States Senate and the House of Representatives, the President plans to sign it tonight and employees should expect to return to work in the morning. Employees should be checking the news and OPM's website for further updates."
17/10/2013 03:36 BST
Stenographer Removed For Shouting On House Floor
A shouting stenographer was removed from the House floor as lawmakers voted on a deal to reopen the government and avoid a debt crisis.
The stenographer began shouting as the the House approved the number of votes needed to pass the bill. According to reporters, she was yelling about God and Freemasons:
Protester dragged off House floor. Apparently one of the stenographers from the dais.

— Chad Pergram (@ChadPergram) October 17, 2013
Stenographer seemed 2 b shouting + delusional on floor. "This is not a House divided." Escorted from floor during vote,

— Alan Ota (@Alankota) October 17, 2013
An official house court stenographer took to the microphone & was screaming ab God. She was saying in the hall you can't serve two masters.

— Jake Sherman (@JakeSherman) October 17, 2013
Stenographer removed shouting about God not being mocked and the free masons

— Ben Jacobs (@Bencjacobs) October 17, 2013
-- Paige Lavender
17/10/2013 03:27 BST
House Vote: 285-144
The House voted 285-144 to reopen the federal government and raise the debt limit.
17/10/2013 03:18 BST
Republicans Score Amazing Own Goal
HuffPost's Arthur Delaney and Dave Jamieson report:
After voting this year to keep federal employees' pay frozen, Republicans in Congress have accidentally given many government workers their first raise in three years.




It's one of several unintended consequences of the Republican gambit to defund Obamacare by shutting down the government. It isn't a nominal raise, and it won't improve most workers' lives one bit. In fact, so far it's brought mostly misery and anxiety. But here's how it's a one-time raise.

Hundreds of thousands of federal workers have been off the job for two weeks due to the government shutdown. As part of the deal hatched Wednesday to reopen the government, Congress included a measure to pay those workers retroactively for the time they missed, as a matter of fairness, just as it has in the budget impasses of yesteryear. The rationale: federal workers shouldn't have to pay the price for Congress's failures.

But in a symbol of just how wasteful a government shutdown is, lawmakers -- many of whom complain that the federal workforce is bloated, and who haven't granted workers a single cost-of-living adjustment since 2010 -- have forced federal employees to perform two fewer weeks of work for the same salary, all due to congressional squabbling. That's a full pay period, amounting to 3.8 percent of annual wages.
17/10/2013 03:14 BST
House Passes Budget Deal
The House has voted to end the latest damaging battle of divided government in a polarized Congress.
17/10/2013 03:13 BST
House Has The Votes
There it is. House has required votes to end shutdown, avert default.

— Sabrina Siddiqui (@SabrinaSiddiqui) 4 years ago
17/10/2013 03:05 BST
Mitch McConnell Wins The Praises Of... Democratic Leaders
HuffPost's Jennifer Bendery reports:
There was a lot of back-patting among Democratic leaders Wednesday after the Senate passed its bill to end the government shutdown and avert a debt default. But some of their most effusive praise was for the leader of the other party, Senate Minority Leader Mitch McConnell (R-Ky.), who cut a deal with Senate Majority Leader Harry Reid (D-Nev.) at the eleventh hour to avoid catastrophe.

"The Republican leader's cooperation was essential to reach an accord," Reid told reporters, noting his sometimes rocky relationship with the GOP leader. "I've worked with McConnell for many years. The last bit has not been ... [long pause] good."

McConnell "stepped up to be [Reid's] partner when it really counted," said Senate Democratic Whip Dick Durbin (Ill.).
SUBSCRIBE TO & FOLLOW UK DAILY BRIEF