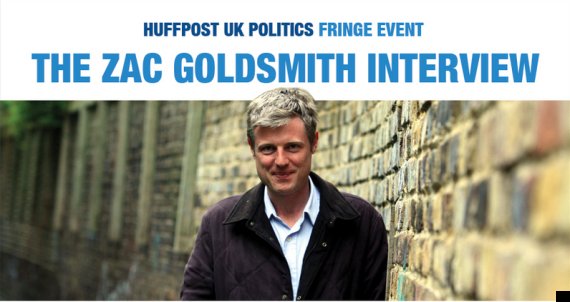 Whether David Cameron likes it or not, Zac Goldsmith is one of the most recognisable young Tory MPs who has influence and interest well beyond the walled garden of Westminster.

As his Conservative colleagues meet in Manchester to discuss the immediate future of their party, Goldsmith joins The Huffington Post UK for one of our Conversation Starter Fringe Events with political director Mehdi Hasan.
The event starts at 12.30pm on Tuesday and we'll be live blogging the event here. You can follow your host Mehdi Hasan here, the guest Zac Goldsmith, assistant political editor Ned Simons who will be updating this blog, along with executive editor Stephen Hull.
FOLLOW OUR LIVE BLOG DIRECTLY BELOW
Share +
Goldsmith says there is "no reason why particular communities, ethic or geographical, shouldn't support the Conservative Party".
Goldsmith tells a story about how when he was elected CCHQ asked him to find out how he got so much support from ethnic minorities. He reveals he took Imran Khan into the local mosque, which helped. Also, it's sort of cheating.
He adds: "I feel I have a very good relationship with the Mosque and a community of people who would normally support the Conservative Party."