Gender stereotypes don't just lurk in the boardroom or the construction site - there are many other male-dominated jobs that we women can get involved with.
Take the kitchen, for example. Once the cornerstone of female oppression, there are now caveats attached. While the home kitchen is open to women, the professional kitchen is not so welcoming. And Michelin-starred kitchens? Well, let's just say, at last tally there were just eight female head chefs out of 169 Michelin-starred restaurants.
But while the challenges are real they are not insurmountable, says Clare Smyth, Britain's first female chef to hold three Michelin stars.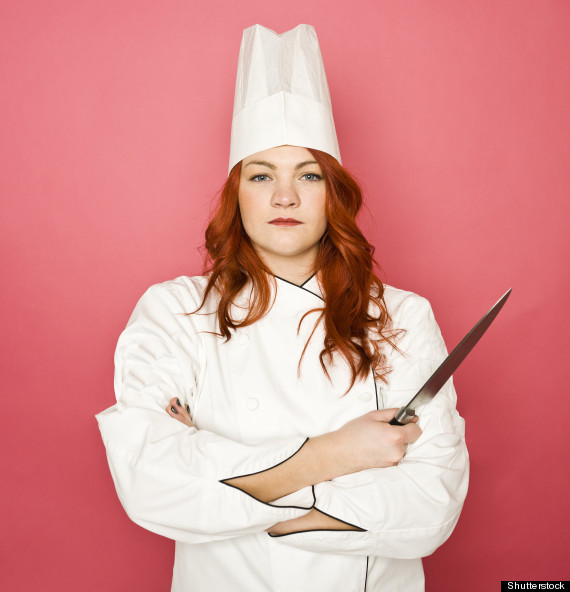 "When I started at Gordon Ramsay in my early 20s, there hadn't been too many women that had come through the kitchen and done well. The guys rolled their eyes and said, 'She'll be gone in a week.' I was determined to get on with it, put my head down and show people I was capable. But I was petrified too," she told The Guardian.
In some ways, I was overdriven - I didn't want people to turn around and say "Ah, she couldn't cope because she's a woman." Any young chef is desperate to prove themselves; I was as well, but I put myself under that added pressure to prove myself because I'm a woman too.
The theatre is another workplace ripe for a feminist revolution. Not exactly known for its "macho" culture, research suggests as many as 68% of theatre-goers are women, yet only a third of those working in the field are female, according to a report by artistic director of Pentabus Theatre, Elizabeth Freestone.
"From the research, I'm confident the industry is an equally attractive proposition for both men and women at the outset of their careers," explains Freestone. "The problems come later down the line, specifically at mid-career stage. Roughly, people working in theatre in their twenties are nearly 50/50, in their thirties it's about 40/60, in their forties 30/70 and their fifties 20/80. So the question is not how do we attract women to working in theatre but how do we keep women working in theatre."
But where there is a gender gap, there is an opportunity. And while the statistics about pay disparity, the absence of women at the top and the issues facing working mothers, can make for depressing reading, behind the headlines there is a quiet revolution taking place. Every day, women all over the UK are overcoming the challenges they face in the workplace - and they want you to join them.
From the first woman to win MasterChef in seven years and the first ever female artistic director of the Royal Court theatre to the female TV producer who turned the ageism debate on its head and the music chief who is on a mission to boost the confidence of women in music, these women are forging the way for a more gender-balanced workforce.
Loading Slideshow
Theatre: Vicky Featherstone

Vicky Featherstone, who previously founded and ran the <a href="http://www.nationaltheatrescotland.com/content/" target="_blank">National Theatre of Scotland</a>, has become the first female artistic director of the <a href="http://www.royalcourttheatre.com/" target="_blank">Royal Court theatre</a>. She told <a href="http://www.standard.co.uk/goingout/theatre/vicky-featherstone-shakes-things-up-at-the-royal-court-8739105.html" target="_blank">The Evening Standard</a>, "It's frustrating that [being the first female in the role] still seems an oddity, enough to make a point about." But she confesses theatre is still male-dominated. She puts this partly down to the fact "the majority of our canon has been written by men and has more parts for men, which is very hard to break." But she also points out that cultural leadership roles are still largely male-biased. But Vicky is set to put women in the spotlight. Her opening season includes Abi Morgan's <a href="http://www.royalcourttheatre.com/whats-on/the-mistress-contract" target="_blank">'The Mistress'</a> examining sex and gender politics.

TV Production: Sita Williams

A 2012 <a href="http://www.televisual.com/" target="_blank">survey by 'Televisual' magazine</a> revealed "clear evidence" of a pay gap between men and women working in the television production industry. And while we're all familiar with <a href="http://www.huffingtonpost.co.uk/2013/05/16/harman-highlights-lack-of-older-women-on-television_n_3283989.html" target="_blank">the ageism debate</a> in front of camera, the report also suggested the same was true behind the scenes. But age has proved no barrier for award-winning TV producer, Sita Williams. The production guru, who has worked on a string of popular TV dramas, including 'The Street' and 'Accused', was made redundant at Granada after 30 years. But instead of seeing this as a time to wind down her career, she seized the opportunity to set up her own company. Launching RSJ films with 'The Street' team mates, script editor Roxy Spencer and acclaimed writer Jimmy McGovern, the producer has gone on to scoop a string of industry awards. In 2011, she was also crowned the <a href="http://www.inspiringawards.co.uk/more_info.asp?current_id=130" target="_blank">Creative And Media Winner at the Inspiring Women Awards</a>.

Music: Alison Wenham

Alison Wenham is the CEO of the <a href="http://www.musicindie.com/home" target="_blank">Association of Independent Music</a>. She says the diversity issue has, if anything, got worse during her 20 year career in the industry. But she has a clear view of how attitudes can be changed going forward. She told <a href="http://www.creative-choices.co.uk/industry-news-views/article/women-in-the-music-industry" target="_blank">Creative Choices</a> careers site, "The way we're going to crack this is not by enforcing positive prejudice… I think what we need to do is to build self-confidence. "That seems to be such a simple statement, but it isn't an easy thing to acquire… Women in this industry fundamentally lack confidence." Wenham is planning to tackle the issue by having a women's meeting including male board directors. "To balance it better would create a much more fertile environment for people to fee and breed off each otehrs' ideas and different inputs."

Art: Gemma Rolls-Bentley

Gemma Rolls-Bentley helped to launch the <a href="http://eastlondonfawcett.org.uk/the-team.html" target="_blank">East London Fawcett Group's arts programme</a> in October 2011 with the aim of celebrating the achievements of women and challenging gender inequality in the arts. She is currently director of the ELF Art Campaign and Art Audit, which gathers up to date statistics about the representation of women in London's galleries and museums. Gemma is in Damien's Hirst's exhibition team and works as an independent curator. She has most recently curated <a href="http://www.tamsynchallenger.co.uk/work/400-women/" target="_blank">Tamsyn Challenger's critically acclaimed 400 Women</a> as part of the Edinburgh Art Festival 2011 and at Sugarcity, Amsterdam in 2012.

Tech: Belinda Parmar

Regular HuffPost blogger, <a href="http://www.huffingtonpost.co.uk/belinda-parmar/" target="_blank">Belinda Parmar</a>, is the founder of <a href="http://ladygeek.com/" target="_blank">Lady Geek</a>, a campaigning agency that makes technology and games more accessible to women and girls. Consulting with tech companies on how to transform the way they sell to women in retail, advertising, social media and web content, the Lady Geek client list includes XBox, Vodafone, Microsoft and Nokia, The social side of the business, <a href="http://littlemissgeek.com/" target="_blank">Little Miss Geek</a>, helps inspire young women to become Tech Pioneers. Recently, Belinda met with Women and Equalities minister, Jo Swinson, to discuss <a href="https://www.gov.uk/government/news/government-and-industry-join-forces-to-help-get-more-women-and-girls-in-stem" target="_blank">new ways to encourage more women and girls to choose technology subjects and careers</a>.

Food: Shelina Permalloo

<a href="http://shelinapermalloo.com/partners" target="_blank">Shelina Permalloo</a> reminded the nation that world-class cooking is not an exclusively male pursuit when she was crowned <a href="http://www.bbc.co.uk/programmes/b006t1k5" target="_blank">Masterchef champion 2012</a> - the first woman to scoop the title in seven years. Born in Southampton to Mauritian parents, Permalloo impressed judges Greg and John with her unique take on Mauritian fusion cuisine. Greg Wallace described her as "a restaurant waiting to happen." Although a top-class restaurant is Permalloo's long-term goal, since her triumph she has been busy with her debut cookbook, <a href="http://www.amazon.co.uk/gp/product/0091950813/ref=s9_simh_gw_p14_d3_i1?pf_rd_m=A3P5ROKL5A1OLE&pf_rd_s=center-5&pf_rd_r=1S1ZYD4TQQVR8J6VAVH9&pf_rd_t=101&pf_rd_p=358548967&pf_rd_i=468294" target="_blank">'Sunshine On A Plate'</a> and her Mauritian cookery school.

Business: Jenny Dawson

<a href="http://www.huffingtonpost.co.uk/jenny-dawson/starting-my-company_b_3095525.html" target="_blank">Jenny Dawson</a> ditched her job in the city to set up her own social enterprise, <a href="http://www.rubiesintherubble.com/" target="_blank">Rubies in the Rubble</a>, which tackles the issues of food waste and unemployment. Her small company produces chutneys and jams using fruits and vegetables discarded by London markets, while providing jobs and training for low-income women. Rubies In The Rubble is stocked in Fortnum & Mason, Selfridges and Waitrose.