Firefighters are advising people to "treat themselves to a takeaway" to avert cooking disasters while they are on strike this weekend.
Essex County Fire and Rescue Service is urging those returning from a night of heavy boozing to "grab a kebab, murder a burger or hurry for a curry" rather than attempt any cooking to avert blazes during their walk out on Saturday.
The fire service has even helpfully advised takeaway aficionados which eateries have the best offers this weekend, urging people to "do their part for fire safety."
Kebab shops, chippies & burger bars let us know the offers you have on this Saturday – do your part for fire safety: http://t.co/gycgU6iwnd
So come on #takeaways in Essex, what deals have you got on this weekend?
Cooking is a major cause of house fires in Essex. Help us to keep the county safe this weekend by recommending a #takeaway you love.
"Cooking after drinking is a recipe for disaster," Divisional Officer Neil Fenwick said.
He acknowledged that using a takeaway as a fire safety device might "seem unusual," but added "there is a serious message here."
"More fires start in the kitchen than any other room, 56% of house fires in Essex start in the kitchen, so avoiding cooking this Saturday could make real difference while there is reduced fire cover," the Essex firefighters warned on their website.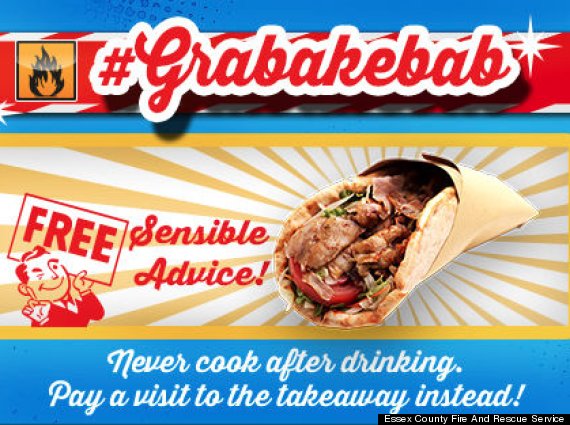 DO Fenwick said: "Cooking is a huge cause of fires - around a third of all house fires start in the kitchen, so by ordering in a takeaway people can make a real difference and help us reduce the risk of fire."
Essex Fire Brigades Union members, along with their colleagues across the country, will be taking industrial action as part of a national dispute over Government pension reforms at the weekend.
Firefighters in Essex, unlike in other counties, will be banned from entering the 52 stations, with vehicles running from 12 alternative sites, during the strike even if there is a major incident.
SUBSCRIBE TO & FOLLOW UK DAILY BRIEF