Katie Hopkins has unleashed a torrent of abuse at 'Coronation Street' star Ryan Thomas, following the news that he has been made bankrupt.
The former 'Apprentice' contestant - famed for her controversial views - branded the actor 'a little boy' with an 'exceptionally small' brain after he encountered money troubles, despite his reported £90,000 salary.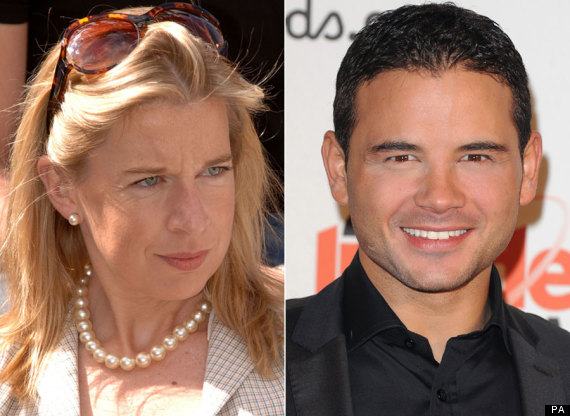 Katie Hopkins and Ryan Thomas
In an opinion piece for Now magazine, Katie wrote: "Bankrupt celebs are like lips without gloss. The shine has come off and they're left looking thin and miserable.
"[Ryan] may earn big but his brain is exceptionally small. Perhaps he should spend less time drinking by the pool in the sun and a bit more time saving for the rainy day the taxman wants his money back."
She continued: "Some say bankruptcy has taught them a valuable lesson. Well, here [is one] more I'd like to hammer home.. don't spend like Rihanna if you're just a little boy called Ryan from 'Corrie'."
Ryan wasn't the only cash-strapped celeb who came in for a tongue lashing from Katie, as she also branded Kerry Katona 'the queen of credit disasters' and said Joe Swash 'clearly skipped maths class as a kid', after they were both made bankrupt for a second time earlier this year.
Since her now infamous appearance on 'This Morning' back in July, where she claimed children's names are linked to class, Katie has aired her views on Netmums, teachers strikes and cheap weddings.
Most recently, she branded a fellow 'This Morning' panellist a 'zebra in a wig' during a debate about whether children should be told if they are fat.
Despite her fortune for her Atomic Kitten days and various relaity TV appearances, Kerry was officially made broke in 2008 when she failed to cough up the final £82,000 of a £417,000 tax bill. A turn as a housemate on 'Celebrity Big Brother' helped her to finally pay off her debts.

The Westlife star and property investor was made bankrupt in June 2012 when the housing market crashed, and left him owing more than €5.5m (£4.45m) to Ulster Bank and Bank of Ireland.

Martine filed for bankruptcy in in 2013, when she amassed debts of £187,000.

When Stephen defaulted on a mortgage payment in 2009, he filed for bankcruptcy claiming he was $2.3m in debt.

The former 'EastEnders' star was made bankrupt by London's High Court in 2009 after he failed to pay a £20,000 tax bill.

Peter lost a reported $20m in 1992 after a failed attempt to crack America.

Biggins reckons that going into voluntary bankruptcy 15 years ago was the 'best thing that ever happened' to him. The star was forced into it after work offers slowed down.

The boxer owed both the US and British governments $17m in taxes, $750,000 to law firms and $300,000 to limo services and became bankrupt in 2004.

He may be a multi-billionaire, but Donald Trump has filed for corporate bankruptcy four times! However, he has never filed for personal bankruptcy.

Neil entered into an individual voluntary arrangement (IVA) after a property scheme in which he invested collapsed, leaving him millions of pounds in debt.

One hit wonder MC Hammer's living beyond his means meant he was $13m in debt and filed for bankruptcy in 1996.