Eels that help exfoliate your body by gently nibbling off the dead skin may sound like a happy convenience of nature.
But what would you do if this so-called helpful eel detached itself from the main buffet and headed straight for your genitals?
This is what happened to one man, who thought he would end up with softer skin, and instead ended up with the eel burrowing through his penis and into his kidney.
He then required three hours of surgery to repair the damage.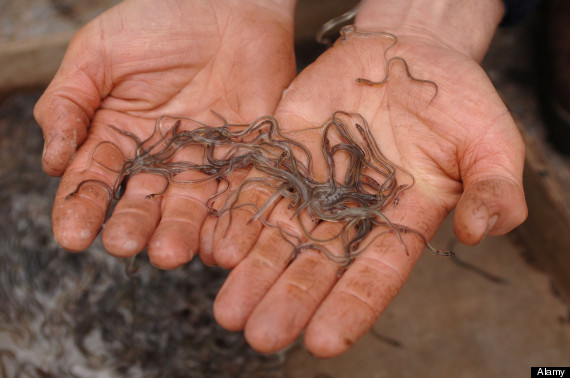 According to The Daily Mail, the story is of Zhang Nan, a 56-year-old man from Hubei province in China. The paper quotes him as saying: "I climbed into the bath and I could feel the eels nibbling my body. But then suddenly I felt a severe pain and realised a small eel had gone into the end of my penis."
Practicalfishkeepingco.uk (PFK) added: "Doctors spent three hours removing the 15cm/6" Asian swamp eel (Monopterus albus). The fish was dead when they retrieved it. PFK covered this story at the time, when surgeon Jin Wang, who performed the operation, explained that the eel's slippery body greatly facilitated its unwelcome entry.
"He added: "The diameter of the urethra in a man's penis is just a little narrower, but because eels are quite slippery, its body worked as a lubricant and so it got into the penis smoothly."
Story continues below the slideshow:
Why not add a little bling to your beauty routine? Now you can -- if you live in Florida and have enough cash to dish out for the, wait for it, 24 carat gold facial. Yep! Mar-a-Lago in Palm Beach offers spa patrons the opportunity to have their entire body painted in gold. The thought is karats can help stave off cellulite and prevent aging.

At Channing's Day Spa in Chicago they think putting fish eggs on your face is better than Botox. They claim that freeze-dried caviar repairs sun damage and minimizes wrinkles.

In Israel, a snake massage is used to relieve heavy back tension and stress... you just have to block out the fact that your masseuse is a slithering snake! But fear not, all snakes are non-venomous.

It started in Japan and then New Yorkers found out about it. The idea is to eat pig's feet and since they are rich in collagen, it will help get rid of wrinkles.

This has been marketed as a natural and organic alternative to botox. It was released by Heaven by Deborah Mitchell and boasts big fans like Kate Middleton and the Duchess of Cornwall.

It's not just your face that deserves a little TLC... In the US, the new 'butt facial' is a treatment that is designed to tone, de-blemish, massage, and polish your neglected derriere.

Dubbed the, 'Viagra for hair', this hair conditioning treatment is derived from the sperm of a bull. Combined with a protein-rich Katera root, this treatment promises to help repair broken hair and give it a silky smooth look...

A cactus would be the last thing you think of when dreaming about a relaxing massage, but the spiky cactus leaf can be used as a massaging instrument. A prick-free cactus pad is used to rub down the skin and help bring out the toxins, whilst absorbing a blend of hydrating cactus meringue and cactus blossom into your skin.

The placenta has another use other than feeding an unborn baby - as an anti-ageing beauty cream! For the cream, lamb placental extract is taken to create a potent lotion which rich in nutrients and bio-stimulants, promising to revitalise and moisturise your skin.

In Italy, you can indulge (if you could call it that) with a wet hay body wrap. But before you conjure images of a scratchy experience, this treatment has a twist - you soak in a water bed heated to over 100F degrees while you're wrapped in the hay. The unusual treatment is said to fortify your immune system and stimulate your metabolism.

A favourite with the Japanese Geisha ladies, this unusual facial made from sterilised nightingale bird excrement, is proving to be popular with Western beauty-seekers too. The treatment promises to brighten up the complexion and contains enzymes which act as an effective skin cleanser.

Although a cold beer helps ease the stress away after a hard day, but a beer bath? In West Bohemia, Czech Republic, they believe that beer has super healing powers and have spas around the country offering 'relaxing' beer baths. Apparently beer has skin boosting B vitamins and helps those with high blood pressure. Not to be outdone, a spa in Japan called Yunessan boasts a giant bath full of Sake, green tea, coffee and even ramen noodles...

In Ethiopia, a butter massage is the beauty treatment to have for women hoping to give their lady parts a 'makeover'. Massaged in butter from scalp to toe, butter is applied everywhere on the body (in and out). The women then sit above a smoke hole in a gymnastic-like pose until the butter melts completely. This bizarre treatment apparently tightens vaginal muscles post-pregnancy.

Lactacyd White Intimate Wash has hit the Thai beauty market, promising to make your privates "safely fairer within four weeks" Because according to them: "Sweat and excessive friction from tight clothing can darken the skin around the intimate area, causing self-consciousness, decreased confidence or inhibiting intimacy."

India's 18 Again "tightening and rejuvenating" cream was advertised through the medium of song and dance. Rishi Bhatia, chairman and managing director of Ultratech India, told Campaign India: "18 Again is a first-of-its-kind product for women in India. This product is being launched in India post clinical trials conducted amongst women of all age groups under dermatological control.

When we first heard that this weird beauty treatment may well be on the rise again, we had to do a bit of research. And here's what we found out: urine therapy was historically used by the Greeks and Romans to cure all that ailed them. It was also used to, ahem, whiten their teeth. Essentially, the procedure involves drinking your own urine in the hopes you'll look and feel younger. In modern times -- and on shows like 'My Strange Addiction' -- people have been known to drink urine for various reasons. Some scientists have even speculated urine has anti-carcinogenic properties -- which could stave off cancer and wrinkles. No real evidence has been found to support those claims.

The Smooth Synergy Cosmedical Spa in NYC scrubs your skin down with a papaya and mint scrub to take off dead skin and clean pores. But the real kicker is when they strap your booty up to a microcurrent therapy machine to zap away that cellulite.

Milk does do a body good. But the trend toward making your own soap -- to be used when you shower or simply wash your hands -- out of breast milk is, well, a bit extreme. The trend emerged as people started to worry that brand-name soaps were full of chemicals and detergents that would harm their skin (or worse, cause cancer). And since milk is supposed to nourish the epidermis, well, why not turn excess breast milk into something, ahem, usable?

Just because Gwyneth Paltrow swears by this cream -- and its accompanying facial -- doesn't mean you should actually try applying snake venom cream to your face. Apparently, using a cream which has venom as an active ingredient helps plump up the skin (much in the same way botox does).

This popular treatment has become a spa go-to for women around the world who want softer, smoother feet. Essentially, this treatment involves dipping your feet into a tank and letting hungry little fish -- Garra rufa fish -- gently eat away at the dead skin cells that make your skin feel rough. Some places and states have banned the practice for fears it may be unsanitary.

Fire cupping is a natural treatment where a practitioner ignites a cotton ball soaked in alcohol and places it inside a cup. When the cup is placed against a patient's skin, a suction action begins to happen -- which is said to increase circulation. Once "activated," the glass bulbs can be moved to key "energy" points all over the body to boost the immune system and increase blood flow (which will help give skin a natural glow, making patients look younger). A big fan of the procedure is reportedly Gwyneth Paltrow.

A chocolate body wrap? Well sign us up. Sure, there's no scientific evidence to support the claims treating your body to some of the sweet stuff will soothe, smooth and detoxify your skin, but it involves sitting in chococlate for an hour. Sounds pretty tasty to us. Check out the spa devoted to all sorts of chocolatey good beauty treatments.

On the latest episode of 'Kourtney & Kim Take Miami," Kim decides to get what is called a 'Vampire Facial.' The procedure, where doctors take blood from a patients arm and stick it back in their face, left Kim in a great deal of pain. Kim says she underwent the cosmetic surgery because she wants to look more youthful and erase wrinkles. Kristina Behr has the gory details.
The eel treatment, and other more extreme forms of beauty treatment that lure people in with a gimmick-factor, have been highlighted by Wendy Nixon, a health and safety consultant, who last week told a conference hosted by the Chartered Institute for Environmental Health (CIEH), the body which represents health inspectors, that there were problems with the procedure.
SEE ALSO:

Putting Your Face On: Is Wearing Make-Up Deceitful?
She was also concerned at the number of treatments being performed by therapists not qualified enough to perform them - for instance fish spas, which feature Garra rufa fish that nibble off dead skin.
The Guardian reported her as saying: "I have been to big events for the leisure industry
and they (the treatments) are working their way into gyms and these sorts of places, so keep an eye out for those. Anyone involved in these sorts of treatment should have at least a very minimum national occupational standard at a level-two pedicure unit."