Even as the ethical (and political) debate around the military use of drones persists, the underlying technology is getting ever more advanced.
The latest frontier to be passed? Getting the first drone helicopter into the air.
Yes, quadcopters and the like have been around for years - and are commercially available. But sending a full-scale chopper into the sky without a pilot, and controlling it accurately, has never been done.
Until now. The MQ-8C 'copter pictured recently completed two unmanned test flights (for 7 and 9 minutes respectively), flying to over 500 feet - and into the record books. The craft can carry up to 2,600 pounds, and fly for 12 hours.
The craft is the work of Northrop Grumman, who said that taking the helicopter pilotless allows it to fly longer, with heavier payloads. The first eight of 30 planned MQ-8C Fire Scouts will enter service in 2014, according to Pocket-Lint.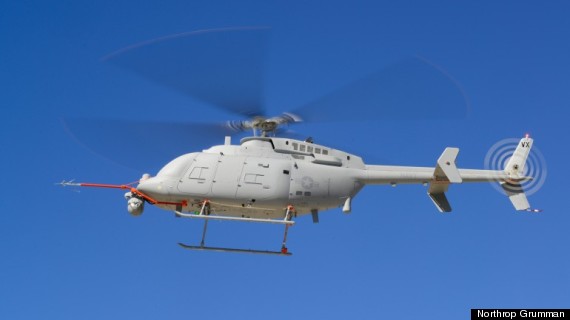 George Vardoulakis, Northrop Grumman's vice president for medium range tactical systems said in a press release:
"Operating the MQ-8B Fire Scout from Navy ships has proved extremely successful. During at-sea deployments, operators saw the need for a system that carried the same intelligence-gathering capabilities of the MQ-8B, but fly longer and carry additional payloads. Changing out the airframe, installing control systems and avionics, and then conducting a first flight of the system in a year is truly remarkable. I couldn't be more proud of the team."
Loading Slideshow
Fingerprint Gel

The Japanese government counter-terrorism practice of <a href="http://www.reuters.com/article/2007/11/20/us-japan-fingerprinting-idUST23858020071120" target="_hplink">fingerprinting foreigners who enter the country</a> may have inspired Doctor Tsutomu Matsumoto to invent "fingerprinting gels", a way of <a href="http://cryptome.org/gummy.htm" target="_hplink">faking fingerprints for scanners</a>. <a href="http://www.dansdata.com/uareu.htm" target="_hplink">Learn how</a> to make your own here.

White Noise Generator

Worried someone around you is <a href="http://articles.businessinsider.com/2011-07-28/strategy/29998051_1_bank-employee-consent-conversation" target="_hplink">secretly recording everything you do?</a> No fear! There's a relatively low-tech way to defeat such snoops, via white-noise-producing <a href="http://www.amazon.com/Productive-Home-Security-Prducts-Jammer/dp/B002PJ7PYS" target="_hplink">audio jammers</a>. These tiny devices use white noise to blur the sound picked up by hidden microphones and other surreptitious recording devices.

LED-Lined Hat

Hidden cameras got you down? Blind them all with a simple baseball cap lined with infrared LEDs. <a href="http://creator.wonderhowto.com/amiehold/" target="_hplink">Amie, a hacker on WonderHowTo</a>, shows the world <a href="http://mods-n-hacks.wonderhowto.com/how-to/make-infrared-mask-hide-your-face-from-cameras-201280/#" target="_hplink">how to make one</a>, while <a href="http://translate.google.com/translate?u=http%3A%2F%2Fwww.oberwelt.de%2Fprojects%2F2008%2FFilo%2520art.htm&langpair=de%7Cen&hl=en&ie=UTF8" target="_hplink">this German art exhibition</a> lays out how these ingenious devices work.

Bug Detector

These receivers reveal the telltale electronic crackle of hidden mics and cameras. Strangely enough, they were around long before "surveillance culture" became a <a href="http://digitalcommons.law.yale.edu/ylsspps_papers/64/" target="_hplink">common phrase</a>. Today they're sold in all sorts of <a href="http://www.gadget-playground.com/bug-detection.html" target="_hplink">shops for surveillance paranoids</a>.

Camera Map

Sometimes hiding your face isn't enough; sometimes you don't want to be seen at all. For those days, there's camera maps. The <a href="http://www.mediaeater.com/cameras/locations.html " target="_hplink">NYC Surveillance Camera Project</a> in the US is currently working to document the location of and working status of every security camera in New York City. <a href="http://bigbrotheriswatching.co.uk/Anpr_Camera_Locations.html" target="_blank">A similar project</a> is also in progress in the UK.

Dazzle Camouflage

Credit to artist <a href="http://ahprojects.com/" target="_hplink">Adam Harvey</a> for this one. Inspired by the <a href="http://www.bobolinkbooks.com/Camoupedia/DazzleCamouflage.html" target="_hplink">"dazzle camouflage" </a>used on submarines and warships during World War I, he designed a series of face paint principles meant to fool the facial recognition schemas of security cameras. Check out <a href="http://dismagazine.com/dystopia/evolved-lifestyles/8115/anti-surveillance-how-to-hide-from-machines/ " target="_hplink">The Perilous Glamour of Life Under Surveillance</a> for some tips on designing your own camera-fooling face paint.

Throwaway Phones

Disposable mobile phones <a href="http://www.amazon.co.uk/Pre-Pay-Mobile-Phones-Communication/s?ie=UTF8&page=1&rh=n%3A10394961" target="_blank">are more expensive than you think</a>, but they don't require personal information when you sign up.

RFID-Blocking Wallet

Radio-Frequency Identification (RFID) chips are now <a href="http://electronics.howstuffworks.com/gadgets/high-tech-gadgets/rfid.htm" target="_hplink">regularly implanted</a> in passports, ID cards, credit cards and travel papers. These tiny chips make machine-reading your documents easier -- but could also let anyone with the right type of scanner <a href="http://articles.cnn.com/2006-07-10/tech/rfid_1_rfid-industry-rfid-journal-rfid-chips?_s=PM:TECH " target="_hplink">scrape your information <em>and</em> track your whereabouts</a>. Luckily, gadget geeks have come to the rescue again, this time with<a href="http://www.thinkgeek.com/product/8cdd/" target="_hplink"> RFID-blocking wallets</a>. These wallets create a Faraday cage around your items, keeping their data secure until you take them out to be scanned where they're supposed to be scanned. Destroying the chip is simpler: <a href="http://www.instructables.com/id/How-to-blockkill-RFID-chips/" target="_hplink">just nuke it in the microwave for five seconds</a>. Of course, whatever you're microwaving might <a href="http://www.youtube.com/watch?v=4_5UYcyO3Pg" target="_hplink">burst into flames</a> first...

Use Skype

The progress of the government's so-called 'Snooper's Charter' is currently stalled in Parliament, but using Skype may be a way to avoid officials tracking your phone calls. <a href="http://www.techweekeurope.co.uk/comment/how-to-avoid-gchq-snooping-use-skype-71410">Tech Week Europe suggests that Skype users have less cause to be worried about their data</a> being intercepted. The reasons are pretty technical, and any system is fallible, but it may be worth looking into.