Fans of the 2011 'X Factor' winners were shocked when the controversial Hopkins tweeted: "Packet Mix have still got a chubber in their ranks. Less Little Mix. More Pick n Mix."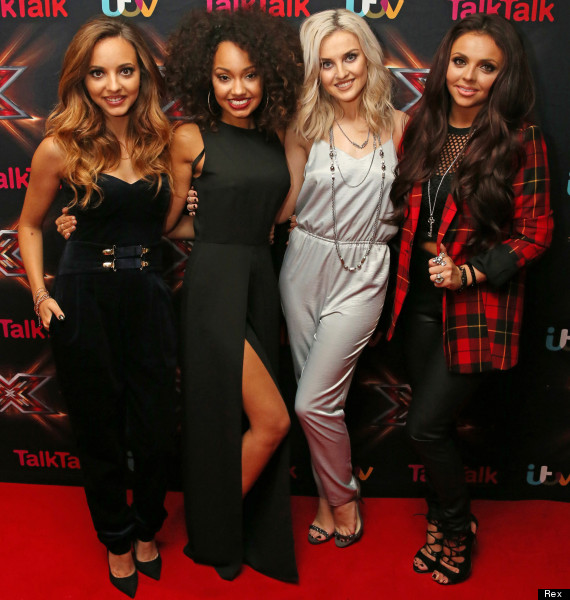 Packet Mix have still got a chubber in their ranks. Less Little Mix. More Pick n Mix.
Sticking up for her bandmates, Little Mix star Jade Thirlwall tells The Huffington Post UK: "I just think she [Hopkins] is a really sad person... I think it's really sad that she has to try and find some kind of limelight by slating everyone else."
Asked whether they think it's the former 'Apprentice' star's job to cause offence, Jade continues: "She wouldn't have a job if she wasn't horrible about people and I find that really sad. Can't she just get a normal job and be nice about people?" Little Mix's loyal fans quickly sprang to the band's defence during their 'X Factor' performance, so Hopkins then took aim at them too:
Little Mix have got some fans. Iccle angry girlie ones with rebellious piercings. And long socks.
"Our fans are literally amazing, they will defend us till the day we die... to be honest they are what keep us strong," Jesy Nelson tells us.
The group - who are set to release their second album, 'Salute', on 11 November - say that returning to the ITV show to perform their new single, 'Move', on Sunday felt like coming home.
"It feels like we were only there yesterday, walking down the corridor of doom… it feels like our other home, we don't forget it," Leigh-Anne Pinnock explains.
And while they may not be Hopkins' favourite band, they did make an impression with one of the judges: "Louis came up to us afterwards and said 'Girls, I didn't know you could sing that well.'"
SUBSCRIBE AND FOLLOW
Get top stories and blog posts emailed to me each day. Newsletters may offer personalized content or advertisements.
Learn more