Just when you think James Arthur has finally wound his neck in and stopped trying to pick boring fights, he's gone and launched an attack at the biggest boyband in the world, One Direction.
Brave (or stupid?) man.
The reigning 'X Factor' champion - who had a famous war of words with previous winner Matt Cardle - has labeled 1D singer Louis Tomlinson a 'little bitch'.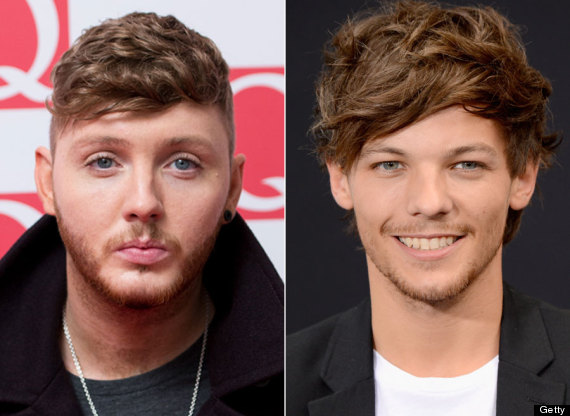 James Arthur and Louis Tomlinson
It started on Thursday afternoon when James tweeted: "And f*ck boybands! Bring on the hate I don't wanna be popular. Apart from JLS who are genuinely the coolest people I've met in music."
Soon enough, an army of Directioners were defending the group, with one user pointing out that Louis had lent his support to James when he was competing on the 'X Factor'.
Then, in tweets that James has since deleted, he said that Louis had acted like a 'little bitch' towards him since he called One Direction 'a marketing product' earlier this year (James later claimed those comments were misunderstood).
James' astounding rant continued later on Thursday evening, as he raged: "You are all correct I wouldn't be where I am if it weren't for Louis Tomlinson.. Not the years of working hard in the real world.
"Look, I do appreciate their help but like a lot of people.. When I said 1D were about marketing certain members of the band turned on me too ... I meant no offence and they were pretty awful to me too I don't suffer them or pretend to like...
"I have nothing against One Direction fans or the band itself I have an issue with one member ... they insulted me when I had nothing against them so now I don't pull any punches when I'm asked...
"[They] just said some things via text and the things that were said warrant my dislike for them so that's it.. I'm not being ungrateful."
When asked who he was referring to, James added: "Well the one I called a little b**ch obviously coz he wouldn't say the things he said to my face."
One Twitter user also pointed out that James' comments about boybands could be read to include Union J, who he starred on 'X Factor' with last year. After they pointed out it could be awkward when they play the Capital FM Jingle Bell Ball together next month, James tweeted back: "OMG WHATS GUNNA HAPPEN? WHAT IF THEY BEAT ME UP!! SO AWWWKWARD .. Shut up you sad human."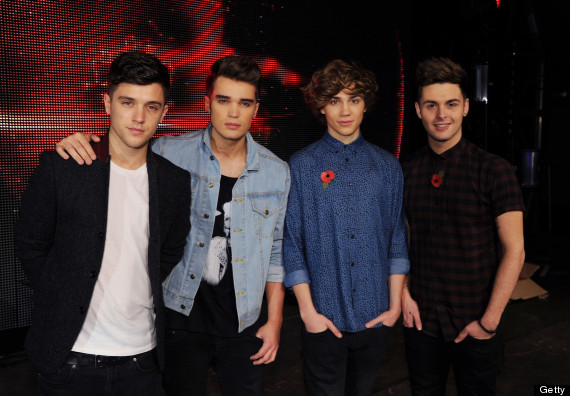 Union J
Funnily enough, James' Twitter rant comes as his album looks set to miss out on the top spot in the charts this weekend.
Mid week sales showed that Eminem was ahead with his new cut 'The Marshall Mathers LP 2', with James' self-titled debut lagging behind in second place.
His single 'You're Nobody Til Somebody Loves You' also failed to top the singles chart last week.
Lord Sugar didn't hold back when he tweeted Simon Cowell to tell him exactly what he thought of Tulisa on 'The X Factor', telling him: "She knows nothing and talks rubbish". She responded by calling him an "ugly hobbit" and a "miserable old man". He had the last laugh though when she was axed from the show a few months later.

Mrs O just couldn't keep her true feelings about 'X Factor' contestant Steve Brookstein secret any longer during the final of the first series in 2004. She labelled the eventual winner a 'fake' and 'not what he seems' during her live tirade. Nine years on, and Sharon still bares a grudge, labelling him a 'little pillock' and a 'ball-less b*****d" upon her return to the show. Steve later tweeted: "Not looking forward to Sharon Osbourne returning to our screens will have to avoid itv."

They may be best pals again now, but for a long time things weren't pretty between the Take That-ers, after Robbie quit the group in 1995 and then failed to turn up for a televised reunion in 2005. He later said: "My problem has always been with Gary. It was always with Gary. I wanted to crush him. I wanted to crush the memory of the band - and I didn't let go. You know, even when he was down, I didn't let go. And for that I sincerely apologise." The pair made it up and recorded duet 'Shame' in 2010, before Robbie rejoined Take That for a short stint.

There isn't an insult Kerry Katona hasn't used to describe her ex husband Brian McFadden after their marriage ended in 2004. But Brain has also fought back, infamously referring to Kerry as 'some pr*ck' on Twitter. Most recently she said: "What pisses me off is that when he does fall in love, the kids come second. And that's why I think he's a w**ker." Charming.

Bet you can't name a single contestant from series four of 'The X Factor' in 2007 - that's because the whole series was dominated by the almighty cat fight between Sharon Osbourne and Dannii Minogue. Shazza called her "a spoon with hair" when she appeared on Graham Norton show, adding: "She wasn't so much a dim bulb as a bulb in a power cut. F***ing usless." Sharon later quit the show as Dannii "became too unbearable", comparing her to "a mosquito that wouldn't go away."

Once the best of friends, the pair famously fell out when Cheryl was axed from the US version of 'The X Factor' after just four days of auditions. As of July 2013, Cheryl was locked in a court battle trying to get compensation for her sacking, and instructed her lawyers to quiz Simon on how much he earns. However, the pair are now friends again, with Cheryl thanking her former boss for a gift he sent for her 30th birthday in June 2013. He also tweeted: "We are close friends again and I adore her."

All hell broke loose on the 'American Idol' set in 2010 when Nicki Minaj tired with Mariah Carey's 'divaish' ways and allegedly threatened to violence against her in behind-the-scenes footage leaked to TMZ. "I told them I'm not f*****g putting up with her f*****g highness over there. I'm gonna knock you out," she screamed. Six months of barbed comments, eye rolling and awkward tension followed, before they both quit the show after just one series.

We don't even know where to start with the beef between these two boybands. So many insults have been traded since both of them cracked America that we've lost track.

Kayne West infamously hijacked Taylor Swift's acceptance speech at the 2009 Video Music Awards, interrupting her to say, "I'm really happy for you. I'ma let you finish, but Beyoncé had one of the best videos of all time." Swift was dumbstruck by the incident and it seemed as if she didn't want to get into it with the rapper. "I don't know him, and I've never met him, so..." she said. "I don't want to start anything because I had a great night tonight." A year later she was literally singing a different tune. At the 2010 VMAs she performed her new song "You're Still an Innocent," a reference to the previous year's incident with West, basically calling him immature. "Thirty-two and still growing up now / who you are is not what you did / you're still an innocent," she sang. Kanye didn't have any right to fire back, but of course he did. At a concert in New York City, West blasted Swift to his fans: "Everybody needs a villain, don't we? We need to blame someone at all times ... I was emotional, that was not exactly the way I wanted to word it, but I wrote it, I rode it, just as Taylor never came to my defense in any interview, and rode the waves and rode it and rode it." The feud seems to have blown over, as Swift wore a blouse from Kanye West's spring 2012 collection in the pages of Harper's Bazaar.

Katie Price sparked outrage when she labelled Kelly Brook a heifer after seeing snaps of her in a bikini. The pair threw a string of insults at each other over the following weeks before Katie then publicly hit out at Kelly's boyfriend (and her ex), Danny Cipriani, warning her that he'd never stay faithful. Turns out the Pricey was right, as sure enough the couple split soon after, when it was revealed he had been sending saucy messages to other women.

'Dancing On Ice' judges Karen and Jason created a piece of TV gold when their obvious hatred for each other reached boiling point during one live show. Hit play on the video to the left to view the spat in full.

These two are never afraid to tell people what they think, so it's little surprise they've had a showbiz spat. It all started when Cheryl misunderstood that Lily's song 'Cheryl Tweedy' was not intended as a compliment. She later infamously called her a 'chick with a dick' in 2007. Lily later got her own back by tweeting about Chezza's 2003 conviction for assault.

Things have turned sour between former pals Lady Gaga and Perez Hilton - the 'Applause' singer recently claimed the celebrity blogger mocked her after she had her hip accident sending by her a picture of herself in a wheelchair with the word 'karma' written on it, along with a image of Madonna pointing a gun at her. Gaga later tweeted that Perez was stalking her when he turned up at her apartment building. He claimed is was merely a coincidence during a househunting trip, and added that it was "too painful for him to go into detail about why he chose to no longer make her a part of his life."

Remember when Katie Price and Peter Andre were happy? We know it's hard to imagine now, giving the mauling they have given each other in the press since their nasty split in 2009. There have been claims of (strongly denied) affairs, court cases and constant digs during TV appearances. Although Katie did congratulate Pete on his girlfriend's pregnancy in 2013.

The former breakfast telly BFFs fell out when Denise joined Johnny's radio show, only to quit soon after. While Johnny claims there is 'no rift', Denise told us: It was a very strained relationship at the time, for whatever reason. No I'm not joking. It just wasn't the relationship we had previously on TV. He wouldn't let me speak, would tell me when I should and shouldn't speak, and would also constantly not mention that we were joint presenters."

The feud in question began in 2002, when Elt labelled Madonna's song for the 007 film, 'Die Another Day,' as 'the worst Bond tune ever'. As the spat escalated over the years, he publicly called her a 'c*nt' and a 'f***ing fairground stripper', before they finally made it up in 2013.

Cher Lloyd may have been 'right up Cheryl Cole's street' after the Girls Aloud star mentored her on 'The X Factor', but the mini-me didn't take too kindly to Cheryl losing touch after the show. Cher made a dig about her former pal, saying she would only do a duet with Cheryl if she didn't use autotune, prompting Cheryl to hit back on Twitter. "Be Careful who you kick on your way up .. They kick you twice as hard on your way back down.. #unappreciationisugly," she wrote. Ouch!

Disney starlets do not play nice. In 2008, teen queen Miley Cyrus went head to head with Selena Gomez and Demi Lovato. BFFs Selena and Demi used to make goofy videos they would post to YouTube, much to the chagrin of Miley as it turned out. Miley and her BFF Mandy made a parody video where they mocked the other girls, making fun of their makeup and the gap in Demi's front teeth. The feud appeared to come out of nowhere. "To be honest I don't know what happened," Selena told MTV. "I though we were okay, but to be honest, I don't even know [Miley and Mandy]. And Demi has never met Miley. It's interesting -- that's all I'm going to say about it." They all eventually made up and became friends. Miley addressed the feud in a YouTube video in 2009: "So everyone's thinking there's a big feud between me and Selena and Demi. Actually, I'm going to have meatloaf with Demi tonight. I'm riding my bike to Demi's house. So I'm going to be partying with Demi 'cause we're friends, and I love her and she is always there for me. She is one of my bestest friends."

These ladies need to learn to keep their comments to themselves. Back in the day, Christina Aguilera apparently used to call Kelly Osbourne fat, and now that Kelly has slimmed down and Christina has gained a few pounds the tables have turned. Osbourne made sure to call attention to the singer's weight gain, not once, but twice in 2011. "Maybe she is just becoming the fat bitch she was born to be. I don't know. She was a c**t to me. And she bought my house," Osbourne said during an episode of "Fashion Police" that aired in August. "She called me fat for so many f***ing years, so you know what? F**k you! You're fat too." Then in October, the singer was again the topic of discussion on the show: "Lady Marmalade got into the peanut better again," quipped co-host Joan Rivers when criticizing Aguilera's too-tight outfit. "She called me fat for years, I was never that fat," Osbourne said and later added, "Trust me, I'm a 2/4. That is not a 2/4."

Thanks to their love of a magazine deal, Chantelle Houghton and Alex Reid's war of words even began before the pair had actually split up. She claimed Alex had refused to stop dressing as female alter-ego Roxanne, and said he turned their house into a sex dungeon, while Aled later claimed that he had been stopped from seeing their daughter Dolly.

Madonna was not too pleased when Lady Gaga released 'Born This Way' in 2011, believing she'd copied her hit 'Express Yourself'. "Imitation is the highest form of flattery," she said, later adding: "I'm a really big fan. I'm glad that I helped write it." Gaga hit back while on-stage one night: "It sometimes makes people feel better about themselves to put other people down or make fun of them or maybe make mockery of their work." Now Madge claims she "loves" Gaga and wants to duet with her - something with the Lady has since turned down.

Is there anyone Eminem hasn't feuded with? Eminem and Mariah Carey began to spar after he claimed that they used to have a sexual relationship. Mariah denied the relationship, telling Larry King, "I hung out with him, I spoke to him on the phone. I think I was probably with him a total of four times. And I don't consider that dating somebody." Mariah later mocked his claim in her video for "Obsessed," which featured an Eminem look-alike who was obsessed with her. The rapper retaliated with a number of songs that mentioned Carey and threatened to release nude photos of the singer as well as voicemails to prove they dated. In the song "The Warning" he raps: "Shut the fuck up before I put up all the phone calls you made to my house when you were "Wild N' Out" before Nick, when you was on my dick and give you something to smile about."

"You know what you did," Lauren Conrad screamed at Heidi Montag on an episode of "The Hills." Lauren and Heidi's friendship began to dissolve in 2007, when Heidi started dating Spencer Pratt. "He's a sucky person," she infamously told her one-time best friend. Heidi chose a relationship with Spencer over a friendship with Lauren and spread a rumor there was a Lauren Conrad sex tape floating around. Heidi tried to repair things with Lauren, but she wasn't having it. "I want to forgive you and I want to forget you," Lauren told her as mascara ran down her face. The feud eventually ended but they never repaired their friendship. As Spencer began to fade into obscurity he tried make himself relevant by burying the hatchet with Conrad, wishing her a happy birthday on Twitter in February 2012.

Rihanna and Ciara - who both dated Chris Brown in the past - got into a heated public spat in February 2011. First Ciara made a dig at Rihanna on 'Fashion Police', saying: "I ran into her recently at a party. She wasn't the nicest. It's crazy because I've always loved and respected what she's done in fashion. It wasn't the most pleasant run-in." When Rihanna heard what Ciara had said, she fired back on Twitter. "My bad Ci, did I forget to tip you? How rude of me.... You gangsta huh? Ha." They volleyed insults and threats at each other and then Rihanna called a truce. "Ciara baby, I love you girl! You hurt my feelings real bad on TV! I'm heartbroken! That's why I retaliated this way! So sorry! Let's make up." Ciara accepted the apology and that was that.

In 2005, Tom Cruise seemed to have lost his marbles when he jumped on couches on Oprah's talkshow. He then lashed out at actress Brooke Shields, while on the 'Today' show, telling Matt Lauer that Shields should not have taken antidepressants to combat the postpartum depression she was suffering from after the birth of her first child. Cruise, a Scientologist who shuns psychiatry, insisted the depression could be treated with "vitamins and exercise." Shields responded by writing an op-ed piece in the New York Times, writing: "I'm going to take a wild guess and say that Mr. Cruise has never suffered from postpartum depression ... And comments like those made by Tom Cruise are a disservice to mothers everywhere ... If any good can come of Mr. Cruise's ridiculous rant, let's hope that it gives much-needed attention to a serious disease." Cruise later apologized to Shields, the actress told Jay Leno a year later. "He came over to my house and he gave me a heartfelt apology. And he apologized for bringing me into the whole thing and for everything that happened," she said.

The mother of all fights broke out between Chris Brown and Drake as the pair started a brawl in a New York nightclub, allegedly over Rihanna, who they'd both dated.

Take two Disney starlets and one prepubescent popstar and you have a recipe for one of the most discussed celebrity feuds of the 2000s. Back in 2002, Aaron Carter reportedly broke up with or cheated on Hilary Duff, who he was dating for two years, to hook up with Lindsay Lohan. The 15-year-old Casanova then left Lohan to get back together with Duff. Though the girls should have been furious with Carter, they instead turned on each other. Their feud played out in the pages of magazines with both actresses taking shots at each other for years. By 2007 the girls put their past behind them and made up. "We are both adults and whatever happened, happened when we were young," Duff told People. "It's over."

Gossip blogger Perez Hilton was confronted by the Black Eyed Peas at the Much Music Video Awards in 2009 and began hurling insults at Will.i.am and the rest of the band. Perez was punched in the face by Will.i.am's manager and the blogger later tweeted, "I was assaulted by Will.i.am of the Black Eyed Peas and his security guards. I am bleeding. Please, I need a police report. No joke." Will.i.am later denied Hilton's claims and Hilton shot back with a 12-minute video blasting the Black Eyed Pea as a "disgusting human being" and "a fucking liar." Perez later sued Will.i.am's manager and a settlement was reached.