What, you may ask, has a woman's pubic hair (abundance or lack thereof) got to do with starting a debate around the expectations of beauty that face modern women today?
Somehow, we've taken our eye off the ball, and while we're so busy trying to get equal pay and make our voices heard in the boardroom, we've accidentally left behind two generations of young girls and women who aren't quite sure what feminism is, or even that they have a choice about what their body is presented like.
Project Bush aims to shine a spotlight light on that, after communications director of Mother London Liam Fay-Fright was horrified that girls as young as 11 and 12 were getting Brazilian waxes.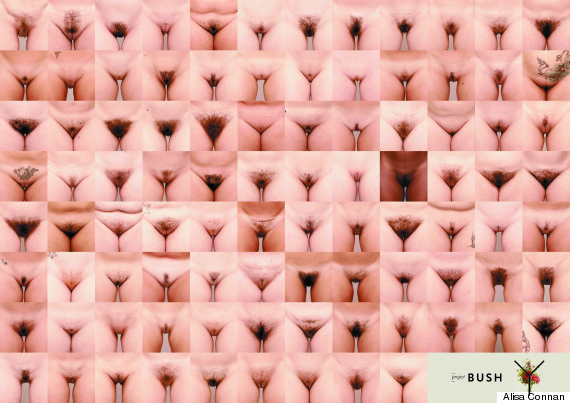 The final project
The idea was to get 93 women together, and have their bushes photographed by celebrity snapper Alisa Connan. The resulting montage (above) will be displayed at the agency's headquarters for four days.
One participant, Nathalie Gordon, 25, says that although gearing herself up to be photographed in the nude was nerve-wracking, the shot was done behind a velvet curtain with just herself and the photographer. Afterwards, she felt elated.
Talking about her reasons for taking part in the project, she said: "It was pretty liberating – like nothing I've ever done before. I am a feminist and taking part in this felt like something I could do to contribute to the debate. I'm only 25 and there are so many women of my generation who don't talk about it."
SEE ALSO:

Sweden Sexist Film Rating Is Not About Restrictions, But Opening Conversations
Feminism, she believes, has become a dirty word. Whereas once it stood for a particular set of beliefs, it has started to symbolise some of the more negative aspects rather than the good.
"The word itself - people think it's aggressive. If I turned to my girlfriends and said I'm a feminist, they think it's confrontational rather than about equality. The fact is, there is nothing wrong with saying I just want to be paid the same as a man. People in my generation have become submissive and don't think there is an argument there. Probably the worst thing is that even if they are unhappy with something, they think "I won't be able to change it", which I think is a shame."
Nathalie's words add to a collective voice which believes that we need a new word for feminism, to describe the next set of women who have evolved with a slightly different set of beliefs that previous generations.
Speaking to HuffPost UK Lifestyle, photographer Alisa reveals her reasons for getting involved in the project. "Initially," she says, "I didn't quite understand the concept. Then Liam told me that girls as young as 11 or 12 were waxing their public hair and I thought yes, that was important issue.
"The women who were photographer came in for different reasons. A very small percentage were completely comfortable with stripping off, the majority were nervous and then full of energy afterwards. And they all had different reasons - some were concerned about how the media portrays women in general, others were concerned about the world their daughters were growing up in. Most thought: "This is one small thing that we can do."
A key pillar of the pillar is around the issue of choice. Alisa says - and we agree - that if women want to wax and "be in pain to get that effect" then that is their choice. But if they're doing it because they think it'll please someone else, or that they aren't beautiful if they don't, then that is where it gets messed up.
What we need to focus on is that next generation - young people being pressure by other girls or guys.
HuffPost blogger and lecturer BJ Epstein recently wrote a blog on the choices of grooming, asking why she should have to wear make-up or groom herself, if she didn't want to.
"When you're younger," says Alisa, 'you don't have as much free choice because your brain isn't fully formed, you don't have the benefit of experience.
"And these pressures from other people can have such an effect. One woman I photographed was in her late 20s. She said she was 15 when started to get teased for having a big bush by other girls and I was shocked. It's not something that is just starting to happen - this kind of pressure for women to conform to a certain type of beauty has been around for a while."
Do you think a new debate needs to start around redefining feminism? Or has it already begun?
Tell us your thoughts in the comments below.
Loading Slideshow
XOJane

Outspoken, current, incredibly funny and above all honest. <a href="http://XOJane.co.uk" target="_blank">XOJane</a> prides itself as being the "place where women go when they are being selfish, and where their selfishness is applauded." "This is not the place to find out how to please your husband, mom, kids or boss," the site adds. "This is the place to indulge in what makes you feel good." Check out XOVain too, their sister beauty site. Written with the same vein (pun intended) as XOJane, we love it for all the same reasons.

Women Like Us

<a href="http://womenlikeus.org.uk" target="_blank">Women Like Us</a> is a social business - with multiple awards under its belt - that supports women who want to carry on working after having children. They are dedicated to helping women fit work into their lives and cope with their family needs. They provide online resources, networking spaces, workshops and free face-to-face support to women on low incomes.

The Fementalists

<a href="http://thefementalists.com" target="_blank">The Fementalists</a> bridges the gap between mental health activism and feminism. It provides a thriving space to share personal stories of experiencing mental ill-health as a woman. It also offers support to those women.

The Vagenda

How could you not love a strap-line such as: 'Like King Lear, but for girls'? <a href="http://vagendamag.blogspot.com" target="_blank">The Vagenda</a> covers everything from celebrity and body image to sex and periods, with confidence and unique wit. Questioning the nature of women's gossip magazines and shaming The Daily Mail, our favourite recent post was The Official Statement From Cheryl Cole's Arse.

BlogHer

<a href="http://blogher.com" target="_blank">BlogHer</a> is a platform that calls itself an "organically grown community" which inspires women to create and share content across a range of subjects. The community reaches 92 million across premium blogs, Web sites, Pinterest, Facebook and Twitter (May 2013, Nielsen Site Census). The site pledges to value content: "Creators, we want to facilitate and curate a community that empowers our members and creates value for all. We believe you should be paid for quality work: news, information, advice, recommendations, storytelling in words, photos and video. "Since 2009, BlogHer Inc. has paid out $25 million to 5,000 bloggers and social media influencers who embrace our editorial guidelines and produce community content."

The Women's Room UK

<a href="http://thewomensroom.org.uk/" target="_blank">The Women's Room UK</a> is a website dedicated to putting women's opinions at the heart of mainstream news by connecting female experts with journalists. It is disrupting institutional media sexism with one deft stroke and co-founder Caroline Criado-Perez was the woman behind the Keep A Woman On British Banknotes campaign. <a href="http://www.huffingtonpost.co.uk/2013/03/15/co-founder-of-the-womens-room-caroline-criado-perez_n_2882480.html" target="_blank">Read more about the site in our profile piece here. </a>

Feministing

A hub for feminists on the web, <a href="http://feministing.com/" target="_blank">Feministing</a> is an online community to discuss and develop the issues surrounding feminism. Through their blog, comment threads and social media profiles the site connects feminists across the globe.

Jezebel

<a href="http://jezebel.com/" target="_blank">Jezebel</a> are a breath of fresh air in women's media. Funny, critical, irreverent they take cover 'celebrity, sex, fashion for women. Without airbrushing'.

Lean In

A development from Sheryl Sandberg's bestseller <a href="http://leanin.org" target="_blank">Lean In</a>, offering women not just inspiration but support to better themselves. <a href="http://www.huffingtonpost.co.uk/2013/08/21/lean-in-sheryl-sandberg-women-afraid_n_3789750.html" target="_blank">Read more here</a>

Rookie

<a href="http://rookiemag.com/" target="_blank">Rookie Mag</a> is a website for teenage girls covering a whole range of subjects. The magazine was founded by Tavi Gevinson when she was just 15 years old and it has gone from strength to strength. Our favourite thing about Rookie Mag? That the site is updated three times a day: "after school, after dinner, and before bed".