The London Underground will run 24-hours at weekends from 2015.
Tfl have announced five lines - the Piccadilly, Jubilee, Victoria, Northern and Central Lines - will provide an all-night service from Friday morning to until Sunday night.
The plan is part of a range of initiatives although the moves will result in the loss of 750 jobs.
London Mayor, Boris Johnson, said: "Now it is the time to take the Tube to the next level and so for the first time in London's history, we will provide and regular 24-hour 'Night Tube' service at weekends.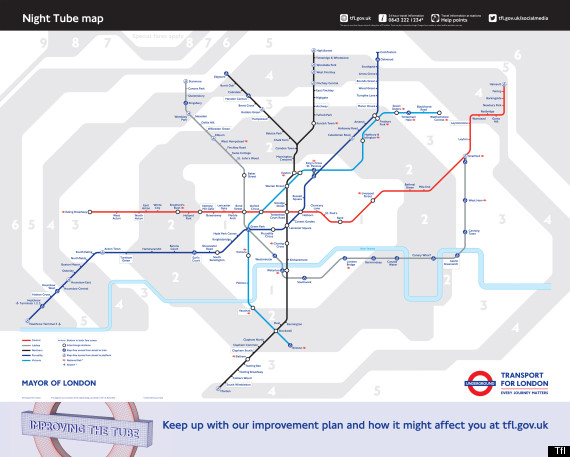 The new map
"This will not just boost jobs and our vibrant night-time economy, but will further cement London's reputation as the best big city on the planet in which to live, work, visit and invest."
But the plans will also lead to to a reduction of around 950 jobs although 200 will be created.
Tickets will be available from staff on platforms rather than in offices.
A series of other initiatives were also announced, including contactless bank card payment technology from next year, extended Wi-Fi coverage at underground stations, improved ticket machines, and staff based in ticket halls and on platforms rather than in ticket offices.
All Tube stations will continue to be staffed, and billions of pounds of investment will continue, said Mayor Boris Johnson and LU managing director Mike Brown.
"LU is committed to delivering the reduction in operational staff numbers without any compulsory redundancies," said a statement.
The plans will deliver savings of around £50 million a year, or £270 million over the term of Transport for London's business plan to 2020/21.
Mr Brown said: "People are at the heart of this vision - our customers and staff. My commitment to London is that all Tube stations will continue to be staffed and controlled in future, with more staff visible and available to help customers buy the right ticket, plan their journey and keep them safe and secure. We will continue to make the Tube more accessible and provide assistance at stations for all our customers who need it.
Story continues after the slideshow...
The first ever London Underground journey. The station pictured is Edgware road. William Gladstone, who would become prime minister, his wife, and the engineer John Fowler were aboard 24 May 1862

The construction of the Metropolitan Underground Railway - work in progress at Kings Cross 05/05/1861

The original Bank, City and South London underground station near Mansion House 01/08/1901

Women at work in Ealing Common, upholstering railway carriages for the London Underground 01/01/1916

An interior view of one of the carriages of the new Electric Train for the Metropolitan Railway 18/12/1919

Lord Ashfield hands over the silver key to Col. Moore Brabazon during the opening of the new underground railway with the world's longest tunnel which ran from East Finchley to Morden on the Northern line, London. 13/09/1926

Escalators being built at Piccadilly Circus Underground Railway Station 01/09/1928

Unrecognised by passers-by, Britain's Princess Elizabeth, left, and her sister Princess Margaret, are taken for a walk through busy London streets on May 15, 1939, after their first ride on a London Underground train. They were accompanied by their governess and a lady-in-waiting.

Londoners sleep on stopped escalators of a tube station for safety and shelter during heavy bombing by the Germans in London, England during the blitz 01/01/1940

Women knit and talk as they seek shelter in the tube station during heavy bombing by the Germans in London, during the blitz in World War II 01/01/1940

People sleep in Piccadilly Underground station, London, during Nazi bombing raids. 27/09/1940

Londoners sleep on the platform and on the train tracks at Aldwych Underground station,London, during heavy all night Nazi bombing raids 8/10/1940

An air raid warden brings a drink of water for a young girl who has awakened during the night in an air raid shelter at the Aldwych tube station in London, during the blitz in World War II. Hammocks are slung across the train tracks for sleeping. 21/10/1940

British comedian and actor George Formby, centre playing his ukulele, entertains people sheltering from the Nazi bombing raids, in the deep underground station at Aldwych, London 27/11/1940

A bomb which fell during the London Blitz in January 1941 narrowly missed the Bank of England. It crashed through the roadway between the bank, Mansion House and Royal Exchange, shattering the underground subway causing many casualties. 21/01/1941

Secret and concealed war defenses in England dotted the country. Now it safely can be told that an information booth in Trafalgar Square and a greengrocery in Kingston-on-Thames were disguised pillboxes; that an Ilford subway station was an underground munitions plant, and that the Admiralty buildingÂ's adjunct was a invasion. In this picture, the innocent-looking fruit and greengrocery store in Kingston-on-Thames is really a cleverly camouflaged pillbox in London, England, 11/07/1945

An underground tube train pulls into Cockfosters Station, the end station on the northbound Piccadilly Line 25 Feb 1950

A fire engine attends an underground cables fire in Queen Victoria Street 17 Aug 1950

Locomotive No.23, a Metropolitan 'A' Class engine, built at Manchester in 1866, heads a centenary special at Neasden as part of a grand parade of past and present rolling stock to commemorate the 100th anniversary of London's Underground 23 May 1963

Amar Singh, the Sikh train guard who has now been given permission to wear his turban while on duty on London's Underground, with his wife, Amrid, and their 13-day-old daughter, whom they call Jaki, at their Southall, Middlesex 02 Sep 1964

London transport underground train driver Mr. Earnest Coulson, 60, who has 41 years of service with London transport, takes his hands from the controls of the tube train as it was guided by electronic impulses on the shuttle section of the Woodford-Hainualt line in London, United Kingdom, on Feb. 19, 1968. The train picks up coded impulses from the main track which causes the train to accelerate, coast and brake to a halt at the next station, obeying all instructions given on the way, and slowing down or stopping or restarting as required if there is another train or a speed restriction on part of the route. The train operator, stationed in the front cab, closes the doors and presses the twin "start" buttons at the beginning of the run. He can also take over the in the event of failure of the automatic equipment

The Queen arriving at Heathrow Central station in London in the driver's cab of a Tube Train, when she officially opened the £30 million Piccadilly Line extension linking Heathrow Airport with London's underground railway system. Pictured with her is Graeme Bruce, London Transport's Chief Operating Manager 16 Dec 1977

Kingsway in London, England in 1971 with the large sign marking the entrance to the Chancery Lane Underground subway station 01 Jan 1971

Forty-three people were killed after a tube train crashed through buffers and into an end wall. The photograph shows fireman at work in one of the coaches of the six-carriage London Underground train which overran the platform and entered a blind tunnel at Moorgate Station in London 28 Feb 1975

The Queen this morning opened the new Victoria Line. It will be the first time a reigning monarch has ridden on the underground 07 Mar 1969

A London Transport official shows the Prince of Wales the controls in the driver's car of a Jubilee Line train when the Prince took a ride from Green Park to Charing Cross on the new £87 million underground line, which runs from Stanmore to Charing Cross 30 Apr 1979

In 1985, smoking was banned in all stations below ground. It had already been banned on trains the previous year following a fire at Goodge Street station. This however, was not enough to stop people lighting up on the escalators on their way out of atations, a situation which led to the blaze in Kings Cross which killed 31 people.

The top of the fire-damaged escalators at King's Cross underground station in London. The fire, which killed 31 people, is believed to have been started on the main escalator up from the platforms when a lit match was dropped by a passenger 19 Nov 1987

At least 31 people died and scores were injured in a major fire at London's busiest underground station at Kings Cross. Fireman are seen here in the smouldering remains of the main ticket hall in the station. 19 Nov 1987

Transport Secretary Sir George Young standing outside St James Park tube Station in London today. Mr Young confirmed that the Government wants to privatise the London Underground, he is to announce the details in a Commons statement this afternoon 25 Feb 1997

A passer-by stops to look at Floral tributes as London's rush hour ground to a halt tonight (Tuesday) as commuters stopped to pay their respects to the 31 people who were killed in the King's Cross fire disaster 10 years ago. A minute's silence at 7pm across the capital's underground followed a brief service at King's Cross station attended by families of victims of the tragedy, and members of the London Fire Brigade and British Transport Police, and London Underground staff 18 Nov 1997

Commuters travel past London's largest landscape painting along the wall of the Trav-o-lator (moving walkway) at Bank Underground Station in London after it was unveiled earlier today (Monday). The 282 foot, 1.5 million mural, which is American Airlines' latest advertising campaign, depicts a 5,000 mile East to West trip across the USA 26 Jan 1998

English former athlete and politician Sebastian Coe aboard a tube in the London Underground 28 Apr 1998

Protestors sitting on top of an underground train Monday unfurl a banner at London's Bank Station after members of the Reclaim the Street Movement brought trains on the Central Line platform to a halt for 30 minutes 13/07/1998

Covent Garden tube station is closed, as tube trains were cancelled and stations closed because of a strike on London Underground. A 48-hour walk-out by members of the Rail Maritime and Transport Union over job security led to 25 stations being closed. 16/07/02 : Talks aimed at averting a strike which will cause travel chaos for millions of passengers were being held with time running out for a breakthrough in a row over safety. Workers on London Underground are due to walk out for 24 hours from 8pm on Wednesday, which will cripple Tube services throughout Thursday. Leaders of the Rail Maritime and Transport union were meeting LU officials today in an 11th hour bid to avert the strike.

Transport Minister John Reid and Deputy Prime Minister John Prescott (R) travel on a tube train to open the first phase of London Underground Jubilee Line extension. Prescott took the 7-minute trip south from Stratford in East London to the Dome at Greenwich

Britain's Prime Minister Tony Blair travels on the newly built Jubilee Line extension on the London Underground, en route to the Millennium Dome in Greenwich 21 Dec 1999:

A woman traveller rides on an escalator in the renovated Westminster Underground station designed by Michael Hopkins & Partners architects, part of the London Underground Jubilee line extension 26 Jan 2000

Lifelike models of actor Sean Connery and singer Kylie Minogue, on the platform of Baker Street London Underground station. *Research conducted by Madame Tussaud's reveals that visitors to London put the tube in the top three attractions in their visit to London. According to the results London's history, shopping and underground network are the highlights whereas the weather, food and prices are the low points. 16 Mar 2000

A lifelike model of presenter Chris Evans is admired by a young boy, on the platform of Baker Street London Underground station. Research conducted by Madame Tussaud's reveals that visitors to London put the tube in the top three attractions in their visit to London. According to the results London's history, shopping and underground network are the highlights whereas the weather, food and prices are the low points 16 Mar 2000

Police evacuate Westminster Underground Station in London after bomb disposal experts performed a controlled explosion on a suspect device found on a London tube line near Ealing station. * The security alert brought chaos to tens of thousands of rail travellers as commuter trains and services to and from the west of England, South Wales and the Heathrow Express which also travel through Ealing Broadway were hit 19 Jul 2000

The London Underground train which was hit by a falling tree as it was travelling between Osterley and Boston Manor near Hounslow, south west London, after a night of hurricane winds and torrential rain 30 Oct 2000

The scene outside White City Underground Station near the BBC Television Centre in Wood Lane, London, following an explosion which destroyed a taxi in the early hours of 04/03/01. Coded warnings were received by the police and bomb disposal teams attempted to carry out a controlled explosion when the bomb went off.

The emergency services arrive on the scene at Chancery Lane Underground Station in London after a tube train hit a tunnel wall 25 Jan 2003

Justin Manser performs on the first day of licensed busking on the London Underground at Canary Wharf station, the first of 12 stations to host legal buskers across a total of 25 pitches from Dockalnds to the West End 19 May 2003

The Oyster car pre-payment system was introduced in July 2003

A train on the DLR (Docklands Light Railway), in London 9 Apr 2004

Sebastian Coe, chairman of the London 2012 Olympic bid, unveils a giant banner at the BT centre 14 Feb 2005

14 dancers from the UK's Rambert Dance Company perform extracts from their 'Constant Speed' production on an escalator 17 Jan 2005

Prime Minister Tony Blair (left) and Deputy John Prescott visit St. James's Underground Station in London to attend a meeting to signify their support for the tube Improvements 22 Jul 1999

Escalators at Canning Town tube station, designed by architects Troughton McAslan, now open as part of the London Underground Jubilee line extension 11 Nov 1999

Escalators in the Canary Wharf tube station, designed by architects Fosters and Partners, now open as part of the London Underground Jubilee line extension 11 Nov 1999

Stratford tube station, designed by Troughton McAslan and Chris Wilkinson Architect, now open as part of the London Underground Jubilee line extension 12 Nov 1999

Glass barriers on the platforms at Bermondsey tube station, designed by Ian Ritchie Architects, part of the London Underground Jubilee line extension. The barriers have been introduced to increase the speed of trains by reducing the flow of air through the tube tunnels 12 Nov 1999

Britain's double Olympic champion Dame Kelly Holmes, second left, celebrates in London's Trafalgar Square, after London was awarded the 2012 Olympic Games, Wednesday July 6, 2005. Crowds in London cheered and waved flags as they heard Wednesday that their city had overtaken Paris to win the 2012 Olympics. The announcement by the International Olympic Committee in Singapore was shown on giant screen Trafalgar Square in central London, and in the east London area where the Olympic village will be built 06 Jul 2005

Injured tube passengers are escorted away from Edgware Road Tube Station in London following an explosion, Thursday July 7, 2005. An explosion destroyed a double-decker bus in central London during rush hour Thursday, police said. Two other blasts also went off in other buses, reports said. There were reports of casualties. The explosion near Russell Square occurred not long after blasts on London subways earlier Thursday, police said. Dow Jones Newswires reported that police confirmed explosions on at least two others buses. One of the buses exploded near Russell Square, police said. A witness said the entire top deck of that bus was destroyed 07 Jul 2005

In this image provided by commuter Alexander Chadwick, taken on his mobile phone camera, passengers are evacuated from an underground train in a tunnel near Kings Cross station in London, Thursday, July 7, 2005. At least 33 people were killed Thursday in three explosions in London's subway system, a senior police official said. Deputy Assistant Commissioner Brian Paddick said others died in an explosion on a bus in central London but gave no figures. The second blast, at 8:56 a.m. (0756GMT), in the King's Cross area of north London, killed 21, Paddick said.

Flowers are left outside Kings Cross Station, as people pay their respects after the bombings. 09 Jul 2005

Police and emergency services outside Oval Tube Station in London, Thursday, July 21, 2005 following reports of smoke and explosions, two weeks after a series of bombings targeted London's public transport system. Three London Underground stations were evacuated at midday Thursday. Police also were investigating a report of an incident on a bus in east London.

Friends and members of the family of Jean Charles de Menezes mark the fourth anniversary of his death, by holding a one minute silence after they unveiled a memorial which they have helped to make and have requested be allowed to remain as the permanent memorial to him at the Stockwell Station in London, Wednesday July 22, 2009 . On 22nd July 2005, Jean Charles de Menezes the 27-year-old from Brazil, was shot and killed by police officers at Stockwell underground railway station as part of an anti-terrorism operation 22 Jul 2009

A boring machine to be used for drilling tunnels stands on the site as work starts at the Olympic Park site in Lower Lea Valley, London, the first milestone in the construction project for the London 2012 Olympic Games is to transfer powerlines into underground tunnels Thursday April, 6, 2006. The powerlines are to be placed in two underground tunnels, with 52 electricity power pylons being demolished along a six kilometre (3.5 mile) route 06 Apr 2006

London Underground employees observe a minutes silence outside Russell Square tube station in London. Friday is the first anniversary of the day four suicide bombers attacked London's transit system killing 52 commuters and themselves by detonating explosive-laden backpacks on three subway trains and a London bus 7 July 2006.

Revellers drink on a tube train, before the ban on drinking alcohol comes into force at midnight. Hundreds of revellers took to the London underground to give drinking alcohol on the Tube a send-off to remember. An alcohol ban, announced earlier this month by new London Mayor Boris Johnson, comes into effect on the Tube, London buses, Docklands Light Railway and tram services across the capital. Police arrested 17 people and closed six tube stations 31May 2008

East London Line extension work in progress at Dalston Junction in London 29 Nov 2008

A sign of the London underground system is seen partially covered by snow outside Westminster Station in London, Feb. 2, 2009. Heavy snowfall caused major disruption in the capital with all London buses suspended and a skeleton service on other transport links 02 Feb 2009

Mayor of London Boris Johnson unveils plans to keep London moving during the tube strike at London Bridge mainline station, Railway Approach London. He apologised today for "misery" heaped on the millions of commuters and tourists whose travel plans were thrown into chaos by the Tube strike. 11 June 2009.

Conservative leader David Cameron travels by tube on the Underground to the O2 Arena in London today where he launched his Tickets for Troops scheme encouraging promoters of music concerts and sporting events to give free tickets to soldiers 3 Nov 2009.

Aldwych Underground station which was used as an air raid shelter during the Blitz in World War II Is Opened Up For Public Tours To Commemorate The Blitz. 23 Sep 2010

Artist Elizabeth Hepworth brings her full-size easel to the tube, to capture the travelling public in oils and acrylics. She aims to explore the beauty in the everyday and feverishly paints passengers between stops. Hepworth, 21, has started work on the District and Piccadilly lines. Works from the Commuter Project will be shown at the We Are Arts gallery in Holborn next year. 30 Sep 2010

A commuter reads a copy of a newspaper headlining the rescue of trapped Chilean miners at an underground station in central London, Wednesday, Oct. 13, 2010. Plane crashes, terror threats, oil spills, toxic leaks. The TV news diet is often dire, rarely joyous. And then there were the pictures Wednesday of brave, dignified miners who had been trapped beneath the ground for more than two months being brought to the surface, to breathe fresh air and to hug their loved-ones. Communications technology, including live video from within the mine, turned the entire world into a global village hoping for the safe release of men they did not know and would probably never meet

Volunteers from AOL UK at Oxford Circus getting ready to travel on the London Underground on behalf of breast cancer charity CoppaFeel! in a bid to raise awareness of the importance of checking your breasts regularly 31Mar 2011

People dressed as zebras enjoy a smoke on the London Underground to promote the launch of the Zebra Electric Cigarette 23 Feb 2012

The Prince of Wales drives a London Underground tube train built for the Metropolitan line during a visit to Bombardier Transportation, where he toured the facility and met members of the workforce at their factory in Derby. Picture date: Friday February 24, 2012. See PA story ROYAL Bombardier. Photo credit should read: Arthur Edwards/PA Wire

American Fans ride the London Underground during the London Olympics 09 Aug 2012

Torchbearer and London Underground employee John Light carries the Olympic Flame onto an underground train at Wimbledon Station, London 24 Jul 2012

A T-Rex joins London commuters at Charing Cross Station during their journey to work, to mark the launch of Primeval: New World. 04 Jan 2013
"Rebuilt stations, new trains and signalling systems mean we are now running some of the most frequent metro services anywhere in Europe. To meet the challenge of London's growing population and development, we must continue to invest and deliver even more efficiently in future.
"Our vision is for a Tube network and service that is truly fit for London and our customers in the 21st century - a better face-to-face service at our stations, a 24-hour service at weekends, with easier and more personalised ways to plan and pay for journeys, on and off our network."
Manuel Cortes, leader of the TSSA rail union, accused Boris Johnson of being the "hypocrite of the decade", saying the announcement would lead to the closure of all 268 Tube ticket offices by the end of next year.
"It beggars belief that the Mayor who was elected in 2008 on a pledge to keep open every ticket office is now planning to close every single one, with all that means for safety and jobs.
"We shall be launching a joint campaign with Labour to reverse this decision and we urge all Londoners to back this campaign to prevent Boris's Long March to the leadership of the Tory system on the back of his lasting legacy of a second class Tube network.
"He will leave behind the most expensive Tube in the world and one of the most badly supervised with mobile station supervisers replacing permanent supervisors."
Shadow London minister Sadiq Khan said: "The mayor of London has today ripped up his manifesto promise to the people of London. As a result of his plans, Londoners will feel more anxious travelling at times when stations may be deserted.
"Commuters will have nowhere to turn when their Oyster card is lost, stolen or broken. It will make the daily commute more difficult for everyone but, more worryingly, there are serious concerns about whether there will be enough staff at London's busy stations to respond in emergency situations.
"We support looking at the way TfL staff work so that it reflects the changing needs of the modern underground system, but the mayor is using this as an excuse to cut staffing levels, which is reckless and irresponsible."
The Rail Maritime and Transport union raised the threat of industrial action.
General Secretary Bob Crow said: "No matter how this is dressed up by Boris Johnson and his officials, today's announcement is all about slashing almost £250 million from the annual London transport budget and the proposed cuts will decimate staffing levels and hit the most vulnerable users of tube services the hardest.
"The mayor must believe he is some sort of magician if he thinks he can slash jobs and still run safe services when everyone knows that staffing has already been cut to the bone while passenger demand continues to rise.
"Throwing in the plan for night time operation at the weekends is just a smokescreen to try and camouflage the real issue which is a savage cuts to jobs, access and safety.
"Any move to run through the night would require huge additional capacity and staffing and wholesale changes to fleet and infrastructure maintenance that would require the agreement of the Tube unions and the issue has only been flagged up today as a diversion from the massive cuts agenda.
"Axing staff and ticket offices is part of the drive to a faceless, automated Tube where you take your chances the moment you step onto a station, a platform or a train.
"We will work with sister unions and the public to fight these plans and that means using every campaigning, political and industrial tool at our disposal and our executive will be looking at a timetable and a strategy for that campaign, including a ballot for industrial action, later today."
Raising a point of order in the House of Commons, Labour MP John McDonnell (Hayes and Harlington) said the job cuts would undermine passenger safety on platforms.
He said: "In the last half an hour the mayor has announced, although a welcome extension to the Tube service at night time by a few hours at the weekends, 750 job cuts.
"Now that clearly relates to the deal he did with the Department for Transport and with the Treasury in the Budget for this year and clearly the Government has a role in the scale of job cuts that is taking place on the London Underground, which will undermine safety on platforms for many of our constituents.
"I wondered whether we were to receive any notice of a statement at all from the Government?"
Speaker John Bercow said he had not been notified by any Government minister that there would be a statement in the Commons today.