Suffice to say, the HuffPost UK team will not eat another Christmas sandwich this year, after being commandeered to take part in a blind taste test of the high street's current festive sandwiches.
Some were 'mind-numbingly terrible' while others were described as being so good, "I want to take it as a wife".
Some might say that turkey, cranberries and lettuce just don't belong between the same two slices of bread, that they are meant to roam the bigger savannah of a plate, separately.
So what did well and what would we hesitate to feed to Rudolph?
You'll be pleased to hear the winner was also the cheapest.
Take a look: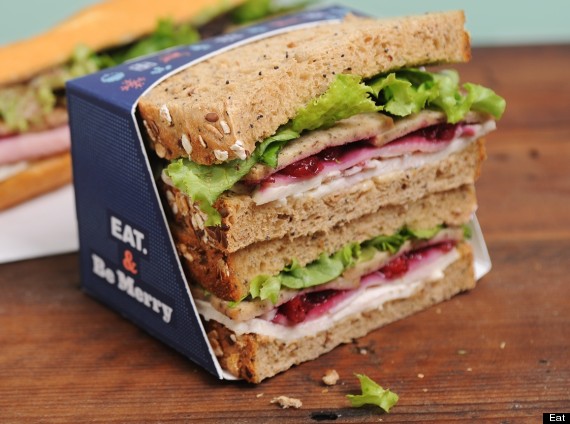 Eat, Festive Full Works, £3.65
"Nice balance of flavours and plenty of filling, bread also seemed fresher and overall looked more appealing than other sandwiches."
"Was definitely my favourite. There was just enough filling and the sauce made it nice and moist. It's not something I would usually go for but it was really tasty and I would order it again."
"Overall, just a standard sandwich – no feelings of Christmas magic from this one."
Verdict: 4/5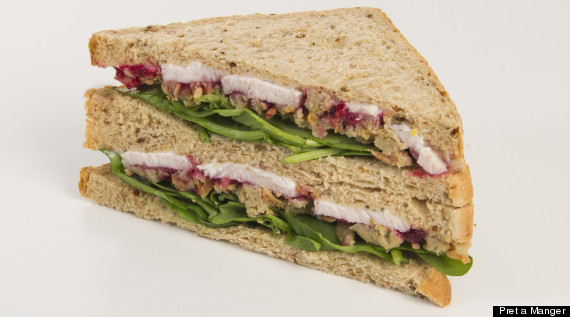 Pret a Manger, Christmas Lunch, £3.60
"The stuffing is overpowering and the sauce too sweet and sloppy. Stodge-tastic."
"I'm starving so it may taste better than it actually is, but this seems like a perfectly adequate sandwich."
"Perfectly lovely."
"It would be better if it tasted like an actual Xmas dinner. Where are the spuds? Where is the gravy?"
"Better than most but not exactly mind-blowing. Lacking in Christmassy-ness."
Verdict: 2/5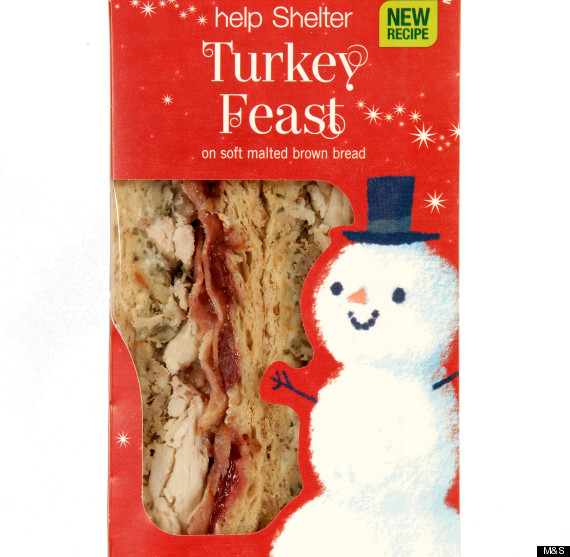 Marks And Spencer, Turkey Feast, £3.25, and 3 Bird Roast, £4.25, Brie & Grape, £3.20
Turkey Feast:

"Really balanced, and plenty of meat which is a good thing."
"Best of them all but could only taste the stuffing - great stuffing though!"
"The cranberry needs toning down as it overpowered the rest of the flavours."
Verdict: 3/5
SEE ALSO:

Is Heston Blumenthal's Dessert A Flop Or Fit For Xmas?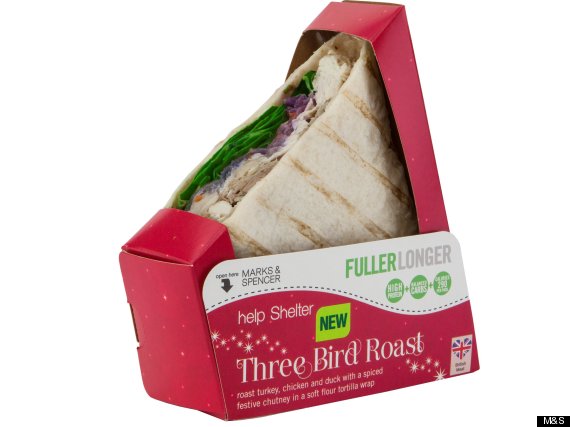 3 Bird Roast:
"Having a wrap makes it feel more summery than Xmas, but it had a good, deep layer of filling."
"Not much flavour at all - disappointing."
"Too much bird, not enough of the other ingredients."
Verdict: 3/5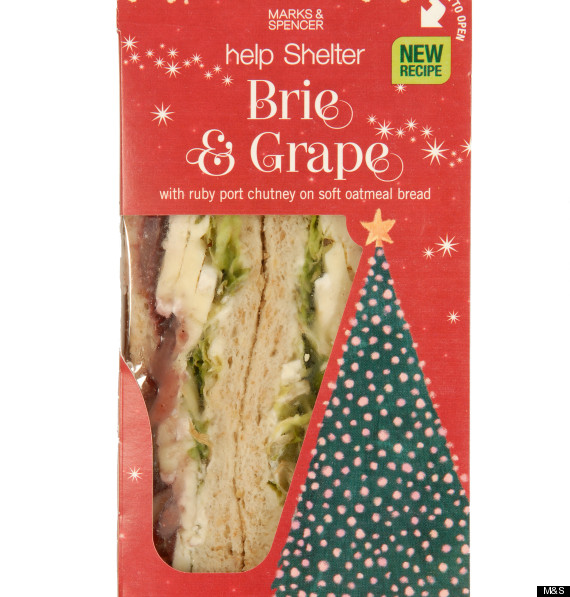 Brie & Grape
"A little wet but that's a good Brie!"
"Very slimy, not great!"
"Looked so disgusting I didn't even want to try it."
Verdict: 1/5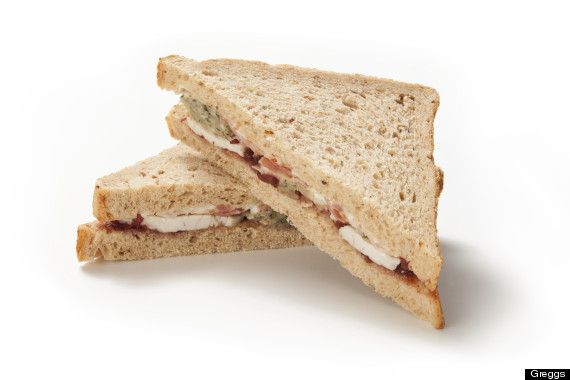 Greggs, Christmas Lunch, £2.20
"WOW! A flavour explosion! Can taste each element perfectly, nothing overpowers the other and is well balanced. Plus the bacon wasn't floppy, which is always going to win points. I want more!!"
"This looked great but the party didn't stop there. The sandwich was generously filled with thick slices of turkey and plenty of redcurrant jelly. The smoked bacon was delicious but didn't overpower the other tastes while the stuffing was spot on. Ding dong!"
"This is the best sandwich I've ever eaten. The stuffing is really herby giving it an almost earthy taste. The cranberry is not too sweet like a lot of Xmas sandwiches. Meat nice and moist too. To nitpick, would be nice if the bread was a bit more rustic and perhaps a bit chunkier."
Verdict: 5/5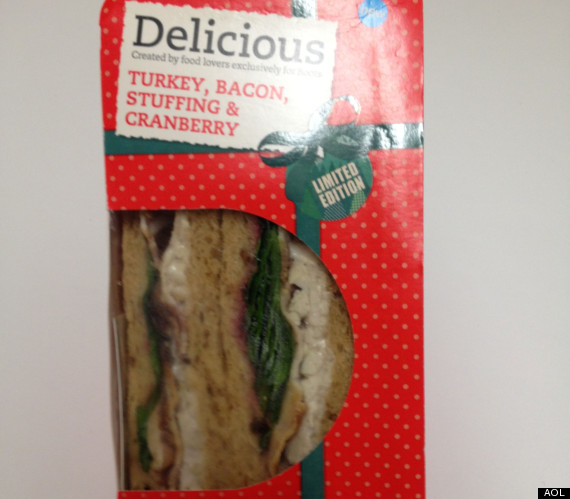 Boots, Turkey, Bacon, Stuffing and Cranberry, £2.70
"No real need for the bit of salad on there – leaves ain't Christmassy. The consistency was a bit too gooey for my liking, and the overwhelming taste was stuffing (not bad if you like sage I suppose)."
"I wasn't sure if the two pieces of bread came from the same slice, they looked very different in colour. Not a great start which didn't get any better when I opened up the sandwich to find a few scraps of fat with a bit of bacon attached along with a mayonnaise of indeterminate origin. I think there was redcurrant jelly in there but it just looked as though someone had spilled very weak Ribena."
"Tasty but not very festive. It just tastes like a fairly decent chicken and bacon sarnie."
Verdict: 2.5/5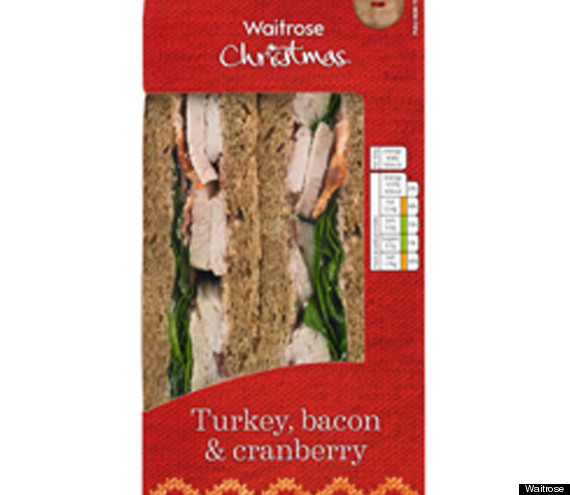 Waitrose, Turkey, Bacon And Cranberry, £3.20
"Stuffing was quite a dominant flavour and personally I would like a little more cranberry but still enjoyable and made me feel Christmassy.
"The bread looked dry but was actually pretty soggy in the middle. The bacon was pleasant enough but the turkey (I assume) tasted of little less while the greenery added nothing of interest to the mix. Not a complete let down but had something of a Christmas leftovers feel."
"A lot of meat (not usually a bad thing), I couldn't really taste the cranberry sauce or stuffing. Not really that tasty - reminded me of a services sandie I might grab in haste."
OVERALL WINNER: By a mile, it's Greggs. We'll have a sausage roll on the side too, please. It's what Santa would've wanted.

Loading Slideshow
Gourmetissimo Pizza Making Gift Set

Wave goodbye to cold, soggy delivery pizzas with this gourmet <a href="http://www.ebay.co.uk/itm/Gourmetissimo-Gift-set-for-pizza-Incl-Stone-plate-pizza-cutter-seasonings-/290776952585" target="_blank">stone-fired pizza-making kit</a>, complete with stone plate, seasonings and pizza cutter. Perfect for budding chefs who like their pizzas a cut above.

Oliver Bonas Chain Wine Holder

Okay, so it's a bit whimsical and it's not even that useful (a one-bottle wine rack?). But this <a href="http://www.oliverbonas.com/christmas/christmas_for_him_1/wine_bottle_holder_chain.htm" target="_blank">chain wine holder</a> is a clever piece of design and a guaranteed ice-breaker at dinner parties.

Polaroid Z340 Instant Digital Camera

It was a sad day when the old-school joy of instant cameras died in the wake of the digital revolution - but now they're back! The new <a href="http://www.argos.co.uk/static/Product/partNumber/128072.htm" target="_blank">Polaroid digital instant camera</a> offers the thrill of seeing your snaps in print but with the quality assurance of digital technology. Great for making fun family albums and scrapbooks - with the signature Polaroid strip along the bottom for scrawling your captions.

Gingko Teak Cube Click Clock

No more rude awakenings with this <a href="http://bit.ly/1ciuYHL" target="_blank">LED teak cube clock</a>. It not only looks stylish and rather zen, it operates at the click of your fingers and respectfully switches its light off when the room goes quiet. Perfect for technophiles with an eye for style.

David Louis Personalised Hip Flask

A <a href="http://www.notonthehighstreet.com/david-louisdesign/product/personalised-round-window-hip-flask" target="_blank">stylish hip-flask</a> for the modern gent. Whether you're standing in a freezing field watching fireworks with the kids or hanging out at a gig or festival - it's always good to have a quality single malt close at hand.

Betsy Benn Personalised Playlist Cassette Print

From the tunes you listened to on your first date to your wedding reception soundtrack, playlists are evocative and nostalgic - but they somehow lack the romance of a good old mix tape. This <a href="http://www.betsybenn.co.uk/cassetteplaylist.html" target="_blank">personalised playlist cassette print</a> combines the two by displaying your playlist tracks on images of old-school tapes.

Cos Cashmere Sweater

Every man should have a simple <a href="http://www.cosstores.com/Shop/Men/Knitwear/Cashmere_jumper/46907-1144150.1#c-85346" target="_blank">cashmere sweater</a> in his wardrobe. Perfect with jeans or slim-fit tailored trousers - and the ideal item to steal for yourself for chilly winter nights on the sofa. Just don't spill red wine on it or he won't be happy.

Ted Baker Fair Isle Gloves

These <a href="http://www.johnlewis.com/ted-baker-fair-isle-stripe-gloves-charcoal-multi/p469152#default" target="_blank">fair isle fingerless gloves</a> rank high on the hipster scale. And the finger freedom means they're practical too (counting out change in mittens is no fun).

Grow Your Own Chilli Sauce Kit

A retro-looking condiment-making kit might sound a bit twee for the man in your life but the fiery kick he'll get from the spoils of this <a href="http://www.notonthehighstreet.com/thegluttonousgardener/product/chilli-kit" target="_blank">Grow Your Own Chilli Sauce Kit</a> sets it firmly apart from jam-making for the village fete.

Zara Jacquard Scarf

The Nordic look is huge in the UK right now. Must be all those TV drama imports (The Bridge, The Killing, Borgen, Wallander...). This <a href="http://www.zara.com/uk/en/man/accessories/scarves-and-foulards/jacquard-scarf-c284003p1296166.html" target="_blank">stylish scarf</a> is the perfect accessory for a plain wool coat. A cool alternative to the Christmas jumper for image conscious males.