Paul Walker told HuffPostUK last year that he felt fortunate to have "lived five lives" and do whatever he wanted, because of his success with the 'Fast and Furious' franchise.
The actor, who died in a car accident at the weekend, was speaking on the set of the sixth film, which went on to become the biggest of all the hit films, co-starring Vin Diesel and Michelle Rodriguez.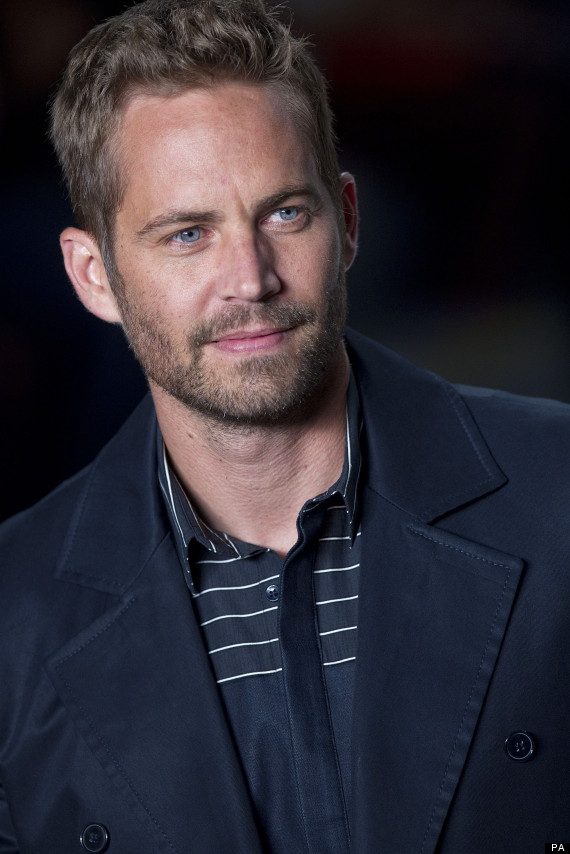 Paul Walker felt fortunate, but lazy, with his 'Fast and Furious' success
He told HuffPostUK: "It's allowed me a lot of freedom. I've been able to do virtually whatever I want, and live like five lives. It's been a blessing and a curse in a sense, though, where it's allowed me to be lazy in this area.
"I think that's also a good thing, because it allowed me the time to go and figure out who I was, and what I was about, as opposed to my head just always spinning. I was chasing the carrot, and trying to live up to whatever it was. So it's cool."
Walker, who played rogue cop Brian O'Conner in the series, remembered the surprise of success of the first film, which he'd accepted before there was even a script, because of his own interest in street racing, on which the films are based.
"They offered me a million bucks and my representatives were freaking out. They were like, 'You can't do this, there isn't even a screenplay! I was like, the f*ck I can't!
"The best thing is that, today, obviously, if I was offered that same type of deal, I would say no. I wouldn't even think about it. But I was like this young kid who was excited and was just not overthinknig it and just going with what felt right, and look what happened.
"I remember at one point I got a phone call the opening night, Neil Mouritz and Rob Cohen are running around LA, and they're going to the different screenings and everything was selling out.
"And I actually saved Neil's and Robs voice messages, I have them on a hard drive. Neil, I remember, was like 'Holy f*ck! It's a a cultural phenomenon man! F*cking it's the 12 o'clock showing and they're f*cking lined up around!'"
Paul Walker's success in the franchise enabled him to create his own charity foundation, Reach Out Worldwide, but he continued his lifelong association with cars, running his own garage, and still held a dealer's licence. But he sounded ambivalent about continuing with the business when he spoke last year...
"It's kind of a, 'been there, done that' kind of thing. It supported the hobby for a while but it turned into a real business, you know.
"Friends are working for me so I'm just going to keep it going but it doesn't mean as much to me as it once did, that's for sure.
"I think, you know, I've got a 13-, almost 14-year-old daughter. Priorities are in different places, but it'll always be a big part of who I am, that's for sure."
Walker, 40, was the passenger in a Porsche sports car driven by a friend - who also died - when it crashed north of Los Angeles on Saturday afternoon. He had just finished hosting a charity event at the time.
Fans and friends of the actor have been leaving flowers and tributes at the scene.
We remember his red carpet moments in pictures below...
Loading Slideshow
Paul Walker

File-This March 21, 2013 file photo shows actor Paul Walker wearing a creation from the Colcci summer collection at Sao Paulo Fashion Week in Sao Paulo, Brazil. A publicist for actor Walker says the star of the "Fast & Furious" movie series has died in a car crash north of Los Angeles. He was 40. Ame Van Iden says Walker died Saturday, Nov. 30, 2013. No further details were released. (AP Photo/Andre Penner, File)

Paul Walker

Paul Walker at the premiere of 2Fast 2Furious in London. Half length.Shaun Pattenden/allaction.co.uk

Paul Walker

U.S. actor Paul Walker wears a creation from the Colcci summer collection at Sao Paulo Fashion Week in Sao Paulo, Brazil, Thursday, March 21, 2013. (AP Photo/Andre Penner)

Paul Walker

FILE In this Feb. 14, 2006 file photo, actor Paul Walker, appears on stage during a taping for MTV's 'Total Request Live' show at the MTV Times Square Studios in New York. Walker is in New Orleans for the making of the suspense thriller, "Hours." The film is about a father struggling to keep his newborn daughter alive in a New Orleans hospital ravaged during Hurricane Katrina. "The Fast and the Furious" star plays the role of Nolan, a father trying to keep his daughter alive in an incubator through power outages, rising water and descending chaos. "Hours" will be filming in New Orleans and other parts of Louisiana for about a month. (AP Photo/Jeff Christensen, file)

Paul Walker

LONDON, ENGLAND - MAY 07: Actor Paul Walker attends the 'Fast & Furious 6' World Premiere at The Empire, Leicester Square on May 7, 2013 in London, England. (Photo by Stuart C. Wilson/Getty Images for Universal Pictures)

Paul Walker

LONDON, ENGLAND - MAY 07: Actor Paul Walker attends the World Premiere of 'Fast & Furious 6' at Empire Leicester Square on May 7, 2013 in London, England. (Photo by Tim P. Whitby/Getty Images)

Paul Walker

LONDON, ENGLAND - MAY 07: Actor Paul Walker attends the 'Fast & Furious 6' World Premiere at The Empire, Leicester Square on May 7, 2013 in London, England. (Photo by Stuart C. Wilson/Getty Images for Universal Pictures)

Paul Walker

LONDON, ENGLAND - MAY 07: Actor Paul Walker attends the 'Fast & Furious 6' World Premiere at The Empire, Leicester Square on May 7, 2013 in London, England. (Photo by Stuart C. Wilson/Getty Images for Universal Pictures)

Paul Walker

LONDON, ENGLAND - MAY 07: Actor Paul Walker attends the 'Fast & Furious 6' World Premiere at The Empire, Leicester Square on May 7, 2013 in London, England. (Photo by Stuart C. Wilson/Getty Images for Universal Pictures)

Paul Walker

LONDON, ENGLAND - MAY 07: Actors Paul Walker, Vin Diesel and Tyrese Gibson attend the 'Fast & Furious 6' World Premiere at The Empire, Leicester Square on May 7, 2013 in London, England. (Photo by Stuart C. Wilson/Getty Images for Universal Pictures)

Paul Walker

LONDON, ENGLAND - MAY 07: Actor Paul Walker attends the World Premiere of 'Fast & Furious 6' at Empire Leicester Square on May 7, 2013 in London, England. (Photo by Tim P. Whitby/Getty Images)

Paul Walker

LONDON, ENGLAND - MAY 07: Actors Paul Walker and Vin Diesel attends the 'Fast & Furious 6' World Premiere at The Empire, Leicester Square on May 7, 2013 in London, England. (Photo by Stuart C. Wilson/Getty Images for Universal Pictures)

Paul Walker

LAS VEGAS, NV - APRIL 16: Actors Vin Diesel (L) and Paul Walker attend a Universal Pictures presentation to promote their upcoming film 'Fast & Furious 6' at The Colosseum at Caesars Palace during CinemaCon, the official convention of the National Association of Theatre Owners, on April 16, 2013 in Las Vegas, Nevada. (Photo by Ethan Miller/Getty Images)

Paul Walker

LAS VEGAS, NV - APRIL 16: (L-R) Actor Paul Walker, and actresses Jordana Brewster and Michelle Rodriguez attend a Universal Pictures presentation to promote their upcoming film 'Fast & Furious 6' at The Colosseum at Caesars Palace during CinemaCon, the official convention of the National Association of Theatre Owners, on April 16, 2013 in Las Vegas, Nevada. (Photo by Ethan Miller/Getty Images)

Paul Walker

CULVER CITY, CA - APRIL 14: (L-R) Actors Jordana Brewster, Paul Walker and Vin Diesel speak onstage during the 2013 MTV Movie Awards at Sony Pictures Studios on April 14, 2013 in Culver City, California. (Photo by Kevork Djansezian/Getty Images)

Paul Walker

CULVER CITY, CA - APRIL 14: (L-R) Actors Jordana Brewster, Paul Walker and Vin Diesel speak onstage during the 2013 MTV Movie Awards at Sony Pictures Studios on April 14, 2013 in Culver City, California. (Photo by Kevork Djansezian/Getty Images)

Paul Walker

MADRID, SPAIN - MARCH 25: Actors Paul Walker and Jordana Brewster attends Fast and Furious photocall at the Santo Mauro Hotel on March 25, 2009 in Madrid, Spain. (Photo by Carlos Alvarez/Getty Images)

Paul Walker

BOCHUM, GERMANY - MARCH 17: Actor Paul Walker attends the europe premiere of 'The Fast and the Furious 4' at UCI cinema world at Ruhrpark on March 17, 2009 in Bochum, Germany. (Photo by Florian Seefried/Getty Images)

Paul Walker

US actor Paul Walker poses with fans as he arrives for the British Premiere of his latest film, 'Fast & Furious' in London's Leicester Square on March 19, 2009. AFP Photo/Max Nash (Photo credit should read MAX NASH/AFP/Getty Images)

Paul Walker

US actors Vin Diesel (R) and Paul Walker pose during a photocall ahead of the European premiere of the movie 'Fast & Furious' by Taiwanese-American director Justin Lin on March 17, 2009 in Bochum, western Germany. AFP PHOTO DDP/ VOLKER HARTMANN GERMANY OUT (Photo credit should read VOLKER HARTMANN/AFP/Getty Images)

Paul Walker

BOCHUM, GERMANY - MARCH 17: (L-R) Actor Paul Walker, actress Jordana Brewster, actress Michelle Rodriguez and actor Vin Diesel attend the Europe premiere of 'The Fast and the Furious 4' at UCI cinema world at Ruhrpark on March 17, 2009 in Bochum, Germany. (Photo by Florian Seefried/Getty Images)

Paul Walker

UNIVERSAL CITY, CA - MARCH 12: Actor Paul Walker arrives at the premiere Universal's 'Fast & Furious' held at Universal CityWalk Theaters on March 12, 2009 in Universal City, California. (Photo by Jason Merritt/Getty Images)

Paul Walker

UNIVERSAL CITY, CA - MARCH 12: (L-R) Actors Michelle Rodriguez, Paul Walker, and Jordana Brewster arrive at the premiere Universal's 'Fast & Furious' held at Universal CityWalk Theaters on March 12, 2009 in Universal City, California. (Photo by Kevin Winter/Getty Images)

Paul Walker

UNIVERSAL CITY, CA - MARCH 12: Actor Paul Walker arrives at the premiere Universal's 'Fast & Furious' held at Universal CityWalk Theaters on March 12, 2009 in Universal City, California. (Photo by Kevin Winter/Getty Images)

Paul Walker

UNIVERSAL CITY, CA - MARCH 12: Actor Paul Walker arrives at the premiere Universal's 'Fast & Furious' held at Universal CityWalk Theaters on March 12, 2009 in Universal City, California. (Photo by Jason Merritt/Getty Images)

Paul Walker

UNIVERSAL CITY, CA - MARCH 12: Actor Paul Walker arrives at the premiere Universal's 'Fast & Furious' held at Universal CityWalk Theaters on March 12, 2009 in Universal City, California. (Photo by Kevin Winter/Getty Images)

Paul Walker

UNIVERSAL CITY, CA - MARCH 12: Actor Paul Walker arrives at the premiere Universal's 'Fast & Furious' held at Universal CityWalk Theaters on March 12, 2009 in Universal City, California. (Photo by Jason Merritt/Getty Images)

Paul Walker

UNIVERSAL CITY, CA - MARCH 12: Actor Paul Walker arrives at the premiere Universal's 'Fast & Furious' held at Universal CityWalk Theaters on March 12, 2009 in Universal City, California. (Photo by Jason Merritt/Getty Images)

Paul Walker

UNIVERSAL CITY, CA - MARCH 12: Actors Vin Diesel (L) and Paul Walker arrive at the premiere Universal's 'Fast & Furious' held at Universal CityWalk Theaters on March 12, 2009 in Universal City, California. (Photo by Kevin Winter/Getty Images)

Paul Walker

UNIVERSAL CITY, CA - MARCH 12: (L-R) Actors Vin Diesel, Michelle Rodriguez, Paul Walker, and Jordana Brewster arrive at the premiere Universal's 'Fast & Furious' held at Universal CityWalk Theaters on March 12, 2009 in Universal City, California. (Photo by Kevin Winter/Getty Images)

Paul Walker

UNIVERSAL CITY, CA - MARCH 12: Actor Paul Walker (L) and actress Jordana Brewster arrive at the premiere Universal's 'Fast & Furious' held at Universal CityWalk Theaters on March 12, 2009 in Universal City, California. (Photo by Kevin Winter/Getty Images)

Paul Walker

HOLLYWOOD - MARCH 04: Actor Paul Walker arrives at the premiere Of Summit Entertainment's 'Never Back Down' at the Cinerama Dome March 4, 2008 in Hollywood, California. (Photo by Frazer Harrison/Getty Images)

Paul Walker

NEW YORK - FEBRUARY 15: (U.S. TABLOIDS OUT) Actor Paul Walker stops by MTV Studios for a taping of MTV2 presents 'Rock Countdown' February 15, 2006 in New York City. (Photo by Peter Kramer/Getty Images)

Paul Walker

LOS ANGELES - FEBRUARY 12: Director Frank Marshall (L), actor Paul Walker and Disney's Dick Cook pose at the premiere of Disney's 'Eight Below' at the El Capitan Theater on February 12, 2006 in Los Angeles, California. (Photo by Kevin Winter/Getty Images)

Paul Walker

LOS ANGELES - FEBRUARY 12: Actor Paul Walker arrives at the premiere of Disney's 'Eight Below' at the El Capitan Theater on February 12, 2006 in Los Angeles, California. (Photo by Kevin Winter/Getty Images)

Paul Walker

LOS ANGELES - FEBRUARY 12: Actor Paul Walker poses with DJ at the premiere of Disney's 'Eight Below' at the El Capitan Theater on February 12, 2006 in Los Angeles, California. (Photo by Kevin Winter/Getty Images)

Paul Walker

LOS ANGELES - FEBRUARY 12: Actors Paul Walker (L), Moon Bloodgood, Bruce Greenwood and Jason Biggs pose at the premiere of Disney's 'Eight Below' at the El Capitan Theater on February 12, 2006 in Los Angeles, California. (Photo by Kevin Winter/Getty Images)

Paul Walker

LOS ANGELES - FEBRUARY 12: Actor Paul Walker poses with Koda Bear (L) and DJ at the premiere of Disney's 'Eight Below' at the El Capitan Theater on February 12, 2006 in Los Angeles, California. (Photo by Kevin Winter/Getty Images)

Paul Walker

LOS ANGELES - JUNE 4: Actor Paul Walker arrives to the 2005 MTV Movie Awards at the Shrine Auditorium June 4, 2005 in Los Angeles, California. The 14th annual award show will premiere on MTV Thursday, June 9 at 9:00PM (ET/PT). (Photo By Frazer Harrison/Getty Images)

Paul Walker

LOS ANGELES, CA - JUNE 04: Actor Paul Walker (left) and Actress Ziyi Zhang onstage during the 2005 MTV Movie Awards at the Shrine Auditorium on June 4, 2005 in Los Angeles, California. The 14th annual award show will premiere on MTV Thursday, June 9 at 9:00PM (ET/PT). (Photo by Kevin Winter/Getty Images)

Paul Walker

LOS ANGELES, CA - JUNE 04: Actor Paul Walker (left) and Actress Ziyi Zhang onstage during the 2005 MTV Movie Awards at the Shrine Auditorium on June 4, 2005 in Los Angeles, California. The 14th annual award show will premiere on MTV Thursday, June 9 at 9:00PM (ET/PT). (Photo by Kevin Winter/Getty Images)

Paul Walker

JACKSONVILLE, FL - FEBRUARY 05: Actor Paul Walker at the 3rd Annual Cadillac Super Bowl Grand Prix at the CSX Parking Lot on February 5, 2005 in Jacksonville, Florida. (Photo by Evan Agostini/Getty Images)

Paul Walker

JACKSONVILLE, FL - FEBRUARY 5: Actor Paul Walker attends 'Maximony' Maxim's 2005 Super Bowl Party on February 5, 2005 in Jacksonville, Florida. (Photo by Evan Agostini/Getty Images)

Paul Walker

NEW YORK - NOVEMBER 9: Actors Paul Walker and Penelope Cruz attend the premiere of 'Noel' on November 9, 2004 in New York City. The film will be the first movie to be released on Flexplay DVD, a new technology that enables time limited on demand viewing of movies. (Photo by Peter Kramer/Getty Images)

Paul Walker

LOS ANGELES - JUNE 3: Actor Paul Walker arrives at the premiere of '2 Fast 2 Furious' at the Universal Amphitheatre on June 3, 2003 in Los Angeles, California. (Photo by Kevin Winter/Getty Images)

Paul Walker

BEVERLY HILLS, CA - JANUARY 19: Actor Paul Walker attends the 60th Annual Golden Globe Awards at the Beverly Hilton Hotel on January 19, 2003 in Beverly Hills, California. (Photo by Jon Kopaloff/Getty Images)

Paul Walker

406074 103: Actors Paul Walker (L) and Vin Diesel were honored with the Best Screen Team Award for the movie 'The Fast and the Furious' at the 2002 MTV Movie Awards June 1, 2002 in Los Angeles, CA. The awards will air on the MTV Network June 6, 2002. (Photo by Frederick M. Brown/Getty Images)

Paul Walker

402972 16: Actor Paul Walker attends a celebrity party March 23, 2002 in Beverly Hills, CA. (Photo by David Klein/Getty Images)

Paul Walker

390644 06: Actor Paul Walker arrives at the world premiere of Universal Pictures'' 'The Fast and the Furious' June 18, 2001 in Westwood, CA. (Photo by Getty Images)

Paul Walker

BERLIN, GERMANY - June 10: Actor Paul Walker (L), Eva Mendes and actor Tyrese attend the opening of the new film '2 Fast 2 Furious' June 10, 2003 in Berlin, Germany. The Universal film, a follow up to 2001?s ?The Fast and the Furious?, has grossed $52.1 million in its first three days making it the number one film in American theatres. (Photo by Kurt Vinion/Getty Images)

Paul Walker

BEVERLY HILLS, CA - JANUARY 19: Actor Paul Walker attends the 60th Annual Golden Globe Awards at the Beverly Hilton Hotel on January 19, 2003 in Beverly Hills, California. (Photo by Jon Kopaloff/Getty Images)