This is a photo of Morgan Freeman.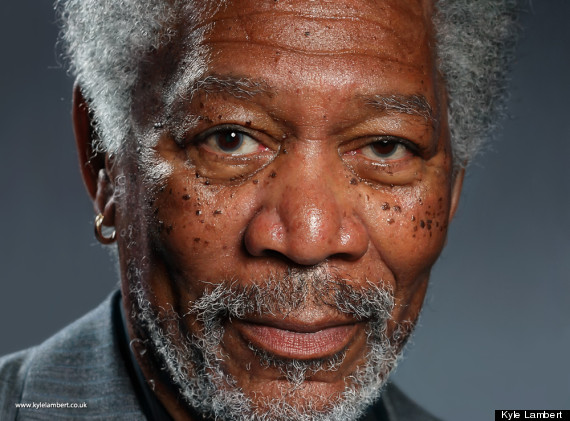 Only it isn't.
It's actually a painting, made using an iPad (along with the Procreate app and an incredibly talented finger).
The digit in question belongs to Kyle Lambert, a visual artist responsible for all manner of amazing stuff - but this is particularly good....
The new iPad Air 2 from Apple is an incredible new upgrade to the tablet you know and love. It's far lighter and thinner, has an upgraded processor, and in our review we called it nothing short of a "masterpiece". If you have more than £399 to spend on a tablet, spend it on this.

The Surface Pro 3 is an entirely new type of tablet from Microsoft. Designed as a rival to both the Apple iPad Air and the MacBook Air this stunningly thin tablet hybrid will sport a huge new 12-inch display and will run the latest version of Windows 8.1. The only tablet to come running Intel's hugely powerful i7 processor the Surface Pro 3 is all about power and creation with a new smart pen letting you use the screen as a virtual notepad or canvas.

The Z3 Tablet Compact is Sony's somewhat delayed reaction to the success of the iPad Mini. The Z3 Compact is an astonishing 6.4mm thin. It's waterproof -- like its smartphone counterparts -- and it comes with the same Full-HD display. With a massive 4,500mAh battery as well Sony's hoping that the premium features and impressive build-quality will dissuade you from buying with Apple.

The Tab S 8.4 and 10.5 are Samsung's first real attempt at beating the iPad Aid and the iPad Mini Retina. With incredible 2560 x 1600 Super AMOLED displays these tablets definitely trump Apple's efforts in terms of resolution. They also both include fingerprint sensors, a feature yet to appear on Apple's tablets. Yes they'll feature the same design as the Galaxy S5 but whilst some may dislike that plastic body it keeps the Tab S ultra-light whilst retaining strength.

Tesco's Hudl 2 tablet improves on its predecessor in every way, it has a larger, higher-resolution screen, dual-speakers and a faster processor. It's also a really great option for those who want a no-fuss Android experience.

The new Nexus 7 has a higher resolution display (at 323 pixels per inch), a quad-core Snapdragon S4 processor and a thinner bezel on both sides of the screen. It's also the first device to run the new version of Android, 4.3 Jelly Bean, and a 5-megapixel screen at the same bargain-basement price.

At £319, the iPad Mini with Retina display isn't cheap. Also its only major upgrade on the last model is the addition of a Touch ID sensor. It's a decision that has raised eyebrows but as you'll soon realise, when a tablet is this good, sometimes it's more about what you don't do that matters.

The new Kindle Fire HDX tablet comes in both a 7- and 8.9 inch version, and both are tasty upgrades. The 7-inch has a 1920 x 1200 display, a quad-core processor, LTE, all the Amazon services you'd expect plus a new 'Mayday' support service for new users. It starts at £199. The 8.9-inch is pricer at £329, but has an even more impressive 2560x1600 display - and still comes in lighter than an iPad Air.

The Google Nexus 9 has an excellent display and comes running Android 5.0 Lollipop. It's thin, powerful (thanks to a 64-bit processor) and sports HTC's BoomSound speakers making it a multimedia powerhouse.