The US Navy has successfully launched an unmanned drone aircraft from a submarine.
The unmanned aerial vehicle (UAV) was deployed from a submerged submarine, using a casing fired by a standard Tomahawk torpedo tube.
The drone launch system works by firing the casing, which rises to the surface and then launches the drone vertically, once it's above the water.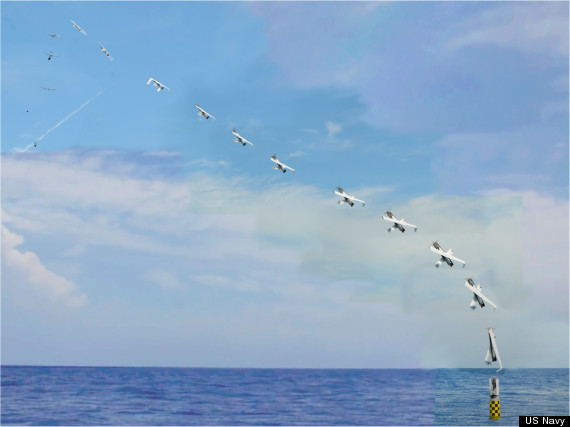 The fuel-cell powered drone took just six years to develop from concept to working prototype, and could open up drones to a wider range of uses in the near future.
"Developing disruptive technologies and quickly getting them into the hands of our sailors is what our SwampWorks program is all about," said Craig A. Hughes, Acting Director of Innovation at the Office of Naval Research.
"This demonstration really underpins ONR's dedication and ability to address emerging fleet priorities."
Meanwhile there is no word yet whether Amazon intends to use the system to deliver books and DVDs to oil rigs, but surely it's only a matter of time.
Loading Slideshow
Boeing

Boeing has its hands in a lot of drone technology. In June, the company successfully completed a test flight of one of its drones that is meant to stay airborne for days,<a href="http://www.cbsnews.com/8301-205_162-57447147/boeing-successfully-tests-phantom-eye-a-long-flying-drone/"> according to CBS News</a>. Boeing, headed by CEO Jim McNerney, Jr., estimated that it took<a href="http://www.reuters.com/article/2012/10/24/boeing-results-idUSL1E8LO1V320121024"> home $80.5 billion in revenue</a> last year, according Reuters. <strong>CORRECTION:</strong> An earlier version of this slide incorrectly stated that a Boeing drone flew from Maryland to California. The drone actually flew around an Air Force base in California.

General Atomics

General Atomics, a defense contractor based in Southern California, is set to sell $197 million worth of drones to the United Arab Emirates, <a href="http://articles.latimes.com/2013/feb/22/business/la-fi-predator-drone-sale-20130223">according to the Los Angeles Times</a>. If the deal goes through, it would be the first such sale to a non-NATO country. General Atomics, run by CEO J. Neal Blue, <a href="http://qz.com/60456/activist-investors-target-bigger-companies/">took home $652,129,000 in 2012</a>, according to Washington Technology,

Lockheed Martin

Lockheed Martin <a href="http://www.engadget.com/2012/07/16/lockheed-martin-stalker-drone-stays-airborne-48-hours-via-lasers/">completed tests in July of a "Stalker"</a> drone that stays airborne for 48 hours, according to Endgadget. The<a href="http://dissenter.firedoglake.com/2013/02/04/pbs-ombudsman-drones-program-wouldve-been-better-without-lockheed-martin-support/"> company came under fire</a> after sponsoring a documentary on PBS about drones. Lockheed Martin, headed by CEO Marillyn Hewson, took home <a href="http://www.lockheedmartin.com/us/news/press-releases/2013/january/0124hq-earnings.html">$47.2 billion in 2012</a>.

Northrop Grumman

Northrop Grumman is helping to expand the drone business to the Asia-Pacific region. Late last year, the company sold <a href="http://www.bloomberg.com/news/2012-12-24/south-korea-to-buy-1-2-billion-in-drones-under-u-s-plan.html">$1.2 billion worth of drones</a> to South Korea, according to Bloomberg. Northrop Grumman's profits <a href="http://articles.latimes.com/2012/feb/01/business/la-fi-northrop-earns-20120201">rose</a> 80 percent in the fourth quarter of last year. The company is headed by CEO Wes Bush.

AeroVironment

AeroVironment is <a href="http://www.aolnews.com/2011/02/18/pentagons-tiny-new-spy-drone-mimics-hummingbird/">developing</a> the "Hummingbird drone" for the Pentagon, according to Aol News. But don't let its cute name fool you; the device can hover and perch to watch your every move and aims to someday bolster surveillance capabilities in urban areas, <a href="http://www.delawareonline.com/article/20130228/BUSINESS08/302280059/Solyndra-critics-back-U-S-energy-lab-seeking-biofuel-from-germs">according to Delaware online</a>. Despite the scary yet innovative technology, AeroVironment, which is run by CEO Timothy Conver, is projecting its revenue to drop to <a href="http://www.forbes.com/sites/ericsavitz/2013/03/06/aerovironment-drone-makers-shares-hit-the-wall-on-q3-miss/">$230 million in the upcoming fiscal year</a>, according to Forbes.

Prox Dynamics AS

This Norway-based company, <a href="http://www.proxdynamics.com/about/">founded by Petter Muran</a> in December 2007, developed the Black Hornet Nano, a mini-handheld helicopter that helps soldiers survey an area swiftly by flying at <a href="http://www.gizmag.com/black-hornet-nano-uav/26118/">top speeds for up to 30 minutes</a>, according to Gizmag. The UK gave<a href="http://seattletimes.com/html/businesstechnology/2020283205_apeubritainhandheldhelicopter.html"> some soldiers the Black Hornet Nanos</a> to use in Afghanistan earlier this month, according to the Associated Press. The Hornet was part of a $31 million contract.

Denel Dynamics

Denel Dynamics, which is part of South Africa's biggest maker of defense equipment, has seen its sales <a href="http://www.moneynews.com/Companies/Drone-Makers-Arab-Demand/2013/02/18/id/490847">boom 20 percent </a>in the last four years, according to Money News. Sello Ntsihlele, the company's executive manager for drone technology, called the current climate "the best time" for drones, because demand is increasing in the Middle East, East Asia and Africa. Denel Dyanmics Missiles <a href="http://www.defenceweb.co.za/index.php?option=com_content&view=article&id=27077:denel-dynamics-missiles-earnings-up-for-2012&catid=7:Industry&Itemid=116">took home $68,228,037 </a>in 2012, which was down from 2011. Executives argued that Denel has historically posted losses because of onerous contracts.

SAIC

This company is helping the Pentagon develop underwater drones to defend against ultra-quiet submarines, according to Money Morning. SAIC, who is run by Chairman John Jumper, took home <a href="http://investors.saic.com/phoenix.zhtml?c=193857&p=irol-newsArticle&ID=1764779&highlight=">$2.87 billion in revenue</a> during the third quarter of last year, up 3 percent from the year before. (Pictured: An Iranian submarine)

Israeli Aerospace Industries

Israeli Aerospace Industries <a href="http://www.google.com/hostednews/afp/article/ALeqM5gY48uh_MTGsQz1lDhtj4a92ggOZw?docId=CNG.f93648e502555ea3e976efe113d96c98.1b1">pioneered the technology used for drones</a> in the 1970s, according to Agence France Presse. Tommy Silberring, the head of the company's drone division, said increased demand around the world is boosting the drone market, as more countries want to go to war without putting their soldiers at risk. The drone sector is poised to become an $11.3 billion industry over the next decade, according to the Teal Group.

Textron

The military's appetite for drones helped Textron's defense business score a<a href="http://www.bizjournals.com/boston/blog/mass-high-tech/2009/11/struggling-textron-finds-success-with-drone.html?page=all"> year-over-year revenue jump of $61 million</a>, according to Mass High Tech, even as the rest of its business struggled. The drones have been so successful that the company, run by CEO Ellen Lord, is developing technology for unmanned underwater vehicles like the one pictured, according to the AP. <strong>CORRECTION:</strong> An earlier version of this post misidentified the CEO of Textron Systems. Ellen Lord is the company's CEO.

General Dynamics

General Dynamics is one of the major donors to the Congressional Unmanned Systems Caucus (unofficially known as the drone caucus), <a href="http://www.kpbs.org/news/2012/jul/05/drone-makers-friends-washington/">according to KPBS</a>. Yes, that really does exist. The company, run by CEO Jay Johnson, reported a $2 billion loss in January, citing defense spending cuts, <a href="http://articles.washingtonpost.com/2013-01-23/business/36507001_1_federal-budget-cuts-general-dynamics-largest-federal-contractors">according to the Washington Post</a>.

DJI

Hong Kong-based DJI's Phantom, used by filmmakers to take steady aerial shots, is one of the most complete drones on the market, according to Quartz. DJI's North America CEO Colin Guinn, as well as others in the drone industry, are putting resources into products like the Phantom, betting that the <a href="http://qz.com/46893/the-private-drone-industry-is-like-apple-in-1984/">FAA will approve drones</a> for commercial use in 2015.