President Barack Obama, Prime Minister David Cameron, and Denmark Prime Minister Helle Thorning-Schmidt have taken a selfie today at the memorial service for the late South African President Nelson Mandela.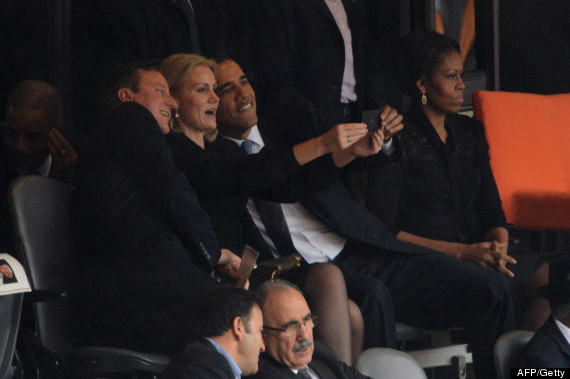 TOP STORIES TODAY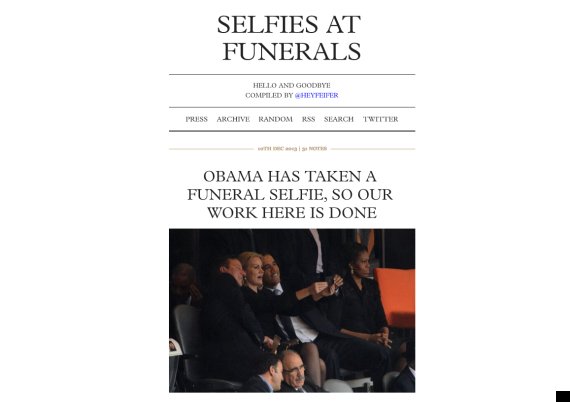 The awkwardness is intensified by Michelle Obama appearing to look into the distance furiously pensively as the world leaders lean in rather cosily for the picture.
The rest of the soap opera drama was captured in a series of photos that suggest Mr Obama will have to face a bit of truth and reconciliation when he gets back on Air Force One.
The images have already gone viral, with many remarking on the appropriateness of the picture being taken at the memorial event, as well as the First Lady's expression.
"President Selfie" pretty much sums up what he is: a self-absorbed, narcissistic chump.
I wish I could say that I'm shocked that: A.) Obama took a selfie at a memorial service, or B.) he looked like a giddy tween while doing it.
Nope, Cameron and Obama, the memorial service 'selfie' is unlikely to catch on, what with most people paying their respects and all..
In fairness, Michelle seems to be the only one not laughing and smiling. At a funeral. So that's a plus in her column.
MT @WhiteHouse: "His struggle was your struggle. His triumph was your triumph...Selfie!" - President Obama
SUBSCRIBE TO & FOLLOW UK DAILY BRIEF