Jennifer Lawrence, Oscar winner and all-round good egg, has hit headlines after a GIF of a magazine cover shot in 2011 depicting the completely unnecessary use of Photoshop has gone viral.
The ensuing furore on Twitter has reignited the debate around body image and how the magazine industry creates unrealistic images that other women subconsciously use as a measuring scale.
The cover for Flare magazine demonstrates the Photoshop that has been applied to the actress's figure, slimming her waist and contouring her cheekbones.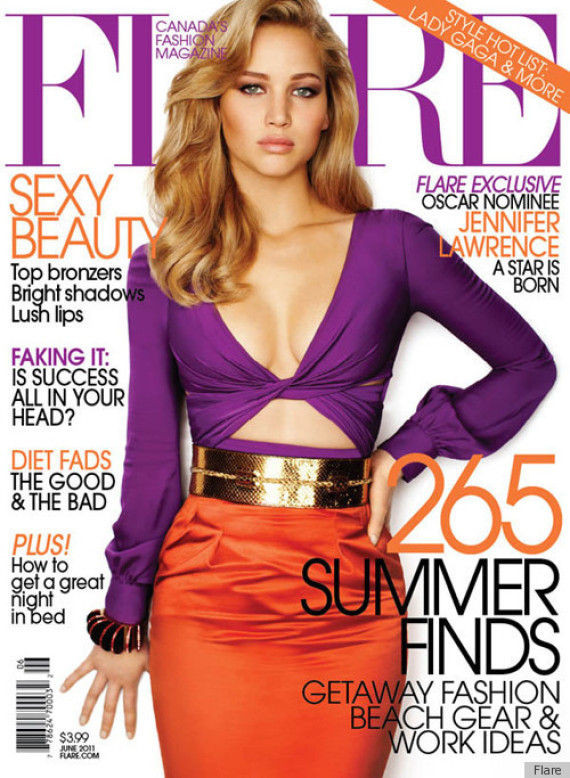 While the images aren't great (we know which version of Jen we prefer), there has been a positive backlash against the use of Photoshop since 2011. For starters, we now have the world's first Photoshop-free magazine Verily.
Here are some of the responses on Twitter:
@ladyteruki

ladyteruki
Most people would be perfectly happy looking like pre-photoshop Jennifer Lawrence. The expectations are high enough ! XD

@MrVanHerp

Damien van Herp

@Koann

Koann
Sad thing? She looks so much better before! "@HuffingtonPost: Jennifer Lawrence Photoshop fail revealed in viral GIF
http://t.co/P9s5GIX17X"
@Cosmopolitan

Cosmopolitan
@kyletwebster

Kyle T Webster
Jennifer Lawrence is beautiful. And still ...
http://t.co/fGGpy8ivIH
We live in a sick society. Stop the Photoshop madness, magazines!
What do you think of the retouching? Tell us in the comments below...
More disastrous moments in retouching:
When Photoshop Goes Wrong...
When Kristen Stewart (awkwardly) posed on the cover of Glamour's November issue, she too fell victim to the photoshop madness. The potentially cute photo is ruined by a strange choice to cut off half of her arm (which somehow disappears into her leg).

In the ad, Victoria's Secret model Lais Ribeiro stands with her torso bent at an angle, but from our viewpoint, it looks like VS spliced two halves of two separate photos together to create one model, bisected by her arms. There's no way any human can have that whittled a ribcage, right? Right?

We know for sure that Drew has some sexy curves. Where are her hips?

When we first saw these photos of Namibian model Behati Prinsloo for Juicy Couture's fall 2012 jean line, we expected to see signs of Photoshop in Prinsloo's arms, torso or even hips. We were happy to see that the model actually looked pretty natural, until we realized that her left foot in this photo is wonky and she's missing several toes.

Not only did Ann Taylor take a few inches off of a model's waist, the brand's website accidentally revealed the "before" shot, thanks to a tech glitch. The "before" is on the left, and Ann's "improved" version is on the right.

Oopsies, this model lost her funny bone when the people who were editing Alloy's catalogue released this photo.

Gwyneth Paltrow is a women of many talents, but her pose in this Terry Richardson shot seems impossible.

Grazia airbrushed one of Megan Fox's tattoos off her April cover. The tattoo that vanished? The Friedrich Nietzsche quote: "And those who were seen dancing were thought to be insane by those who could not hear the music." (Courtesy photo)

We know Ralph likes to retouch his models, but can't he leave the animals alone? We're guessing that's an entirely new head on the dog wearing a Polo and that he was just dropped into the image on the right.

In this jarring Ann Taylor LOFT photo of Linen Twill Shorts, the model appears to have a thumb emerge directly out of her arm, above the wrist. (LOFT photo)

This just shows how advertisements mess up women's perceived image of what the "perfect" body is. This model had perfectly fine-sized breasts but either Free People or Karma Loop decided to enhance the model's right breast, and then promptly forgot to give the other one the extra lift.

Natalia Vodianova's July 2012 cover for GQ Russia has the model all out of proportion... and her hair seemingly carved out with the "lasso" tool on Photoshop.

In this J. Crew ad, someone went a little crazy with the photoshop and left some very interesting thigh cut-outs.

Maybe this model is super-talented and rides some kind of unicycle contraption. We doubt it. This is a case of horrible photoshop. How could Neiman Marcus have assumed that this model's backside could cover up the entire half of a bike?

Jessica Alba is the latest victim of over-enthused retouching, on the June 2012 cover of Marie Claire. The whole cover seems washed in a bright pink haze, and something seems a little robot-y about it to us. Maybe it's the way they did her hair? (Courtesy photo)

In this printed ad from an Italian haircare line, the female model's legs seem to have gone missing... or perhaps the male model's biceps are so big they conceal them? (PSD photo)

Model Angela Linvdall posed for the March cover of Vogue Mexico looking every beauty but also, very elongated. Her neck and jawline seemed to have been smoothed and stretched out or she's a modern-day Stretch Armstrong.

It's one thing for model's to have endlessly long legs, but how can a human have more than two knees? Apparently, these models do. In this ad -- if you look closely -- the models' knees are bending but not where the skirt is bending. Optical illusion? Who knows.

Bloomingdales turned a perfectly innocent model into a mutant, giving her the pointiest, most elongated elbow we've ever seen.

The leg bone is not connected to the hip bone. Period. And for more, check out a dozen or so airbrushed Angel fails.

By now, we're used to seeing models' bodies whittled down -- but how about reverse retouching? Like, making someone appear heavier than she is? That's what happened with Kamilla Wladyka who was Photoshopped to look healthier. For the cover of Healthy magazine.

And On And On. This model loves Suave's Mango Mandarin body wash so much that she hasn't realized she's an amputee.

We don't think the lady model's legs make any sense in Dolce & Gabbana's ad for light blue, although, somehow, 47 percent of you thought everything looked just peachy.

We still don't know what this was about but it seems more relevant than ever. Did Wills dye his hair just for the Hello cover shoot? Or was someone playing around with the color and contrast in everyone's favorite retouching program?

Here's an interesting spin: model Irina Shayk claims GQ Spain Photoshopped the underwear right off of her and that she never posed in the buff. She's taking the Spanish glossy to court over the pics.

"New Zealand's Next Top Model" came under fire for having a 16-year-old contestant pose topless, with only mud smeared across her naked breasts and then posted an unedited picture from the shoot online. The solution? A spray of Photoshopped steam covering up the girl's chest.

While Anne Hathaway looked stunning on British GQ's February 2010 issue, something's not quite right with her ultra-smooth armpit...

Another Ann Taylor photoshop fail...this time, they took out their airbrushing anger by amputating this poor model's arm!

On the January issue of ELLE Czech, model Denisa Dvorakova's arms channeled Barbie's freakishly sharp angled limbs. Furthermore, the synthetic looking visage of her face doesn't adds to her plastic-doll appearance.

We're not sure why someone would change Hilary Rhoda's already perfect and sky-high cheekbones to begin with-- but that didn't stop Numero Tokyo from engaging in this photoshop fail. The model's razor-sharp cheekbones were given a little too much tapering...yikes!

Some were shocked at Kate Middleton's frail frame in her Alexander McQueen gown on her wedding day. But a Grazia magazine retoucher decided to take it up a notch by airbrushing her already tiny waist, to look just like a life-size Barbie's instead. It seems that Grazia has tried to trick us into thinking the Duchess has the worlds smallest waist.

It's hard to even tell that this Maybelline ad features the one-and-only Christy Turlington, who is so airbrushed that she's basically unrecognizable. While the supermodel has always been known for her flawless complexion, her skin is so overly retouched that it bares more resemblance to a 3D animation than Christy herself. CORRECTION: A previous version of this caption identified the makeup brand incorrectly.

Louis Vuitton's fall 2010 campaign featuring models Christy Turlington, Karen Elson and Natalia Vodianova is so aesthetically pleasing to look at, that it's hard to notice this photoshop mystery. But if you look closely in the mirror, you'll see a random reflexion in the mirror that doesn't match up with the actual scene going on.

Kate Moss and her eight-year-old-daughter Lila Grace are as pretty as can be in this September 2011 Vogue spread. But unfortunately, Lila Grace and her poor fingers are the victims in this photoshop disaster.

Kim Kardashian has always embraced her curvy figure--but the original and untouched photo that Complex.com accidentally posted of a thinner Kim says otherwise.

This photoshop faux-pass is brought to you by H&M, who decided to give this model a face lift...but literally. We're not quite sure why they choose to make her entire face disappear from a 45 degree view, but whatever the reason, it seriously freaks us out.

Even though it was confirmed by a company rep that this was not Photoshopped, it still looks as if there is no horse body behind that model!

Photoshop was used and abused on the cover of Charlize Theron's Los Angeles Confidential cover. Her hand looks more like a paw (or claw) as it appears that her fingers have all melted together-- creepy!

We're pretty sure that a child was responsible for scribbling up (and coloring in) this photoshop fail. The sketchy image from Walmart appears to be selling a bikini top...but we can't really tell.

This Campari campaign morphed Jessica Alba into a much (much) thinner version of herself. While she looks perfectly fit in both images, if the originals hadn't been leaked, we probably would have actually believed the lies...But unfortunately this wasn't the case.

While this isn't exactly the worst (or most obvious) photoshop flub we've seen, the original footage from this Ann Taylor campaign tells a different story. The screenshot, taken from a "behind-the-scenes" video, is a much more accurate portrayal of Naomi Watts- who looks way too overly airbrushed in the final version.

Someone messed up big time with this unrealistically photoshopped waist on Nordstrom's website. We're so distracted by her startlingly small torso that we can't even focus on the cute orange polo shirt. Note: This caption was edited for clarity's sake.

Russian model Anna Selezneva has been stretched to her limit in this photo for German label Set. While her left leg is lifted onto a couch, her right leg has been attacked by some vicious monster that bit right into her thigh!

Is it just us, or does Paris Hilton looks faker than ever on this Vanity Fair cover? Her strangely smooth face actually sort of creeps us out to be honest.

Does anyone else feel bad for this victim of retouching madness? This Talbot's photoshop abuser settled on giving this poor model only one leg.

For being 44 years old, Julia Roberts looks pretty near amazing. And while the actress still looks pretty in this Lancome ad, we just wish they didn't make her skin look so freakishly smooth. From the looks of it, the retouchers airbrushed the life out of Julia Roberts' face, and gave her a plastic visage instead.

Victoria's Secret, who is a notorious fan of photoshop abuse, was up to their old tricks again. This time, Model Candice Swanepoel's shoulder joint appears to be disconnected from the rest of her body.

Um, should someone tell Marissa Miller that she's missing a limb? Evidently, Victoria's Secret took out a fit of retouching rage on the model's arm.

Just wondering, but who is that girl in those recent Rimmel ads? The faulty campaign featured a photoshopped image of someone who resembled a Zooey Deschanel lookalike with plastic surgery gone wrong.

Last time we checked, Khloe Kardashian is noticeably taller than both Kim and Kourtney...Khloe, who at 5'10 normally towers over her pint-sized sisters, apparently shrunk down to "fit" the frame for this Sears campaign shot by Annie Leibovitz. And what's going on with Khloe's right hand?

It's pretty disturbing that these Ralph Lauren photos somehow got the go-ahead to be published in the first place...The fashion label received harsh criticism for these images featuring an emaciated looking model, who actually more so resembles a bobble head on a skeletal frame. Even more alarming is that the photoshop victim, Filippa Hamilton- claims that she was actually fired by Ralph Lauren for being "too fat."

SimpleBe, a UK brand known for catering to plus sizes, has photoshopped this models hand into, what appears to be, a claw.

This Target Australia ad contains one major mistake: there seems to be a hand resting on mom's hair. Yeah, that's an extra limb, that we assume belongs to the dad. (Target ad)