It looks like Little Mix's Jesy Nelson has been inspired by former 'X Factor' judge Cheryl Cole...
The 22-year-old unveiled a large rose tattoo on her arm that's not too dissimilar in design to Chezza's big inking on her bum. Jessy Nelson
Jesy showed off her new tat as she appeared on Channel 4's Sunday Brunch on Sunday morning with her bandmates.
Cheryl first debuted her huge 'tramp stamp' on the Girls Aloud Ten tour in Newcastle in February and later revealed that the inking covered not only her lower back but her whole bum.
After a snap of her tattoo was posted on Instagram, it was reported Cheryl shelled out over £12,000 and endured over 35 hours of pain to have it done.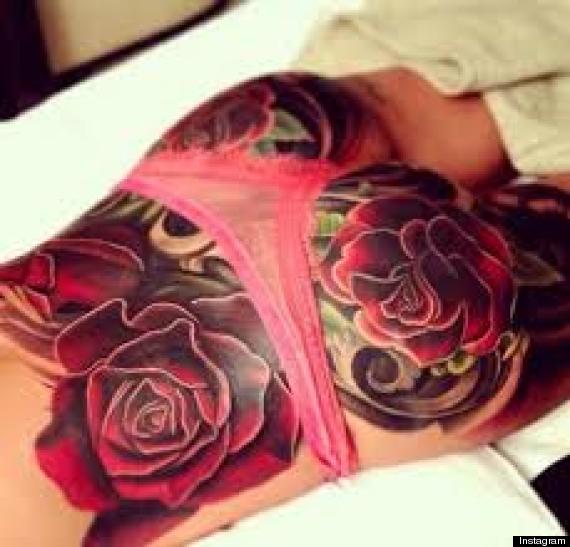 Check out more celeb tats below:
Anastasia, it's time to book an appointment at the laser removal clinic.

We get it Cheryl - you're an English rose. But do they have to be that big?

In a move that was ugly on several levels, real-man-impersonator and least-deserving-celebrity-of-all-time Chris Brown got a picture of a woman's battered face tattooed onto his neck months after battering a woman's face with his bare fists.

Slim Shady's insistence on putting daughter Hailie Mathers in his songs was bad enough. This tattoo of her is embarrassing parenting taken a step too far.

There's nothing wrong with Eva's (now removed) 'Nine' tattoo per say, except that it represents the folly of getting inked in tribute to your partner - in this case basketball player Tony Parker, jersey number 9 - when they end up cheating on you.

Harry's tatts all look like they've been scribbled on the back of a biology exercise book in Biro by a fidgety teenager. Quite apt, really.

Like a job application or a witty riposte, the first run of getting words tattooed onto yourself is to make sure it is spelled properly. Heroes star Hayden stumbled at this first hurdle with her Italian phrase which was meant to say 'live without regrets'. She has since admitted regretting the tattoo.

Nothing wrong with an owl, we suppose... represents knowledge and wisdom... good at hunting... it's just that this one likes a bit, well, crap.

...and while we're at it, Justin, getting the name of your own album tattooed on your arm is a bit naff - not least of all because you're bound to get older and want to move away from your pop origins into making 'proper music'. Just sayin'.

We know Pricey is fond of a wedding, but this is just ridiculous...

It's one direction alright - down your forearm towards your hand. Why, we have no idea.

What is it with 1D and their doodles?!

Irony or no irony, a tattoo of your own name is NEVER cool.

The problem with getting a line from King Lear tattooed on your back is that everyone, forever, is going to ask about it, and you're going to have to say 'It's a quote from Shakespeare'. Which is a line that's impossible to say without sounding like a pretentious t**t.

It's on your face Mike. Enough said.

Would you get a tattoo reminding everyone of your most embarrassing failure? Of course not. So why Pamela Anderson has one that screams: 'I starred Barbed Wire one of the biggest commercially and critical flops of all time', we have no idea.

The Jackass star got his own face tattooed on his back, which is a lot of pain to go through for a joke.

"I got a mic on my arm cos, y'know, I'm all about music". O-kay...