'47 Ronin' - the new fantasy-action epic – finds Keanu Reeves playing an outcast rejected by his group of samurai.
His role had us considering other movie protagonists that exist as outsiders; an admittedly rather broad and popular concept.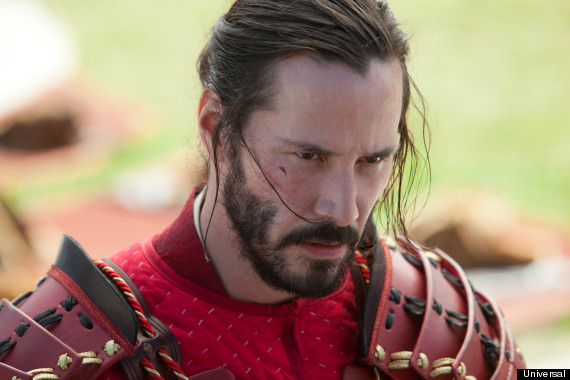 Keanu Reeves is an outcast in his latest epic
Perhaps their oddness makes for a series of joyful, indulgent quirkiness (a la Amélie), their isolation wreaks havoc with their mind (such as in Polanski's Repulsion), or their unlikely triumph provokes some memorable feel-good moments (Run, Forrest Run!). Whatever their reasons, they all dwell on the fringes of normality. We've compiled an eclectic mix of some of film's most endearing outcasts...
Lars in Lars and the Real Girl (2007) Dir. Craig Gillespie

Lucas in The Hunt (2012) Dir. Thomas Vinterberg

Harold in Harold and Maude (1971) Dir. Hal Ashby

Oliver Tate in Submarine (2010) Dir. Richard Ayoade

Edward in Edward Scissorhands (1990) Dir. Tim Burton

Cole Sear in The Sixth Sense (1999) Dir. M. Night Shyamalan

Forrest in Forrest Gump (1994) Dir. Robert Zemeckis

Amélie in Amélie (2001) Dir. Jean-Pierre Jeunet

Oh Dae-Su in Old Boy (2003) Dir. Chan-Wook Pak

Sarah, Nancy, Bonnie and Rochelle in The Craft (1996) Dir. Andrew Fleming

Withnail and I in Withnail and I (1987) Dir. Bruce Robinson

Carol in Repulsion (1965) Dir. Roman Polanski

Carrie (1976) Dir. Brian de Palma

Heathcliff in Wuthering Heights (2011) Dir. Andrea Arnold

Travis Bickle in Taxi Driver (1976) Dir. Martin Scorsese

Kai in 47 Ronin (2013) Dir. Carl Rinsch

The performers in Freaks (1932) Dir. Todd Browning

Renton, Spud, Sick Boy et all in Trainspotting (1996) Dir. Danny Boyle

Charlie in The Perks of Being a Wallflower Dir. Stephen Chbosky

Enid and Rebecca in Ghost World (2001) Dir. Terry Zwigoff

Donnie Darko in Donnie Darko (2001) Dir. Richard Kelly

Romy and Michelle in Romy and Michele's High School Reunion (1997) Dir. David Mirkin

Peter Parker in The Amazing Spiderman (2012) Dir. Marc Webb
'47 Ronin' is in UK cinemas from 26 December 2013. Watch the trailer below...