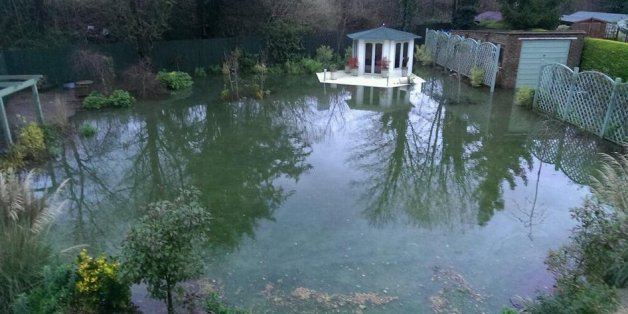 It's the nightmare before Christmas - awfully-timed storms sweeping the UK, causing widespread disruptions to the festive getaway.
Follow our live blog below for updates:
24/12/2013 18:32 GMT
Sad story
24/12/2013 17:35 GMT
It's not going anywhere...
Although Christmas Day is expected to see calmer weather, more storms are expected on Friday.
24/12/2013 17:34 GMT
Deaths
The death toll from the violent weather has risen to five, while people heading home for the holiday have had to battle with difficult conditions on roads and railways.
24/12/2013 15:37 GMT
Flooding
Parts of Kent, including Edenbridge, Tonbridge and parts of Maidstone, have suffered severe flooding as a result of the storm.
24/12/2013 12:38 GMT
Rail Update
Network Rail says most of the network is now running again, but some lines are still affected, particularly in the West Country.
It said more than 200 trees had come down on lines during the last 24 hours and there had been "a further 100 major incidents discovered on top of that". (PA)
24/12/2013 12:05 GMT
In a 4x4?
More from the AA:
"Our teams have rescued drivers who have attempted to drive through deep flood water and have come to grief, in some cases having ignored 'road closed' warnings.
"Don't think that if you have a 4x4 you are immune from becoming stranded. We have had to pull a number of vehicles that have so-called 'off road' capability out of water. Floods don't count as 'off road' terrain."
24/12/2013 12:04 GMT
From the AA:
603 cars rescued from deep flood water in 24 hours
Over 13,000 break-downs in 24 hours
20 breakdowns per minute so far on Christmas Eve
70% - the percentage of cars written off by floods
24/12/2013 12:02 GMT
Just what we needed
Due to a fire in the Croydon area all services are currently suspended on @SouthernRailUK routes from @NetworkRailVIC

— London Victoria (@NetworkRailVIC) 1 year ago
24/12/2013 11:38 GMT
From Manston Airport in Kent
One trashed Cessna at Manston. Attached to 3 concrete blocks and still dragged through the fence by the wind http://t.co/VN8lNWmPN4

— Simon Moores (@SimonMoores) 4 years ago
24/12/2013 11:15 GMT
Rail Disruption
A spokesman for rail industry body the Rail Delivery Group said: "Strong winds have damaged overhead wires and brought down more than 80 trees on to lines, and some parts of the network have been flooded overnight."
He went on: Rail staff have been working round the clock to clear tracks but many services have started later than planned to ensure repairs can be completed and blockages removed so that trains can run safely.
"As the stormy weather subsides, a growing number of train companies are running services although delays will be likely on many routes."
SUBSCRIBE TO & FOLLOW UK DAILY BRIEF