Is it a bird? Is it a plane? No, it's a small UFO landing in the Celebrity Big Brother garden.
Just as they've settled into their falsely opulent surroundings, Big Brother is setting the celeb housemates a new challenge - and it involves pain.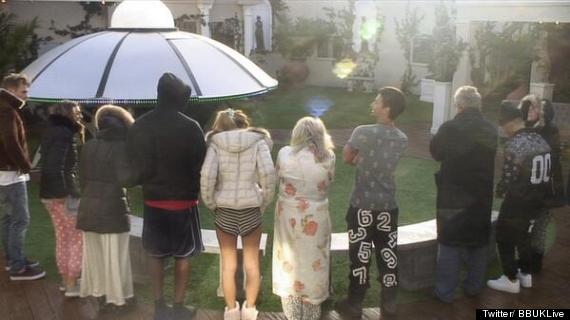 The 12 housemates face a UFO task to win food on Monday, after sci-fi sounds woke them from their gentle slumber (or not so gentle if you're Jasmine Waltz sharing a bed with Dappy and his 'third leg').
A tiny alien emerged from the spaceship, explaining that martians have come to study the celebrity species and will reward the housemates with food if they take part in a series of tests.
The challenges will involve Liz and Lee's physical pain threshold being tested with high-tech apparatus (such as elastic bands) and Luisa and Jasmin's emotion pain will be tested by having insults thrown at them.
The scenes will be shown on 7th January at 9pm on Channel 5.
See all the pics from the task below:
Celebrity Big Brother housemates
Known for: Appearing on 'The Apprentice' Did you know? Luisa successfully launched the business she pitched to Lord Sugar on the show by herself last year.

Known for: Starring on 'TOWIE' Did you know? Sam is the fourth cast member of 'The Only Way Is Essex' to appear on 'CBB', following in the footsteps of Amy Childs, Kirk Norcross and Mario Falcone.

Known for: Being a member of N-Dubz Did you know? Dappy was found guilty of assault and affray last year but managed to escape jail. Now he'll be locked up in the Big Brother house!

Known for: Starring on 'Made In Chelsea' Did you know? The 'Made In Chelsea' star is openly bisexual and has previously dated Topshop heiress Chloe Green.

Known for: Being a member of boyband Blue Did you know? Lee has said he would never snog anyone on TV because of his two kids. "I find that really distasteful. I couldn't kiss anyone when I know my kids are sitting in front of the TV, going: 'Hi, Daddy!'" he told The Mirror.

Known for: Being a TV presenter, most notably on 'Big Break' and 'The Generation Game' Did you know? He was supposed to appear on last January's series, but had to pull out after he was wrongly arrested for sex abuse charges.

Known for: Being an actress and a member of The Nolans Did you know? Linda has battled breast cancer, and lost her sister Bernie to the same disease last year.

Known for: Being a dancer, choreographer and all-round showbiz legend Did you know? Lionel is one of the oldest ever housemates to enter the CBB house at the age of 82.

Known for: Being a boxer Did you know? He famously had his ear bitten off by Mike Tyson during a fight in 1997.

Known for: Being a Daily Mail journalist Did you know? Liz has taken aim at Holly Willoughby in her controversial column, but met her match in Rihanna when the singer took her to task about an article she'd written about her.

Known for: Being a model Did you know? She previously dated former 'CBB' housemate and 'TOWIE' star Kirk Norcross.

Known for: Being an actress and model Did you know? She previously dated Kelly Brook's ex Danny Cipriani after they broke up the first time in 2010.